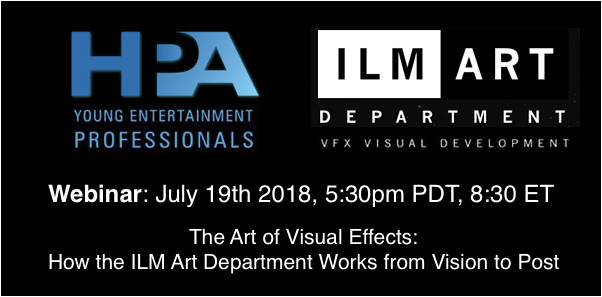 July 19th 2018, 5:30pm PDT, 8:30 ET
The HPA Young Entertainment Professionals (YEP) will be teaming up with Industrial Light & Magic (ILM) for the third webinar in the series, The Art of Visual Effects: How the ILM Art Department works from vision to post.
The previous webinars are now available as an on-demand videos, see bottom of this post.
The ILM Art Department is a key component to both pre-production and post-production workflows. This webinar illustrates the role of the Art Department in feature film development from concept art through visual effects design and marketing imagery, all working within the director's vision. Tune in for illustrations of developing stories and ideas as well as the technical and creative problem solving at work in VFX post-production. This webinar will be presented by ILM's Creative Director David Nakabayashi and Global Senior Department Manager Jennifer Coronado.
The YEP webinar series is geared towards early- to mid-career M&E professionals and is one facet of the YEP programme's commitment to facilitating industry education on standards and practices as they relate to business, production, technology, and emerging trends.
Don't miss this exciting opportunity to have these experts take you through their workflow processes from every angle. Register now!
Previous Webinars:
Color Theory and the Art of Color
End to End Scripted Episodic Workflows