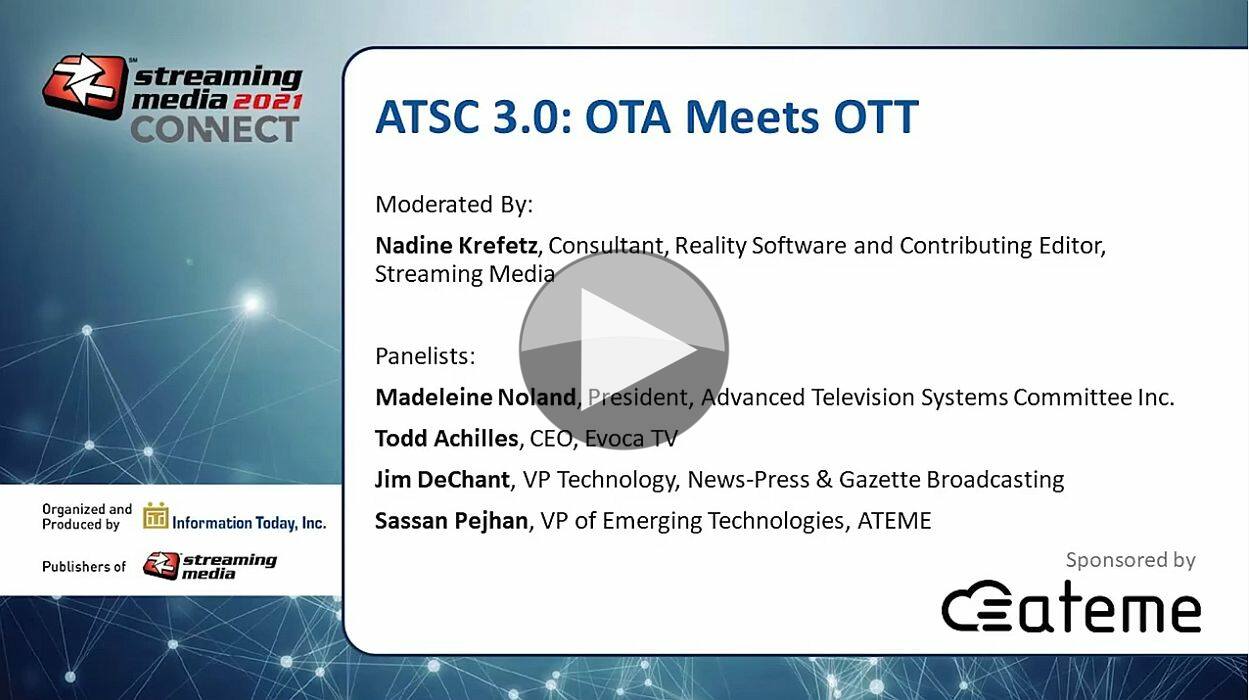 ASTC 3.0 has taken the bold move to merge RF-delivered services with internet-delivered services. Branded as 'NextGen TV', the idea that viewers shouldn't need to know which path their service comes by is a welcome shift from the days of needing to select the right input on your TV. We've covered here before the technical details of ATSC 3.0 but today we're looking the practical side of delivering such a service.
In this Streaming Media video, Nadine Krefetz hosts a conversation with Madeleine Noland from ASTC, Todd Achilles from Evoca TV, Jim DeChant from News Press & Gazette Broadcasting aswell as Sassan Pejhan. They start by highlighting that one reason ATSC 3.0 was developed over the previous ATSC 1.0 is that it opens up the possibility of delivering HDR and/or UHD along with Dolby Atomos.
Given ATSC 3.0 uses the same MPEG DASH delivery that online streaming services use, one question is why use ATSC 3.0 at all. The benefit of broadcast medium is in the name. There's extreme efficiency in reaching thousands or millions of people with one transmitter which ATSC 3.0 uses to its advantage. In ASTC 3.0's case, transmitters typically reach 40 miles. The panel discusses the way in which you can split up your bandwidth to deliver different services with different levels of robustness. Doing this means you can have a service that targets reception on mobile devices whilst keeping a high bandwidth, more delicately modulated channel for your main service intended for delivery to the home.
Not unlike the existing technologies used by satellite and cable providers such as SkyQ in the UK, an internet connection can be used to deliver user-specific adverts which is an important monetisation option that is needed to keep in step with the streaming services that it can work in tandem with. Madeleine explains that ATSC has created APIs for apps to query TV-specific functions like whether it's on or off but these are the only ways in which app development for ATSC 3.0 differs from other web-based app development.
Finishing up the conversation, the panel discusses the similarities and differences to 5G.
Watch now!
Speakers
Madeleine Noland
President,
Advanced Television Systems Committee Inc.
Todd Achilles
CEO,
Evoca TV
Jim DeChant
VP Technology,
News-Press & Gazette Broadcasting
Sassan Pejhan
VP of Emerging Technologies,
ATEME
Moderator: Nadine Krefetz
Contributing Editor,
Streaming Media Magazine