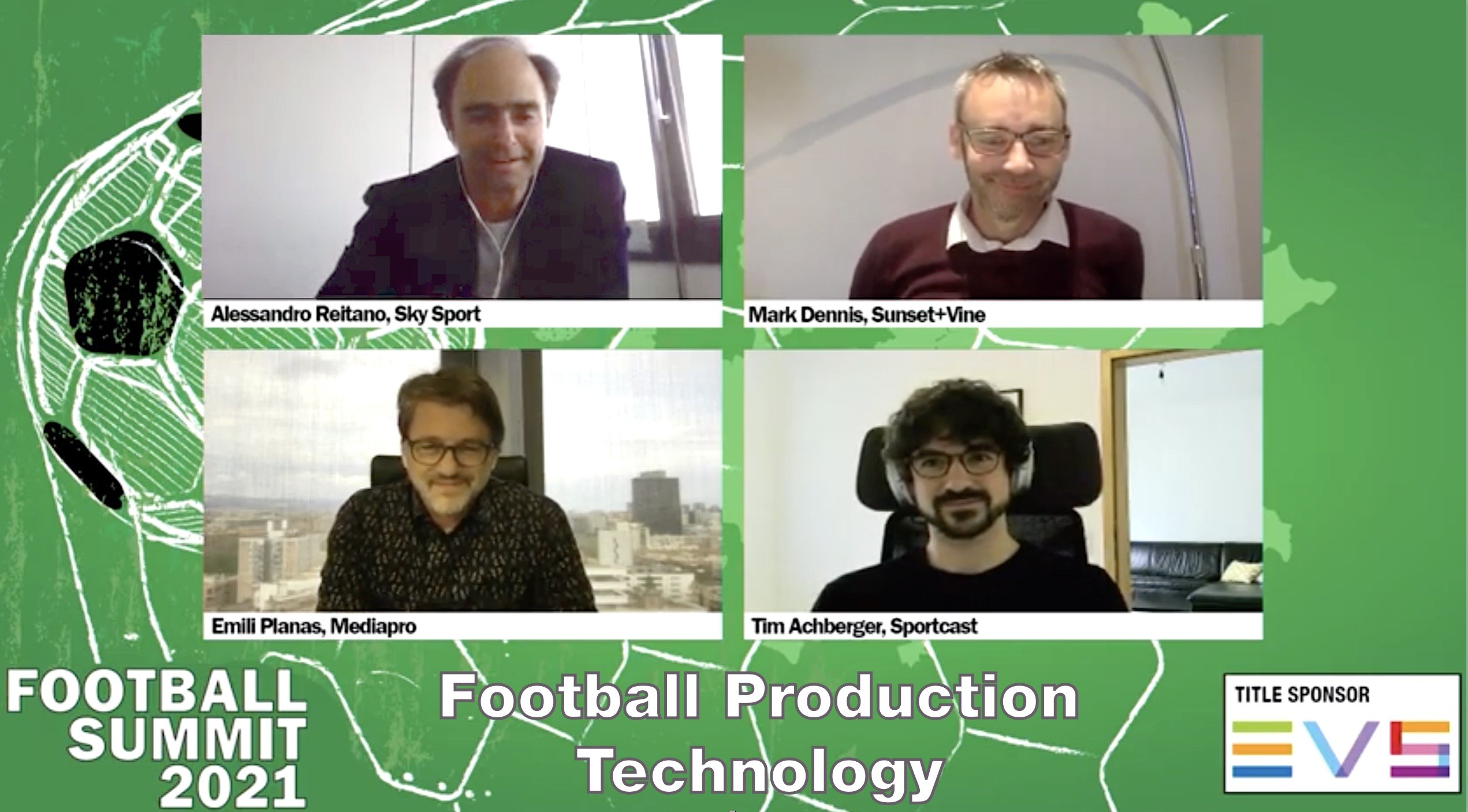 Football coverage of the main game is always advancing, but this year there have been big changes in production as well as the continued drive to bring second screens mainstream. This conversation covers the state of the art of football production bringing together Mark Dennis of Sunset+Vine, Emili Planas from Mediapro and Tim Achberger from Sportcast in a conversation moderated by Sky Germany's Alessandro Reitano for the SVG Europ Football Summit 2021.
The first topic discussed is the use of automation to drive highlights packages. Mark from S+V feels that for the tier 1 shows they do, human curation is still better but recognises that the creation of secondary and tertiary video from the event could benefit from AI packages. In fact, Mediapro is doing just this providing a file-based clips package while the match is ongoing. This helps broadcasters use clips quicker and also avoids post-match linear playouts. Tim suggests that AI has a role to play when dealing with 26 cameras and orchestrating the inputs and outputs of social media clips as well as providing specialised feeds. Sportcast are also using file delivery to facilitate secondary video streams during the match.
Answering the question "What's missing from the industry?", Mark asks if they can get more data and then asks how can they show all data. His point is that there are still many opportunities to use data, like BT Sport's current ability to show the speed of players. He feels this works best on the second screen, but also sees a place for increasing data available to fans in the stadium. Emili wants better data-driven content creation tools and ways to identify which data is relevant. Time agrees that data is important and, in common with Emili, says that the data feeds provide the basis of a lot of the AI workflows' ability to classify and understand clips. He sees this as an important part of filtering through the 26 cameras to find the ones people actually want to see.
Alessandro explains he feels that focus is moving from the main 90 minutes to the surrounding storylines. Not in a way that detracts from the main game, but in a way that shows production is taking seriously the pre and post stories and harnessing technology to exploit the many avenues available to tell the stories and show footage that otherwise would have space to be seen.
The discussion turns to drones and other special camera systems asking how they fit in. Tim says that dromes have been seen as a good way to differentiate your product and without Covid restrictions, could be further exploited. Tim feels that special cameras should be used more in post and secondary footage wondering if there could be two world feeds, one which has a more traditional 'Camera 1' approach and another which much more progressively includes a lot of newer camera types. Emili follows on by talking bout Mediapro's 'Cinecam' which uses a Sony Venice camera to switch between normal Steadicam footage during the match to a shallow depth-of-field DSLR style post-match which give the celebrations a different, more cinematic look with the focus leading the viewer to the action.
The panel finishes by discussing the role of 5G. Emili sees it as a benefit to production and a way to increase consumer viewing time. He sees opportunities for 5G to replace satellite and help move production into the cloud for tier 2 and 3 sports. Viewers at home may be able to watch matches in better quality and in stadiums the plans are to offer data-enriched services to fans so the can analyse what's going on and have a better experience than at home. Mark at S+V sees network slicing as the key technology giving production the confidence that they will have the bandwidth they need on the day. 5G will reduce costs and he's hoping he may be able to enhance remote production for staff at home whose internet isn't great quality bringing more control and assuredness into their connectivity.
Watch now!
Speakers
Tim Achberge
Sportcast,
Head of Innovation & Technology
Emili Planas
CTO and Operations Manager
Mediapro
Mark Dennis
Director of Technical Operations
Sunset+Vine
Moderator: Alessandro Reitano
SVP of Sports Production,
Sky Germany