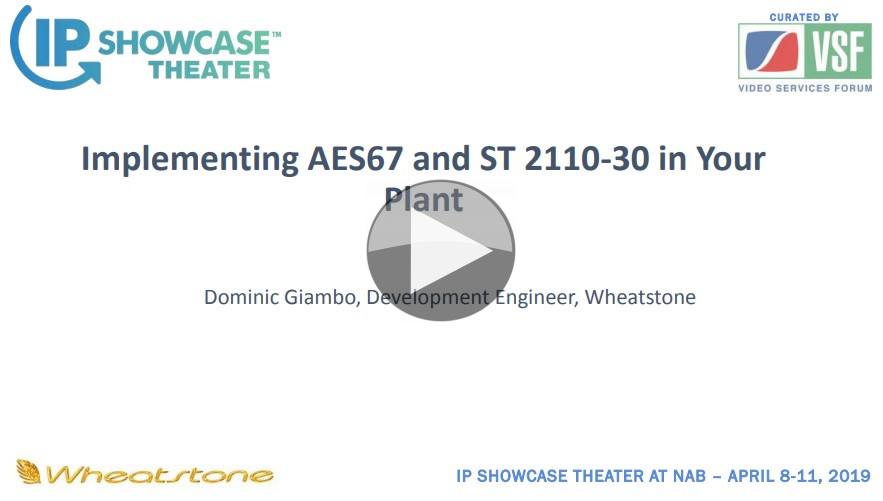 AES67 is a flexible standard but with this there is complexity and nuance. Implementing it within ST 2110-30 takes some care and this talk covers lessons learnt in doing exactly that.
AES67 is a standard defined by the Audio Engineering Society to enable high-performance audio-over-IP streaming interoperability between various AoIP systems like Dante, WheatNet-IP and Livewire. It provides comprehensive interoperability recommendations in the areas of synchronization, media clock identification, network transport, encoding and streaming, session description, and connection management.
The SMPTE ST 2110 standards suite makes it possible to separately route and break away the essence streams – audio, video, and ancillary data. ST 2110-30 addresses system requirements and payload formats for uncompressed audio streams and refers to the subset of AES67 standard.
In this video Dominic Giambo from Wheatsone Corporation discusses tips for implementing AES67 and ST 2110-30 standards in a lab environment consisting of over 160 devices (consoles, sufraces, hardware and software I/O blades) and 3 different automation systems. The aim of the test was to pass audio through every single device creating a very long chain to detect any defects.
The following topics are covered:
SMPTE ST 2110-30 as a subset of AES67 (support of the PTP profile defined in SMPTE ST 2059-2, an offset value of zero between the media clock and the RTP stream clock, option to force a device to operate in PTP slave-only mode)
The importance of using IEEE-1588 PTP v2 master clock for accuracy
Packet structure (UDP and RTP header, payload type)
Network configuration considerations (mapping out IP and multicast addresses for different vendors, keeping all devices on the same subnet)
Discovery and control (SDP stream description files, configuration of signal flow from sources to destinations)
You can download the slides here.
Speaker
Dominic Giambo
Senior Embedded Engineer
Wheatstone Corporation