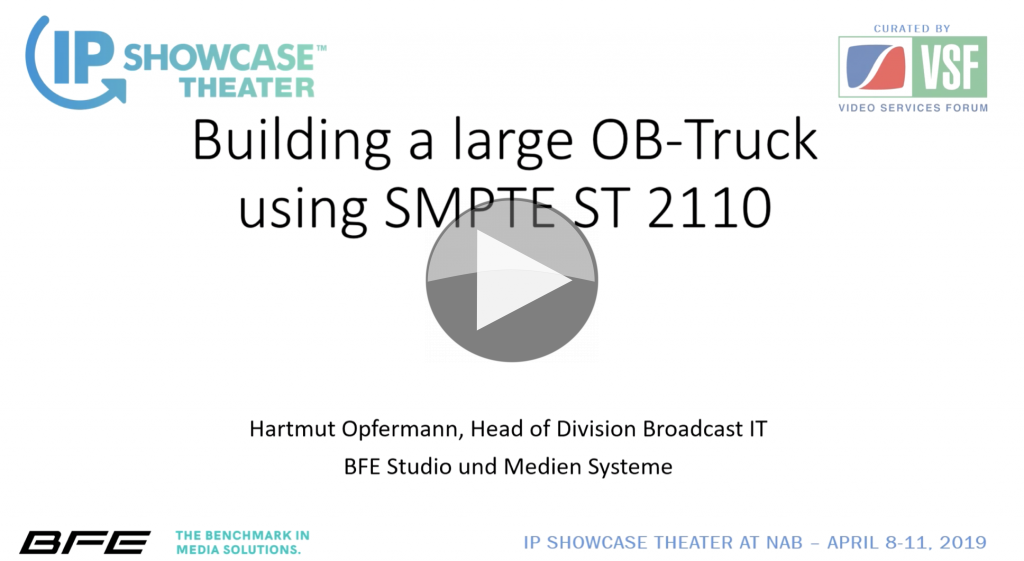 OB vans have been notable early adopters of Video over IP, both in the form of SMPTE ST 2110 and ST 2022-6. The reasons are simple, all new vans are 'green field' sites, weight and space are at a premium and many need more weekly flexibility than SDI has been giving them.
In this case study, Hartmut Opfermann discusses design considerations for all IP large OB trucks dedicated for sports, music and entertainment production and explores the decisions that have been made for ORF's new FU22 OB tuck including the drivers behind switching to IP technology and SMPTE ST 2110 for media transport.
Interesting to note is the proportion of SDI Vs IP in new IP installations. BBC Cardiff, for instance, has a minimum quota for IP-enabled endpoints but isn't assuming it can reach 100%. There are few IP installations which are 100% IP.
In ORF's truck we also see that, although the truck is fully based on IP technology, SDI-IP gateways have been provided to keep compatibility with existing baseband infrastructure. Keeping all internal processing in the IP domain simplifies cabling, reduces cable weight but, importantly, enables the use of flexible FPGA based processing platforms – functionality thus depends on software and can be changed on fly.
The broadcast control system provides a single point of control over complex infrastructure of the truck and provides a seamless experience for operators who used to work in the SDI domain. However, configuration and troubleshooting of IP systems requires a very different skillset, so training had to be provided to ORF engineering team.
Some other points discussed in this video are audio channel management, failover of PTP and B&B synchronisation and IP address management using the JT-NM's TR 1001-1, which has been covered here on The Broadcast Knowledge before.
Speaker
Hartmut Opfermann
Head of Division Broadcast IT,
BFE Studio und Medien Systeme GmbH