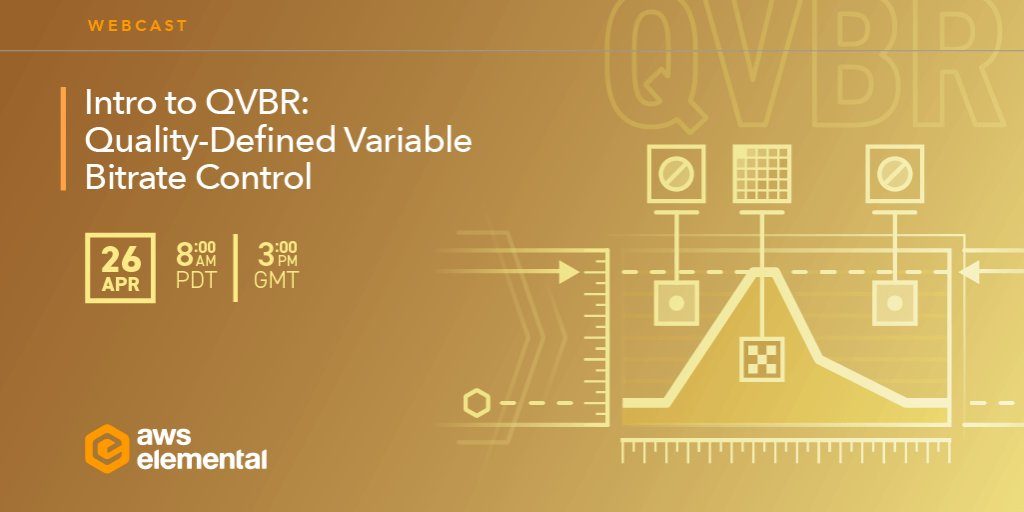 Date: April 26th 2018, 16:00 BST, 8am PDT
If the most important characteristic of encoded video is quality, a simple and certain way to achieve it is through Quality-Defined Variable Bitrate Control (QVBR) which is designed to deliver constant video quality and waste zero bits in the process.
Here's a brief outline of QVBR's many benefits:
• Generate consistent, high-quality video for a perfected media experience
• Maintain video quality with fewer bits, saving up to 50% on storage and delivery
• Easy, simple operation: Just set a fixed quality level and a max bitrate and the encoder does the rest
AVC and HEVC codec support
Join AWS Elemental for an in-depth, technical discussion of how QVBR works, its advantages, and its uses.
Speakers
Dan Gehred
Solutions Marketing Manager for Compression, AWS Elemental
Dan Gehred, Solutions Marketing Manager for Compression at AWS Elemental, is responsible for product marketing for all compression software products. Dan has over 15 years of experience building and marketing digital media applications.
Kevin Moore
PM Director – Live Encoding Products
Kevin has over twelve years of experience designing and developing professional video products. He is responsible for Product Management for live transcoding at AWS Elemental. He's convinced that there has never been a better time to be developing great live video experiences for customers.