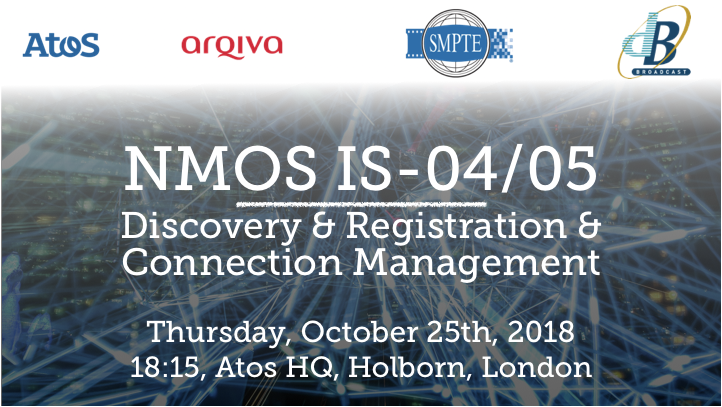 Date: Thursday, October 25, 2018 – 18:15 to 21:30
Location: Atos HQ, Mid City Place, 71 High Holborn, WC1V 6DA, London map: Google Maps
In this talk, Atos discusses its work in the media field and in particular the work with NMOS done by its Broadcast Network Control System (BNCS) allowing for Discovery and Registration as well as new work on the Event & Tally specification.
Key to succesful deployment of IP infrastructure based on standards such as SMPTE ST 2110, AMWA IS-04 specifies APIs to allow network-connected devices to register their resources on a shared registry, and for client applications to query the registry, and to subscribe to updates.
This event will explain how NMOS can help simply operation of your system, track your hardware assets and keep your finance department happy.
The meeting is hosted by Marcos Gonzalez-Flower – Head of UK&I Media Practice Atos with presentations from Chris Gil – BNCS Solution Architect, Tim Hall, and Daniel Lynch
Speakers
Marcos Gonzalez-Flower
Head of Atos Media Practice
Chris Gil
Solution Architect,
Atos
Tim Hall
Solution Architect,
dB Broadcast Ltd.
Daniel Lynch
Senior Product Manager,
Arqiva