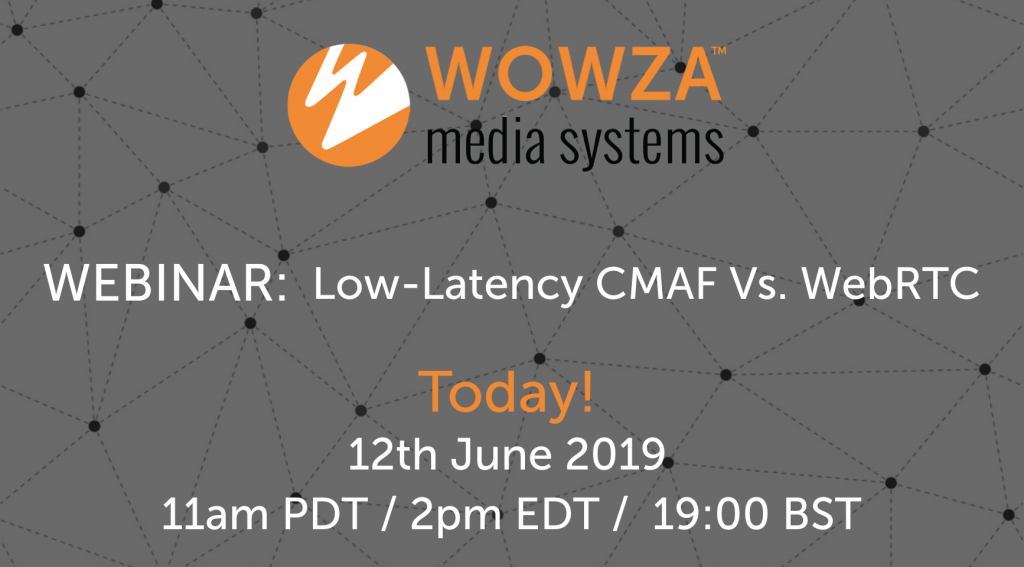 CMAF brings low latency streams of less than 4 seconds into the realms of possibility, WebRTC pushes that below a second – but which is the right technology for you?
Date: June 12th 2019 Time: 11am PST / 2pm EST / 19:00 BST
CMAF represents an evolution of the tried and tested technologies HLS and DASH. With massive scalability and built upon the well-worn tenants of HTTP, Netflix and a whole industry was born and is thriving on these still-evolving technologies. The push to reduce latency further and further has resulted in CMAF which can be used to deliver streams with five to ten times lower latencies.
WebRTC is a Google-backed streaming protocol with the traditional meaning of streaming; it pushes a stream to you a opposed to the HLS-style methods of making small files available for download and reassembly into a stream. One benefit of this is extremely low bitrates of 1 second or less. Used widely by Google Hangouts and Facebook messenger, WebRTC is increasingly an option for more broadcast-style streaming services from live sports & music to gaming and gambling.
Both have advantages and draw-backs so Wowza's Barry Owen and Anne Balistreri are here to help navigate the ins and outs of both technologies plus answer your questions.
Speakers
Barry Owen
VP, Professional Services,
Wowza
Anne Balistreri
Product Marketing Manager,
Wowza