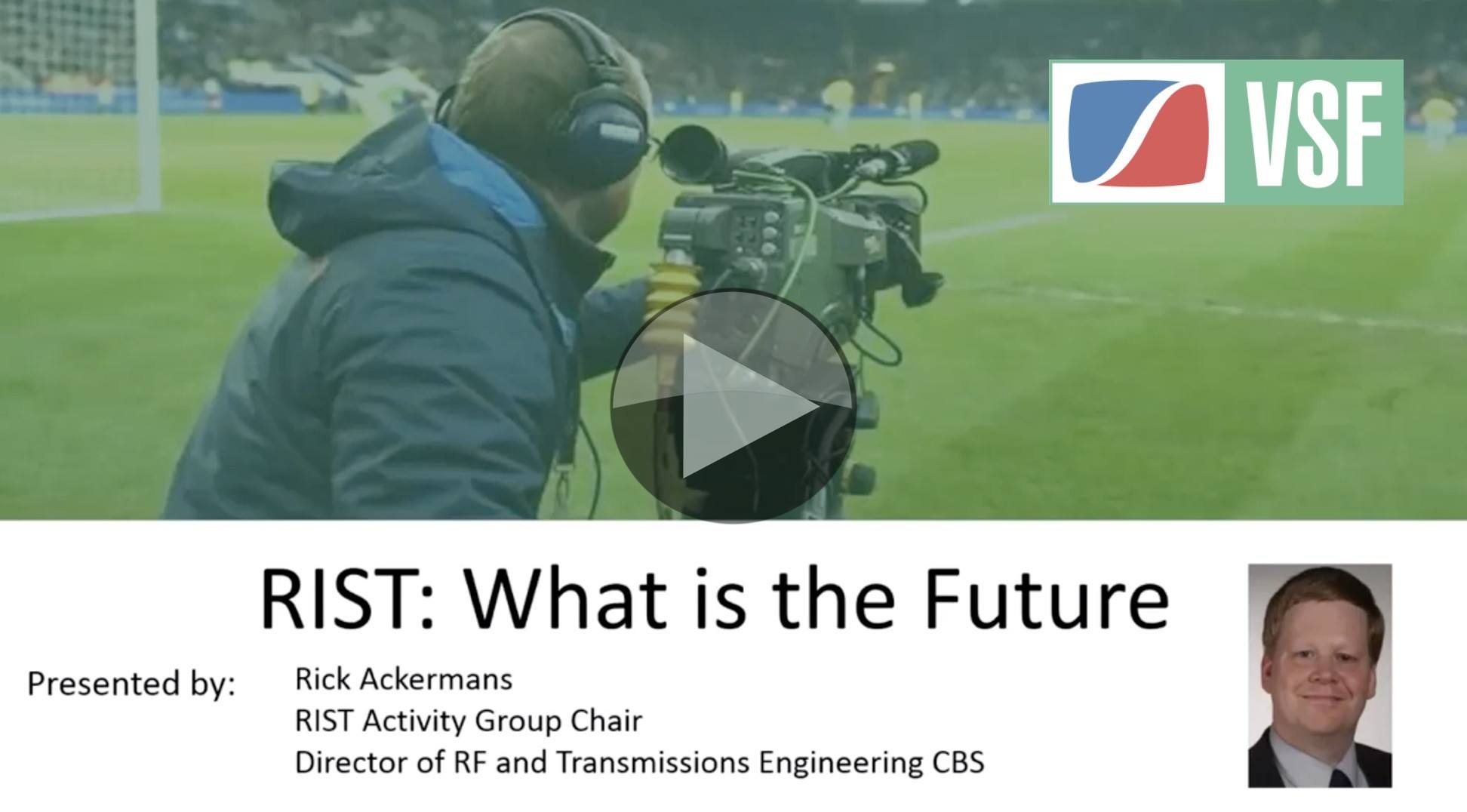 Many see RIST as a new kid on the block, but they've worked quickly since their formation 3 years ago, having produced two specifications and now working on the third. RIST makes sending video over the internet reliable as it corrects for missing data. The protocol which, aims at multi-vendor interoperability, continues to gather interest with the RIST Forum now having over 80 companies.
"What does RIST do today" and "what's next?" are the two questions Rick Ackermans, Chair of the RIST activity group at the VSF, is here to answer. Firstly, then, Rick looks at the documents already published, TR-06-1 and TR-06-2. Also known as the simple profile TR-06-01 has already received an update to allow for continuous measurement of the round trip time (RTT) of the link. Rick makes it clear that these are living specifications and the VSF won't shy away from updating them when it helps keep the protocol relevant and responsive to the industry. TR-06-2 is the main profile which was released last year.
The simple and main profiles are summarised in this article and by Rick in the video. The simple profile provides a sender or receiver which can speak plain RTP and also run with high-performance packet recovery and seamless switching.
Main Profile brings in encryption and a powerful tool, GRE. As we wrote about last week, the idea of a tunnel is to hide complexity from the network infrastructure. Tunnelling allows for bidirectional data flow under one connection which is transparent to the network carrying the tunnel and to the endpoints. This enables a lot of flexibility. Not only does it allow for the connection to be set up in either direction, to suit whichever is easiest for firewall reasons, but it also allows generic data to be sent meaning you could send PTZ camera control data along with the video and audio.
But the highlight of this presentation is looking to the future and hearing about the advanced profile which is still in progress. Planned, though not promised, are features such as auto-configuration where a receiver works out many of the parameters of the link itself and dynamic reconfiguration where the sender and receiver respond to changing conditions of the link/network. Also in the works is a hybrid operation mode for satellites allowing and an internet connection to be used in addition to the satellite feed to receive and deliver re-requests.
Watch now!
Speakers
Rick Ackermans
Rist Activity Group Chair
Director of RF & Transmissions Engineering, CBS
Wes Simpson
Co-Chair, RIST Activity Group,
Owner, LearnIPVideo.com