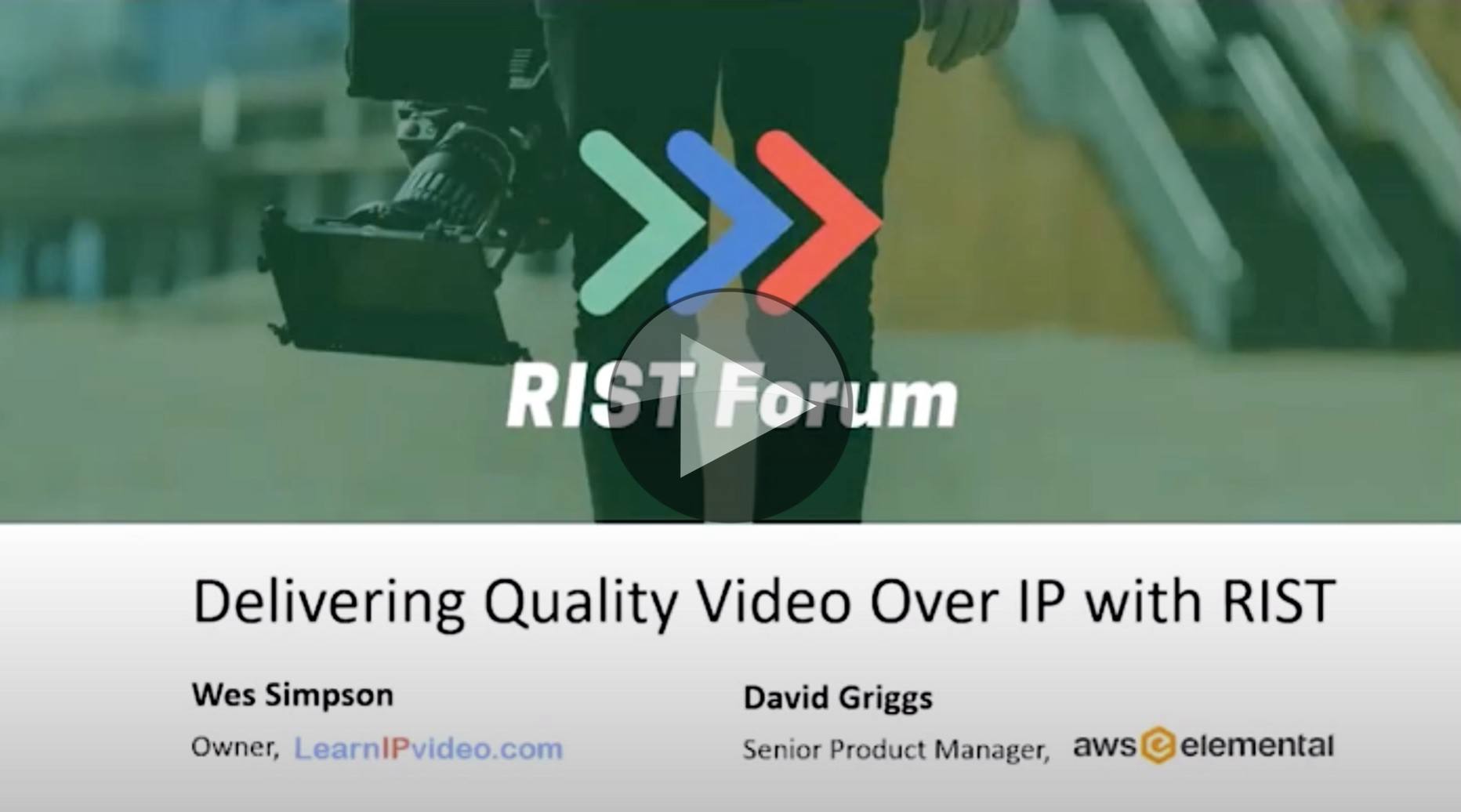 RIST continues to gain traction as a way to deliver video reliably over the internet. Reliable Internet Stream Transport continues to find uses both as part of the on-air signal chain and to enable broadcast workflows by ensuring that any packet loss is mitigated before a decoder gets around to decoding the stream.
In this video, AWS Elemental's David Griggs explains why AWS use RIST and how RIST works. Introduced by LearnIPvideo.com's Will Simpson who is also the co-chair of the RIST Activity Group at the VSF. Wes starts off by explaining the difference between consumer and business use-cases for video streaming against broadcast workflows. Two of the pertinent differences being one-directional video and needing a fixed delay. David explains that one motivator of broadcasters looking to the internet is the need to replace C-Band satellite links.
RIST's original goals were to deliver video reliably over the internet but to ensure interoperability between vendors which has been missing to date in the purest sense of the word. Along with this, RIST also aimed to have a low, deterministic latency which is vital to make most broadcast workflows practical. RIST was also designed to be agnostic to the carrier type being internet, satellite or cellular.
Wes outlines how important it is to compensate for packet loss showing that even for what might seem low packet loss situations, you'll still observe a glitch on the audio or video every twenty minutes. But RIST is more than just a way of ensuring your video/audio arrives without gaps, it. can also support other control signals such as PTZ for cameras, intercom feeds, ad insertion such as SCTE 35, subtitling and timecode. This is one strength which makes RIST ideal for broadcast over using, say RTMP for delivering a live stream.
Wes covers the main and simple profile which are also explained in more detail in this video from SMPTE and this article. One way in which RIST is different from other technologies is GRE tunnelling which allows the carriage of any data type alongside RIST and also allows bundling of RIST streams down a single connecting. This provides a great amount of flexibility to support new workflows as they arise.
David closes the video by explaining why RIST is important to AWS. It allows for a single protocol to support media transfers to, from and within the AWS network. Also important, David explains, is RIST's standards-based approach. RIST is created out of many standards and RFC with very little bespoke technology. Moreover, the RIST specification is being formally created by the VSF and many VSF specifications have gone on to be standardised by bodies such as SMPTE, ST 2110 being a good example. AWS offer RIST simple profile within MediaConnect with plans to implement the main profile in the near future.
Watch now!
Speakers
David Griggs
Senior Product Manager, Media Services,
AWS Elemental
Wes Simpson
RIST AG Co-Chair,
President & Founder, LearnIPvideo.com