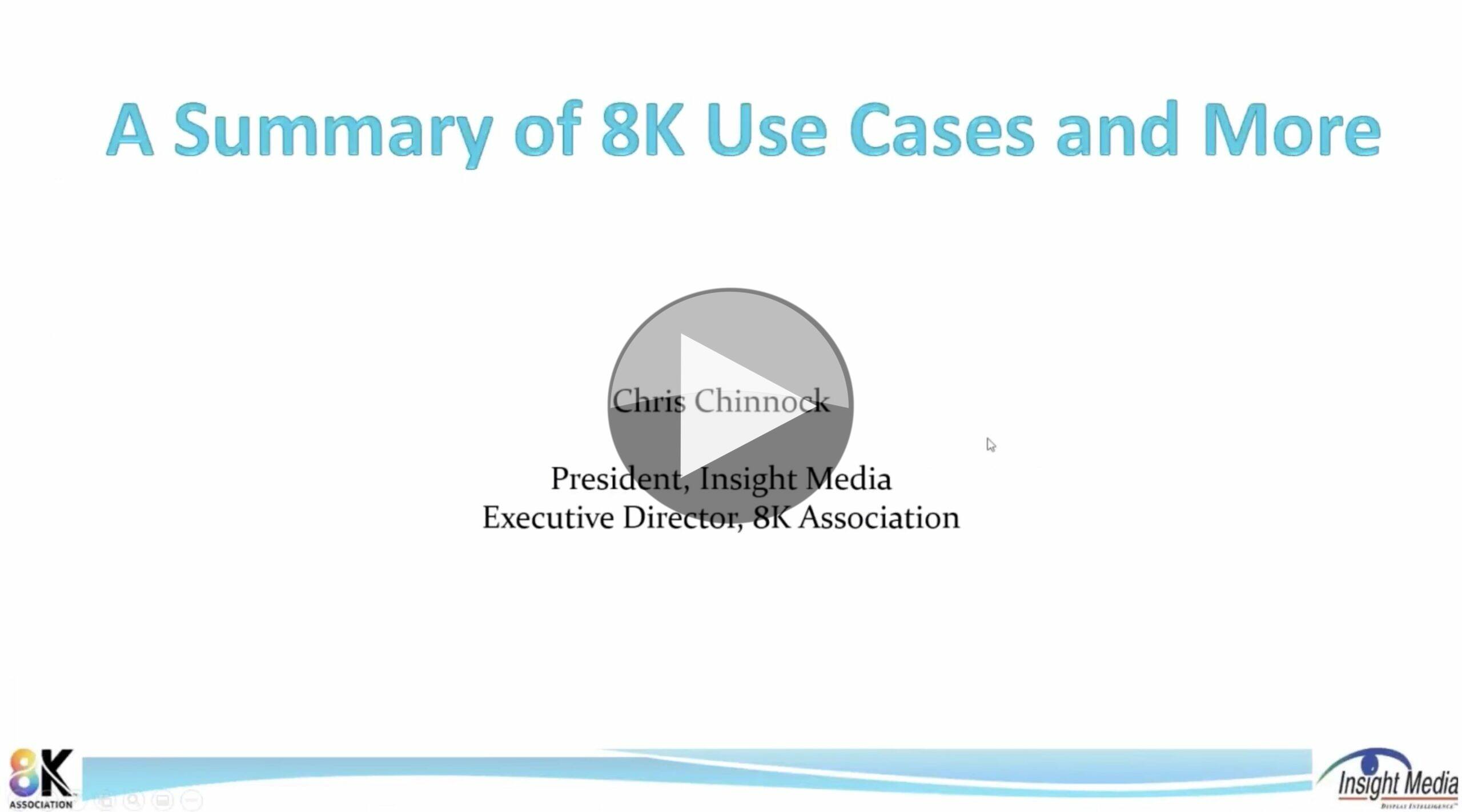 Is there really a reason to move to 8K? UHD/4K within the industry is continuing to gain traction but is far from widespread having started to move out of the 'trails' phase and into some limited productions such as high profile sports events and early some early adopters. Given we're at such an early phase, what are the drivers for 8K technology and who's supporting 8K adoption?
Chris Chinnock from the 8K Association is here to explain these use cases. But in order to encourage the technology and help broadcasters and vendors as they test 8K workflows, Chris explains that they are working from several angles such as documenting encoders and decoders, creating 8K content as well as supporting AI approaches. All these activities fall under the association's umbrella of educating both professionals and consumers about 8K, encouraging the use of the 8K ecosystem, creating a consumer-facing certification system and promoting 8K in a wide number of ways.
It's important that AI is part of the approach as this, whether as Artificial Intelligence, Machine Learning or Neural Networks, is an increasingly key part of codecs' approach to compression. Super Resolution has shown that machine learning does a better job of up- and down-conversion than standard mathematical approaches. So whether using ML for pre- and post-processing or to replace a traditional algorithm, pretty much every stage in video manipulation is being considered for enhancement or replacement with AI/ML at the moment. Thus the 8K association is supporting this work as it may be that these approaches are essential for creating 8K distribution platforms that are feasible with the available technology.
This brings us back to why we even want 8K and taking a step back from each of Chris's slides we see the overall picture which we were reminded of in 2020 with MPEG's recent batch of three new codecs: Not everyone has the same use case in and out of the media & entertainment industry. Chris mentions LCEVC as a good codec available in the near term that can help compress 8K. LCEVC was built not only to deliver great video for broadcast & streaming, but also with a view to keeping complexity low so it could go into old set-top boxes or, for example, body cameras. It allows devices with not much processing power to processes higher resolution video than ever anticipated which can be useful within media and entertainment but can also be very useful in many other industries.
Chris takes us through the medical applications, applications for large-format displays in AV, simulation uses and general corporate use cases for boardrooms and impactful displays within the building which all make use of 8K video with bespoke displays meaning they don't have the problem M&E has with mass distribution of high resolution.
The use cases for film & TV are customer facing such as improved picture quality (particularly when paired with high frame rate, HDR and other technologies) but also behind the scenes where capturing in 8K allows selecting a UHD/HD part of the picture, higher zoom and promises a reduction in the number of camera positions. This is best leveraged in major sporting events and will see a lot of use in the Japanese Olympics.
Chris is good enough to acknowledge there are many challenges at the moment with enabling 8K workflows and also looks at the difficulties of distribution. Without significant investment in codecs, he says that satellite and OTA are not obvious candidates for delivering 8K with no current path to delivery over DVB or ATSC 3.0 without use of the internet. The internet, whether as part of hybrid broadcast or pure streaming is seen as the best vehicle for 8K but 5G, Chris explains, is no silver bullet to enabling wide-spread 8K availability. As we've seen in other videos 5G is on its way but covers a massive range of frequencies only the highest of which, known as millimetre-wave will actually deliver gigabit bandwidths. The initial 5G offerings are on existing frequencies and some new ones up to 6GHz which do provide higher bandwidth but which could easily come down per user when adoption matures. Chris concludes 8K delivery to the home may still be best, for the masses, using fibre delivery to the home.
The complementary element to bandwidth provision is codec availability where we're already seeing LCEVC, AV1 or China's AVS3 being able to be applied to 8K distribution with codecs like VVC and EVC becoming available as the vendors complete their implementations and bring them to market.
Watch now!
Speakers
Chris Chinnock
Executive Director,
8K Association