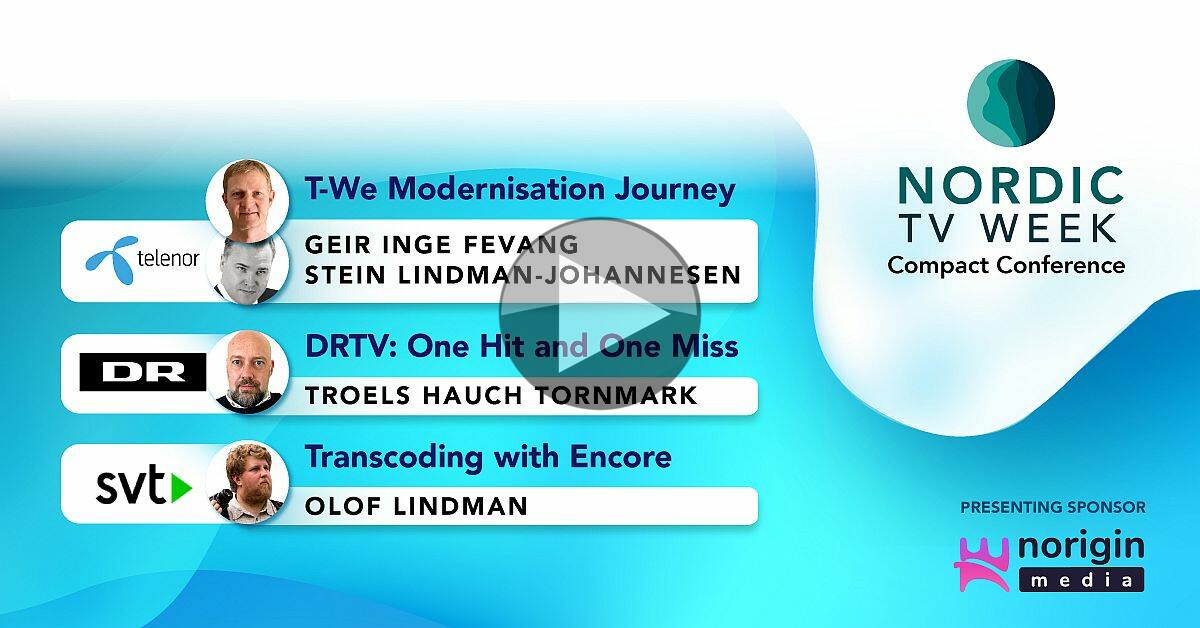 In this triple play of short presentations, we hear about three Nordic companies' work to improve, react to changing conditions and to stay relevant through modernising their whole platform, launching new products and developing improved transcoding.
Telenor's Geir Inge Fevang and Stein Lindman-Johannesen speak first introducing us to the work done to launch fully launch the 'T-We' streaming service which provides live and VoD streaming anywhere you are. Delivering this service was not without its challenges, they explain, because several years ago they realised that their current system was too much based in delivery of broadcast television to be relevant to streaming and the complexity of the system was very high. Overall this led to reduced agility in the product offering and would be the cause of a growing divergence between what Telenor could offer and what the Norwegian public would be expecting. This prompted them to modernise the whole TV chain.
Decommissioning is one way to simplify your video delivery system and Telenor was not shy to do this, decommissioning both analogue TV, their Smartvision platform and their satellite distribution/syndication platform which shared channels with third parties. All the remaining viewers would then be brought under the output of a new project to bring a new user experience. This was done by launching a new set-top box and updating the software on the existing deployed STBs to bring it in line, as much as possible, with the new service. By launching new clients for mobile and web and modernising the back-end video delivery stack. Geir and Stein wrap up their segment discussing how customer satisfaction varied throughout this experience and the learnings they've collected along the way.
Troels Hauch Tornmark from DR presents next talking about two recent product launches one of which, he says, was a miss and one a hit. Being a public broadcaster, they have a continuing need to keep quality high and bring television to the public. One way to bring television to the public, explains Troels, is to allow it to follow you as you move around Europe. The EU portability regulation provides a legal framework and motivation to allow streaming services to continue providing you access even when you are abroad. DR felt this would be an important and valued option for Danish ex-pats and holidaymakers alike so they commissioned a project to make this a reality based on a national Danish identity system. This was given a 'silent' launch because project completion finished last year during the pandemic-related lockdowns. In contrast, Troels details a co-watching product that was perfect for lockdown which they have launched allowing shared, synchronised viewing of programmes no matter where you are putting text chat alongside the video and ensuring when one person needs to pause, everyone is paused too. This has now been spun out into its own company called flinge.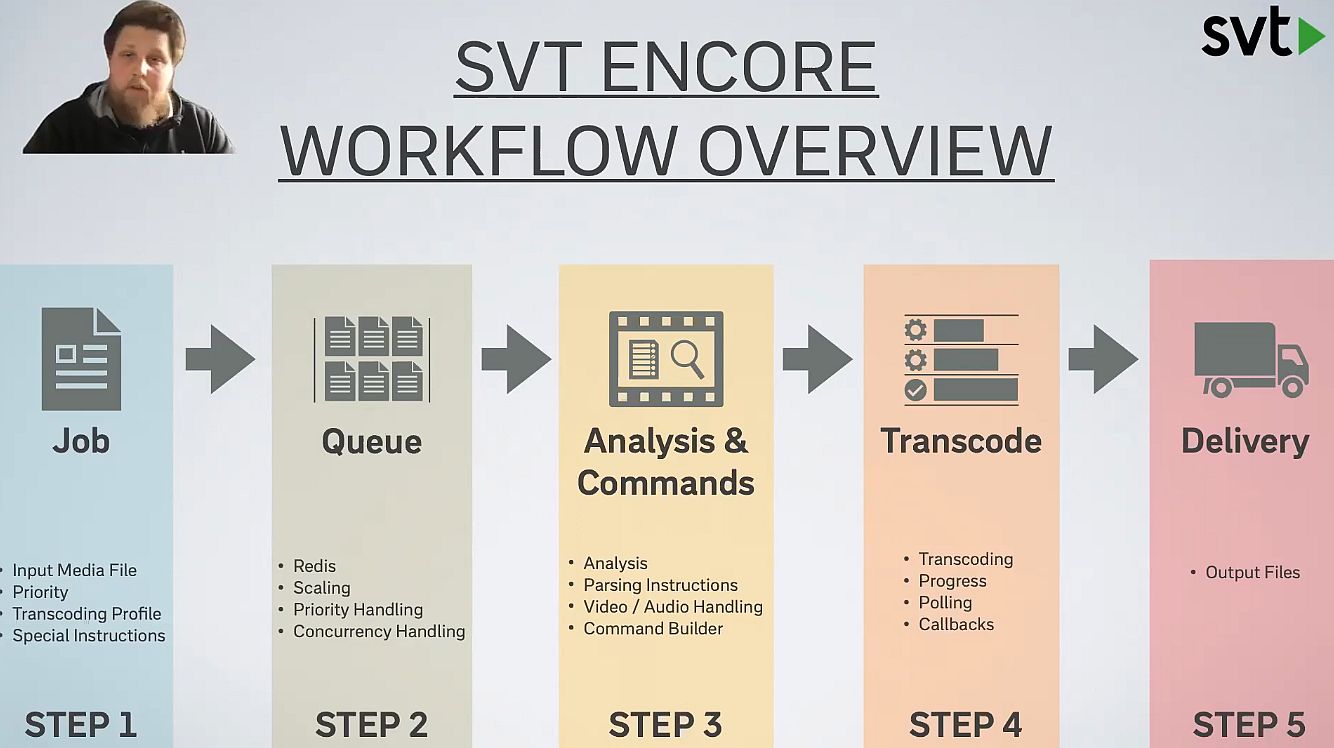 Finally, Olof Lindman from Sweden's SVT talks about Encore, their in-house system which streamlines transcoding and has improved the visual quality of their VoD service. As a response to their previous transcoding software which became end-of-life, SVT trialled using FFmpeg to transcode assets and were very pleased with the results. This led to the creation of the Encore product which brings together in-house programming from SVT with open-source tools like FFmpeg, MediaInfo and many more to deliver a transcoding platform that features queuing of incoming jobs with three priority levels, flexible transcoding using a mixture of templates in response to the media being transcoded, prioritised transcoding whereby the simplest AVC profiles are published first with more advanced audio and HEVC versions being encoded and published at a later point in time when resources allow.
SVT have decided open source Encore which they hope will see continued development from a wider community. So far they have benefitted from the platform as they now have more control and flexibility than before as well as a much better quality of video output.
Watch now!
Speakers
Geir Inge Fevang
Head of Streaming & TV,
Telenor
Stein Lindman-Johannesen
Head of Content & Recommendations,
Telenor
Troels Hauch Tornmark
Product Manager,
DRTV
Olof Lindman
Video R&D Engineer,
SVT