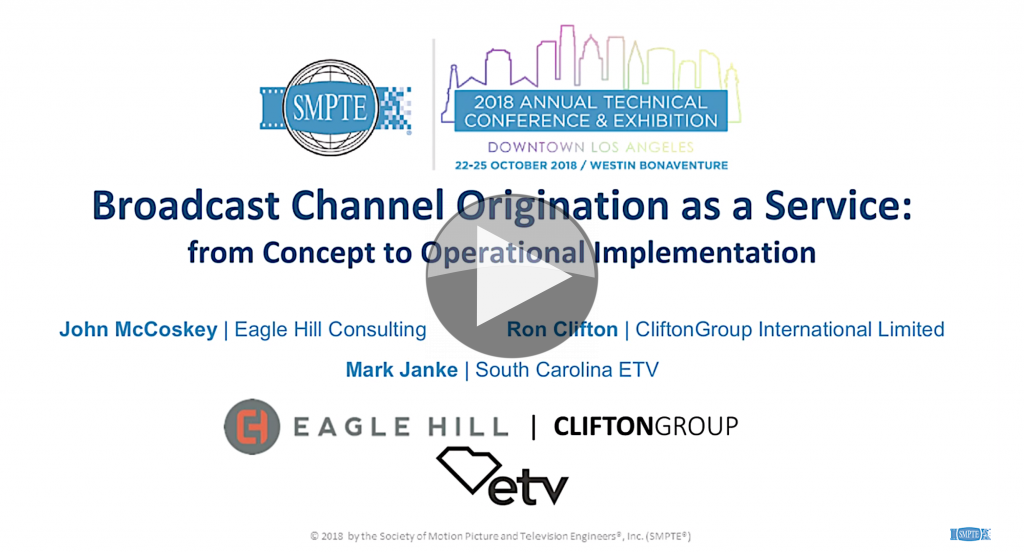 Playout out entire channels from the cloud helps to decrease the number of ingress and egress points to/from the cloud is a general way of maximising the value of cloud workflows.
This talk from the 2018 SMPTE conference is a case study of putting PBS channel origination in the cloud. John McCoskey starts by explaining the motivations and context prompting this move to the cloud – not least of these was Discovery's move putting nearly all its channels in the cloud globally.
Ron Clifton then takes us through the typical system diagram for a channel both the traditional system and how that changes when implemented in the cloud. He discusses the technical abilities of what they have built including additional benefits and then goes on to discuss the PoC.
An interesting slide is Ron's comparison of Cloud Connectivity Options where he compares the pros and cons (cost, jitter, security etc.) of the various types of connectivity into the cloud. This shows the trade offs – effectively business decisions – that need to be made when deploying.
The Q&A covers reliability of public cloud internal networks, frame accurate switching, latency, ASTC gateway locations, geo-diversity, systems monitoring and others.
Speakers
John McCoskey
Former Industry Lead Executive,
Eagle Hill Consulting
Ron Clifton
President & Founder,
CliftonGroup