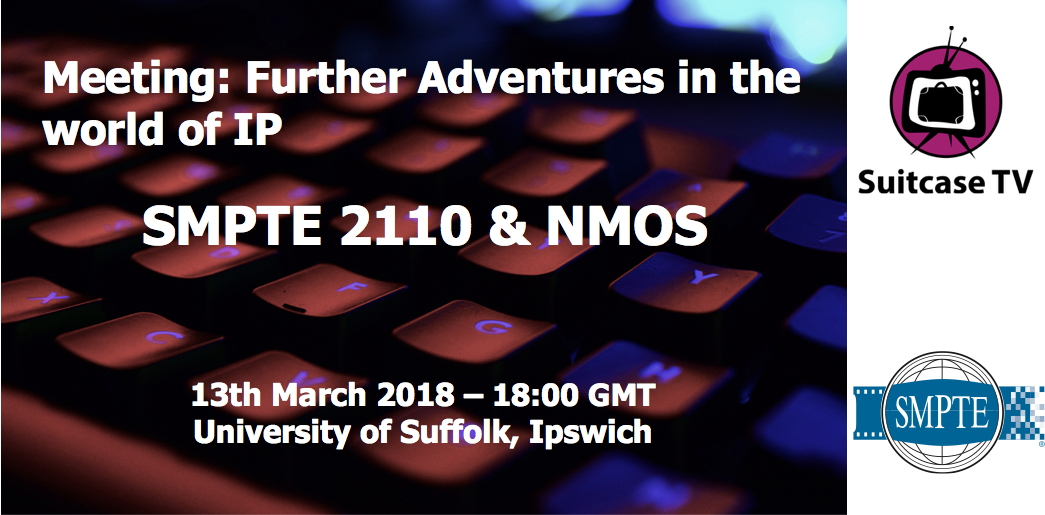 Learn what the SMPTE 2110 standards are and how they affect the future of professional media over IP networks with our speakers David Atkins and Ed Calverley. Now at a bigger venue, David and Ed will highlight areas that need further work and possible approaches that could taken to further advance progress. As a pioneer in IP-based production, Suitcase TV will share its ongoing experiences, both good and bad, of using IP with broadcast signals and look at why it is worth the pain.
What has changed in the past 12 months?
What new opportunities can we as an industry take from the standards?
What new developments are now possible?
Ample time will be available for discussion so bring your experiences, questions and answers.
Date: 13th March 2018, 18:00 for ample refreshments 18:30 start. 20:45 close.
Location: Ipswich Waterfront Innovation Centre (IWIC), The Atrium, University of Suffolk, 19 Neptune Quay, IPSWICH, IP1 1QJ
Travel: From London Liverpool Street, there are multiple trains every hour. 16:40 departure is recommended to arrive at IWIC by 6pm. Full Travel info