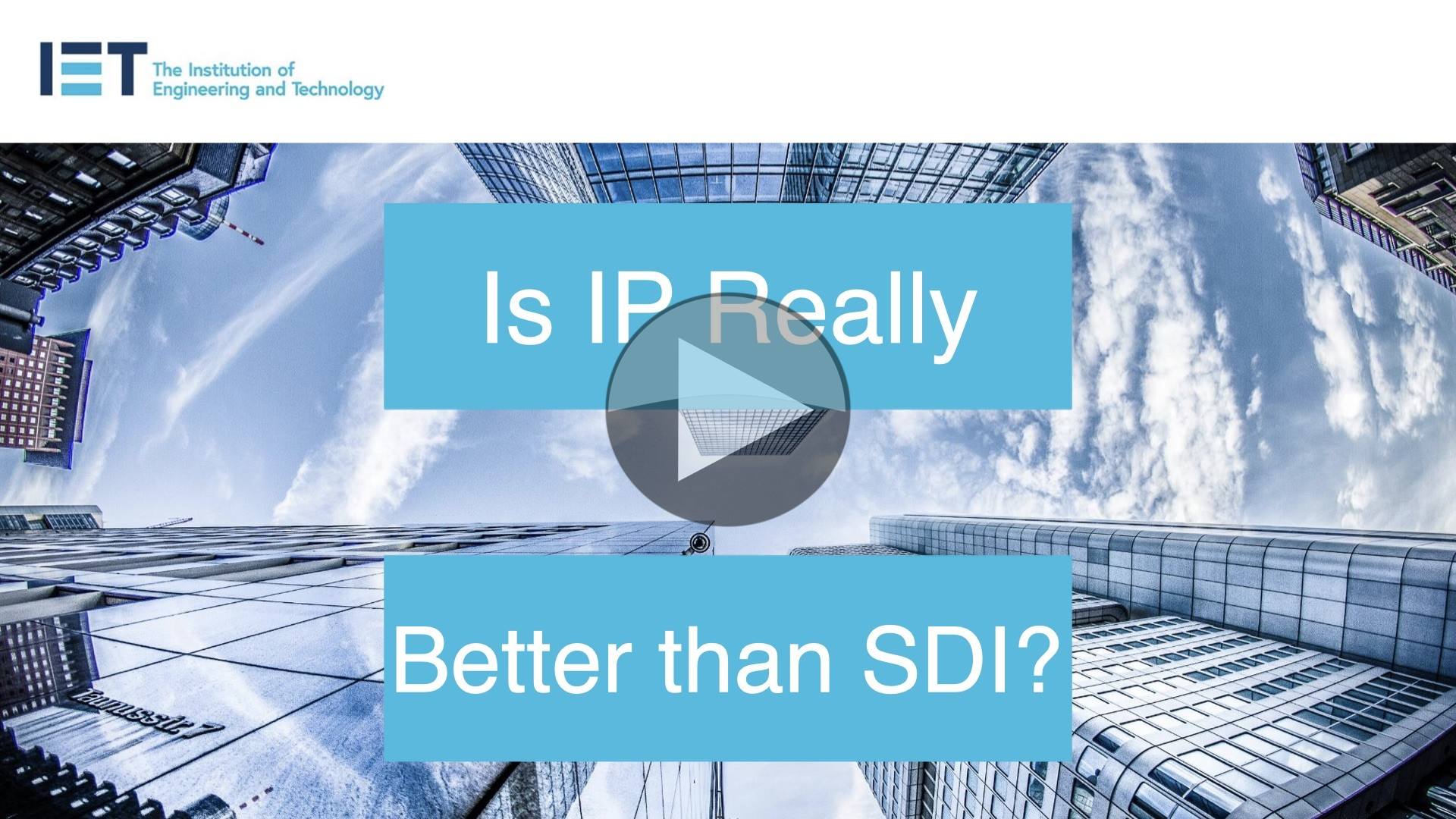 Is SDI so bad? With the industry as a whole avidly discussing and developing IP technology, all the talk of the benefits of IP can seem like a dismissal of SDI. SDI served the broadcast industry very well for decades, so what's suddenly so wrong with it? Of course, SDI still has a place and even some benefits over IP. Whilst IP is definitely a great technology to take the industry forward, there's nothing wrong with using SDI in the right place.
Ed Calverley from Q3Media takes an honest look at the pros and cons of SDI. Not afraid to explain where SDI fits better than IP, this is a very valuable video for anyone who has to choose technology for a small or medium project. Whilst many large projects, nowadays, are best done in IP, Ed looks at why that is and, perhaps more importantly, what's tricky about making it work, highlighting the differences doing the same project in SDI.
This video is the next in IET Media's series of educational videos and follows on nicely from Gerard Phillips' talk on Network Design for uncompressed media. Here, Ed recaps the reasons SDI has been so successful and universally accepted in the broadcast industry as well as looking at SDI routing. This is essential to understand the differences when we move to IP in terms of benefits and compromises.
SDI is a unidirectional technology, something which makes it pleasantly simple, but at scale makes life difficult in terms of cabling. Not only is it unidirectional, but it can only really carry one video at a time. Before IP, this didn't seem to be much of a restriction, but as densities have increased, cabling was often one limiting factor on the size of equipment – not unlike the reason 3.5mm audio jacks have started to disappear from some phones. Moreover, anyone who's had to plan an expansion of an SDI router, adding a second one, has come across the vast complexity of doing so. Physically it can be very challenging, it will involve using tie-lines which come with a whole management overhead in and of themselves as well as taking up much valuable I/O which could have been used for new inputs and outputs, but are required for tying the routers together. Ed uses a number of animations to show how IP significantly improves media routing,
In the second part of the video, we start to look at the pros and cons of key topics including latency, routing behaviour, virtual routing, bandwidth management, UHD and PTP. With all this said, Ed concludes that IP is definitely the future for the industry, but on a project-by-project basis, we shouldn't dismiss the advantages that do exist of SDI as it could well be the right option.
Watch now!
Speakers
Ed Calverley
Trainer & Consultant
Q3Media.co.uk
Moderator: Russell Trafford-Jones
Exec Member, IET Media Technical Network
Editor, The Broadcast Knowledge
Manager, Services & Support, Techex