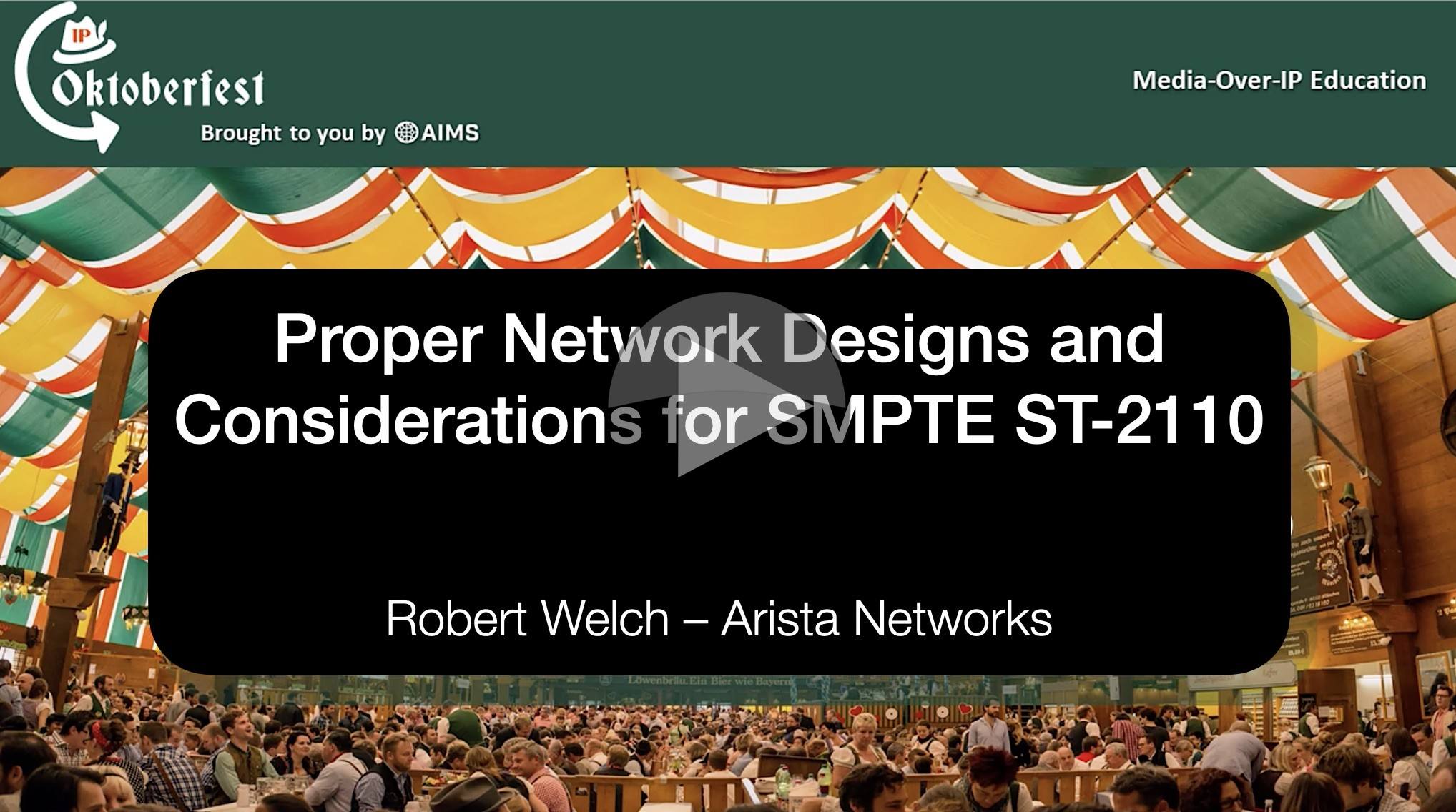 Networks from SMPTE ST 2110 systems can be fairly simple, but the simplicity achieved hides a whole heap of careful considerations. By asking the right questions at the outset, a flexible, scalable network can be built with relative ease.
"No two networks are the same" cautions Robert Welch from Arista as he introduces the questions he asks at the beginning of the designs for a network to carry professional media such as uncompressed audio and video. His thinking focusses on the network interfaces (NICs) of the devices: How many are there? Which receive PTP? Which are for management and how do you want out-of-band/ILO access managed? All of these answers then feed into the workflows that are needed influencing how the rest of the network is created. The philosophy is to work backwards from the end-nodes that receive the network traffic.
Robert then shows how these answers influence the different networks at play. For resilience, it's common to have two separate networks at work sending the same media to each end node. Each node then uses ST 2022-7 to find the packets it needs from both networks. This isn't always possible as there are some devices which only have one interface or simply don't have -7 support. Sometimes equipment has two management interfaces, so that can feed into the network design.
PTP is an essential service for professional media networks, so Robert discusses some aspects of implementation. When you have two networks delivering the same media simultaneously, they will both need PTP. For resilience, a network should operate with at least two Grand Masters – and usually, two is the best number. Ideally, your two media networks will have no connection between them except for PTP whereby the amber network can benefit from the PTP from the blue network's grandmaster. Robert explains how to make this link a pure PTP-only link, stopping it from leaking other information between networks.
Multicast is a vital technology for 2110 media production, so Robert looks at its incarnation at both layer 2 and layer 3. With layer 2, multicast is handled using multicast MAC addresses. It works well with snooping and a querier except when it comes to scaling up to a large network or when using a number of switches. Robert explains that this because all multicast traffic needs to be sent through the rendez-vous point. If you would like more detail on this, check out Arista's Gerard Phillips' talk on network architecture.
Looking at JT-NM TR-1001, the guidelines outlining the best practices for deploying 2110 and associated technologies, Robert explains that multicast routing at layer 3 works much increases stability, enables resiliency and scalability. He also takes a close look at the difference between 'all source' multicasting supported by IGMP version 2 and the ability to filter for only specific sources using IGMP version 3.
Finishing off, Robert talks about the difficulties in scaling PTP since all the replies/requests go into the same multicast group which means that as the network scales, so does the traffic on that multicast group. This can be a problem for lower-end gear which needs to process and reject a lot of traffic.
Watch now!
Speaker
Robert Welch
Technical Solutions Lead
Arista Networks