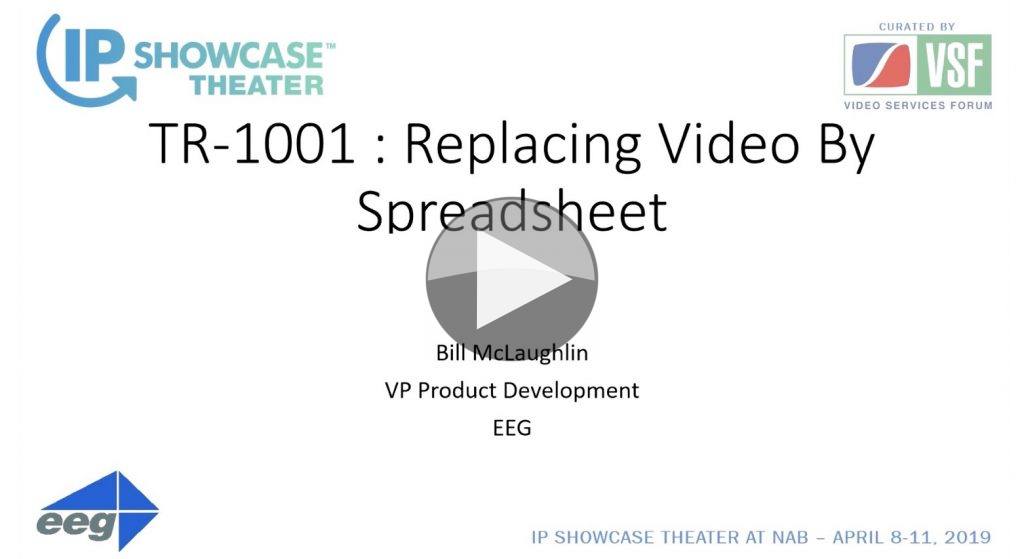 Here to kill the idea of SDNs – Spreadsheet Defined Networks – is TR-1001 which defines ways to implement IP-based media facilities avoiding some typical mistakes and easing the support burden.
From the JT-NM (Joint Taskforce – Networked Media), TR-1001 promises to be a very useful document for companies implementing ST-2110 or any video-over-IP network Explaining what's in it is EEG's Bill McLaughlin at the VSF's IP Showcase at NAB.
This isn't the first time we've written about TR-1001 at The Broadcast Knowledge. Previously, Imagine's John Mailhot has dived in deep as part of a SMPTE standards webcast. Here, Bill takes a lighter approach to get over the main aims of the document and adds details about recent testing which happened across several vendors.
Bill looks at the typical issues that people find when initially implementing a system with ST-2110 devices and summarises the ways in which TR-1001 mitigates these problems. The aim here is to enable, at least in theory, many nodes to be configured in an automatic and self-documenting way.
Bill explains that TR-1001 covers timing, discovery and connection of devices plus some of configuration and monitoring. As we would expect, ST-2110 itself defines the media transport and also some of the timing. Work is still to be done to help TR-1001 address security aspects.
Speaker
Bill McLaughlin
VP Product Development,
EEG Enterprises