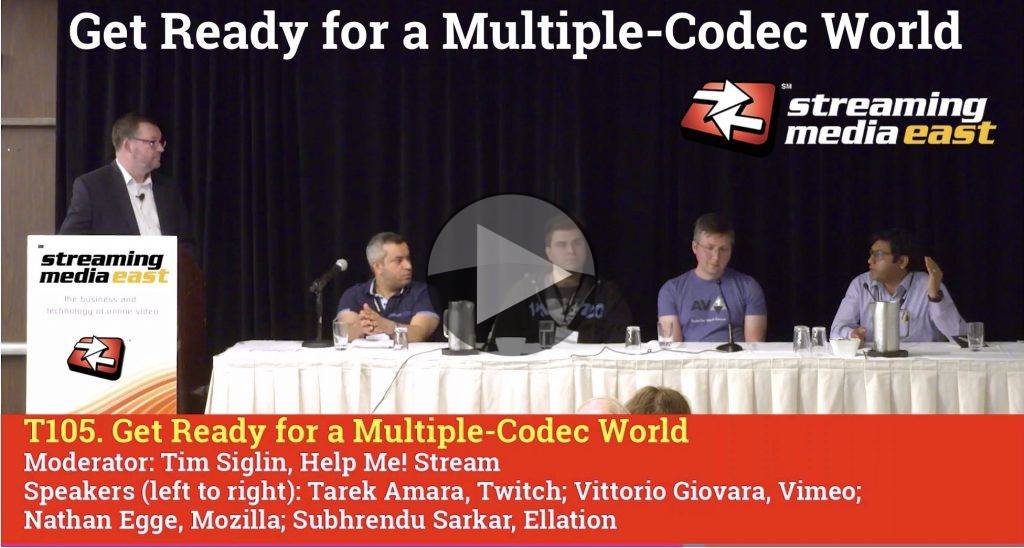 The codec world is fragmenting. None of the new entrants on to the market is expected to ever gain the universal status that AVC enjoys. This panel from Streaming Media East takes a look at how to prepare for this.
The panel kicks off discussing the differences between AVC and HEVC, VP9 and AV1 and moves on to discuss the pros and cons of supporting multiple codecs. Tarek from Twitch explains its partial adoption of VP9 – the reasons that it makes sense but the overheads which it brings the business.
Vittorio Giovara from Vimeo explains their reasons for using HEVC including their drive to be able to encode and deliver 10-bit video. Ellation's Subhrendu Sarakar makes the point that managing codec changes and bitrate changes needs to be done carefully to ensure viewers that notice the change understand them and don't feel there has been a reduction of quality.
After a brief discussion of encoding strongly characterised video types such as anime and gaming, the conversation moves on to AV1 and migrating from VP9 and there is an audience question on HEVC licensing and the lack of use of SVC (Scalable Video Coding)
It's now relatively well known that Twitch deployed VP9 using FPGAs rather than as a software encoder which was the only way to get the real-time speed at 1080p60. The panel discusses encoding speed both in the encoder and decoder for VP9 and AV1 then finishes with a Q&A from the audience.
Speakers
Tim Siglin
Founding Executive Director
Help Me! Stream
Tarek Amara
Principal Video Specialist,
Twitch
Vittorio Giovara
Senior Engineer, Video Encoding
Vimeo
Nathan Egge
Video Codec Engineer,
Mozilla
Subhrendu Sarkar
Senior Engineering Manager, Video Infrastructure & CMS,
Ellation