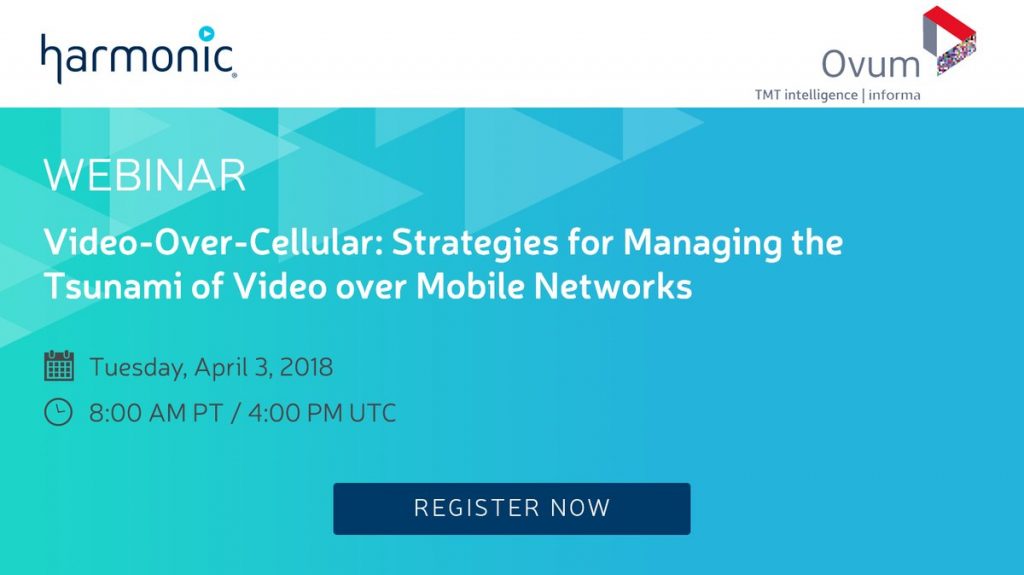 Webinar: April 3rd 2018 – 17:00 BST, 08:00 PT
The spread of smartphones and mobile broadband will lead to video accounting to two-thirds of all internet traffic on cellular networks in 2020. This rise in mobile video consumption will provide mobile operators with new opportunities to harness the popularity of video.
Join industry experts from Harmonic and Ovum as they discuss the mobile market and how mobile operators can prepare to handle the massive growth of video-over-mobile networks.
Topics include:
How and where Mobile Video is consumed
Technical and commercial challenges for mobile operators carrying video
How to address third-party video traffic from OTT providers
Mobile first and on-deck Mobile Video services
Harmonic solutions to deliver Video on Mobile networks
Roadmap for Mobile Video optimization
Looking ahead—5G
Speakers
Thierry Fautier
Vice President, Video Strategy & President of the Ultra HD Forum
Harmonic
As Vice President of Video Strategy at Harmonic, Thierry Fautier is in charge of defining and driving the execution of the long term strategy of Harmonic's video business. In addition, Fautier is the current President of the Ultra HD Forum, the global organization responsible for promoting market adoption of UHD by defining industry best practices for the phased introduction of the wide set of technologies that will facilitate the next-generation viewing experience.
Rob Gallagher
Research Director, Consumer Services
Ovum
Rob Gallagher directs Ovum's global research on digital consumer services. He leads an international team spanning six research practices: Broadband & Multiplay; TV & Video; Digital Media; Digital Communications & Social Networking; Smart Living; and Consumer Technology.
As a member of Ovum's research management team, Rob is also responsible for helping define and deliver on the company's over-arching research agenda, product strategy, and long-term vision.