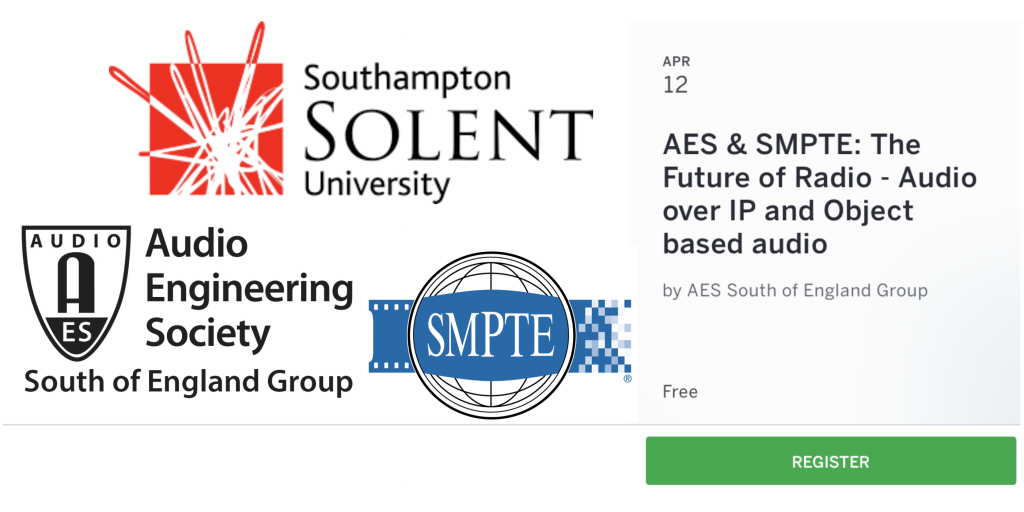 Meeting: Thursday 12th April 2018 | 18:00 for an 18:30 start. Ample refreshments from 18:00.
Location: Palmerston Lecture Theatre, The Spark, Southampton Solent University, SO14 0YN
Click here to register in advance
Two presentations from BBC Research and development, by Chris Baume and Jamie Laundon at a joint event from AES South and SMPTE South Section.
Chris Baume: The Mermaid's Tears – creating the world's first live interactive object-based radio drama
Object-based audio is a revolutionary approach to broadcasting that enables the production and delivery of immersive, interactive and accessible listening experiences. Chris will start by presenting an overview of the opportunities and challenges of object-based audio. He will describe how BBC R&D designed and built an experimental radio studio and an end-to-end object-based broadcast chain. Finally, he will discuss how the studio was used to deliver the world's first live interactive object-based radio drama, as part of the Orpheus collaborative project.
Chris Baume is a Senior Research Engineer at BBC R&D in London, where he leads the BBC's research into audio production tools and the BBC's role in the Orpheus EU H2020 project. His research interests include semantic audio analysis, interaction design, object-based audio and spatial audio. Chris is a Chartered Engineer and a PhD candidate at the Centre for Vision, Speech and Signal Processing at the University of Surrey.
Click here to register in advance
Jamie Laundon: Audio over IP and AES67 – learning to play nicely together
As AoIP becomes commonplace across the industry, the BBC's Jamie Laundon provides an informative summary of the current state of IP audio in the radio studio, how the latest update to AES67 improves interoperability, and how Plugfests are used to identify and resolve issues between different systems. He will also walk us through an example installation to discuss the various options and decisions you need to make to make your next installation fully IP.
Jamie Laundon is a Senior Technologist at BBC Design and Engineering. He delivers complex technology projects for the BBC's national radio networks, with a focus on connectivity, workflow design, metadata and networked audio. His 16 year radio career began within UK commercial radio at Heart and LBC in London, before becoming Technical Manager at Galaxy Radio in Yorkshire. He later joined Radio Computing Services (RCS) as an integration specialist working with radio networks across Europe and the Middle East. Jamie is a member of the Engineering innovation team researching BBC Radio's next-generation "Internet Fit Radio Studios", with a focus on networked audio interoperability.