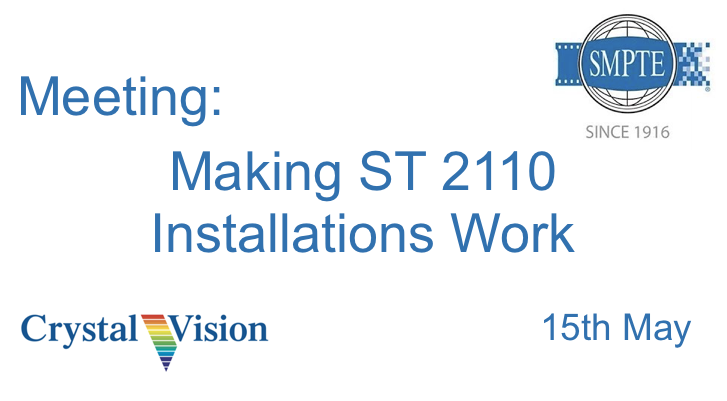 Meeting: May 15th 2018
Location: Crystal Vision, Lion Technology Park Station Road East, Whittlesford, CB22 4WL See map: Google Maps
The meeting is two minutes walk from Whittlesford railway station with regular train services to London Liverpool Street and Cambridge. Good trains from London Liverpool St are at 17.13 slow and 17.37 fast returning on 20.30 or 21.11 or 21.30 (about an hour)
Crystal Vision's System Architect Richard Lawrence and Managing Director Philip Scofield will explain how some of the problems of putting together a live media IP installation can be solved, covering subjects such as network security, compatibility between equipment suppliers, firewalls and new methods of monitoring.
With two weeks to go, this event is already half full. Register now
In this talk you will find out about some of the hazards of IP media systems and also suggestions for dealing with them. IP installations give great flexibility and will eventually be lower cost than SDI. We all need to know how to make use of this new technology.
There will also be a discussion of modular products in an IP environment. The rise in computer performance means that these can now be software Apps with both IP and SDI connectivity that are well suited to working with computer networks. This brings some interesting questions about timing. How do video synchronisers fit into a software environment with multiple streams of media? "Real time" does not have a lot of meaning in this world. Time stamping saves the day of course, but it is a new way of seeing things.