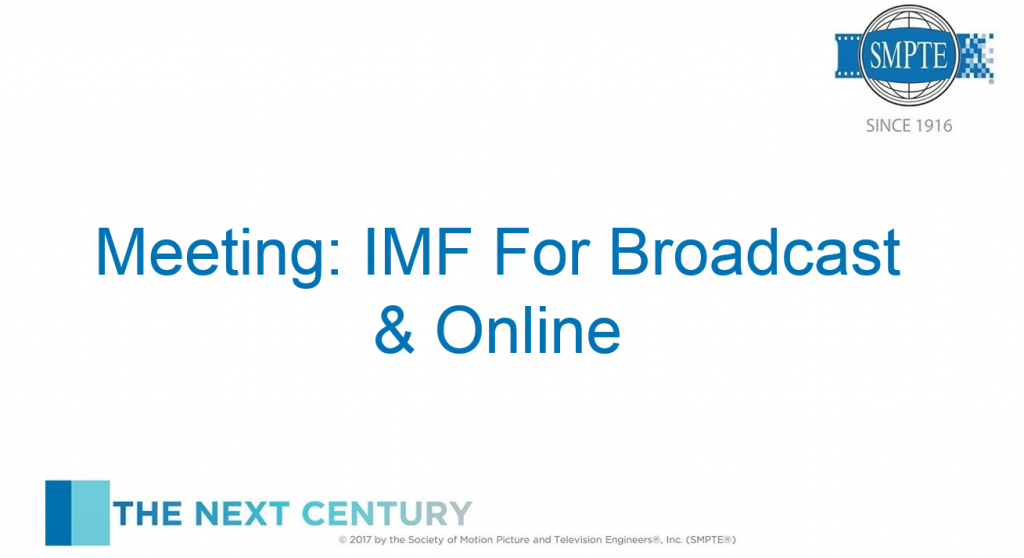 Date: Wednesday, May 23, 2018 – 15:00 to 16:45
Location: Dock10, The Studios, MediaCity:UK, Salford, M50 2HQ
Hosted at Dock10, join the DPP experts to find out about the new IMF Specification for Broadcast and Online.
Starting with refreshments and networking, the session will cover the business case behind the need to develop a new Inter-operable Mastering Format, how it fits in to existing programme delivery cycles, what SMPTE specifications are with a view of how IMF might evolve for advertising deliveries globally
Speakers
Andy Quested
Andy Quested started working as a BBC Technical Assistant in 1978 becoming a video tape editor in 1985. Andy worked on many comedy, children's and documentary series, editing all episodes of "Keeping Up Appearances"! He also worked on the introducing of non-linear editing, stereo and widescreen production. In 1998 Andy moved to a new BBC technology department where he led the production technology for the BBC's first HD programmes including the iconic series "Planet Earth I". He is the technical lead for the DPP's AS-11 format, co-chairs the EBU Video Systems Strategic Group and is an active member of SMPTE, especially the UK Region and became a Fellow in 2014. At the ITU, Andy chaired the Rapporteurs Group that developed the HDR Recommendation until 2015 when he became chair of Working Party 6C which has responsibility for the international standards for production and international exchange.
Andy Wilson,
With over 17 years of working on red button interactive television services, broadcast innovation, product management and digital rights for the BBC, Andy now leads the growth and delivery of the DPP.  Andy's previous BBC work included the migration of Engineering Teams to support new technologies and studios in MediaCity UK, New Broadcasting House, UHD broadcasts, supporting the 2012 London Olympics and running the industry skills programme for File Delivery.
Andy joined the DPP from his role as Partnership Lead for BBC Make it Digital, a year-long campaign to develop the coding and digital skills of audiences across the UK. He was also Head of Delivery for BBC micro:bit, ensuring 1 million children across the UK received a new computing device to help grow their engineering and digital skills. Andy led collaboration between 54 partners, to deliver the BBC's most ambitious education initiative in 30 years.
Andy has experience in developing big data services, powered by machine learning, through his work in developing audience measurement tools for television and online services.