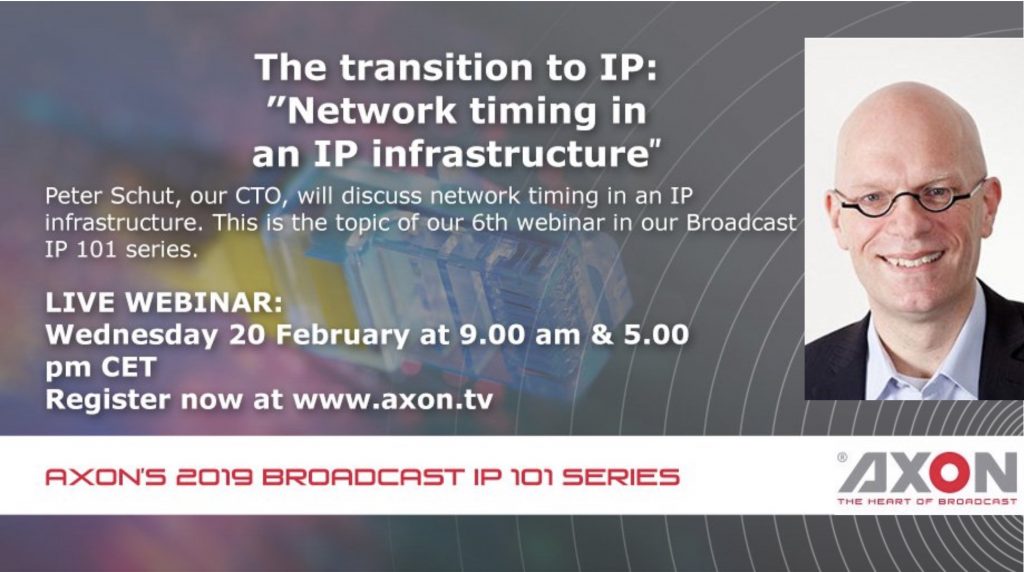 Time: 08:00 & 16:00 GMT, 20th February 2019
Peter Schut is back in the sixth webinar in Axon's Broadcast IP 101 series, this time examining timing, namely PTP, for professional essence-over-IP systems such as based on SMPTE ST 2110.
Timing needs to be rock solid in studio settings where many signals are mixed together, so your PTP system needs to be too. SMPTE 2059-2 standardises the use of PTP timecode (IEEE 1588) in broadcast. It's important to understand how master clocks and slave clocks work, plus there is talk of 'transparent' and 'boundary' clocks in switches. Getting the architecture right is key remembering that one important different between IP timekeeping and black and burst time keeping is that the communication is two-way.
Peter gives us the benefit of his experience and insight into getting timing right in two sessions, one morning, one evening.
Speaker
Peter Schut
CTO
Axon