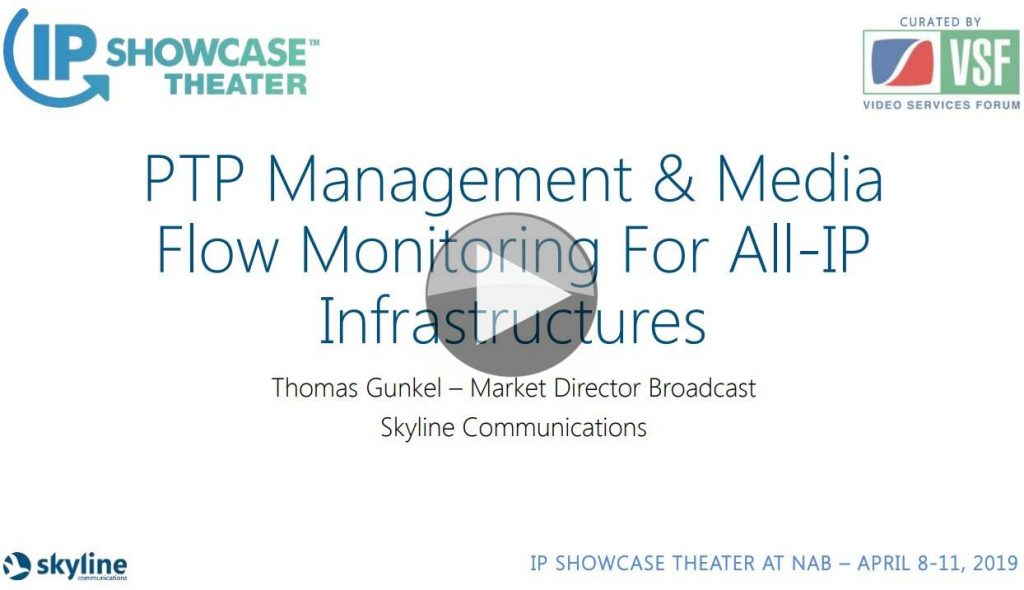 Black and burst was always a 'set and forget' system. PTP, which replaces it, deserves active monitoring – and the same is true of your uncompressed media streams as we hear in this talk from the IP Showcase.
In professional essence-over-IP systems such as based on SMPTE ST 2110, timing needs to be rock solid. Thanks to asynchronous nature of IP many different flows can be carried across a network without having to be concerned with synchronization, but this presents a challenge in the production environment. To provide the necessary "genlock", there is a need for a precise timing standard which is provided by SMPTE ST 2059 which defines the way broadcast signals relate to the IEEE 1588-2008 Precision Time Protocol, commonly referred to as PTPv2. This protocol is very different from analogue Black Burst and Tri-Level signals used in SDI world, so new tools and skills are required for fault finding.
In the first part of this presentation Thomas Gunkel from Skyline Communications focuses on the best practices to configure, monitor and manage PTP in an all-IP infrastructure covering the following:
PTP protocol vs reality (packet delay variation, network asymmetry, imperfect timestamping)
Increasing reliability of PTP (hardware timestamping, using QoS to prioritise PTP traffic, correcting timing intervals)
PTP device issues (grandmaster / boundary clock failure, loss of external reference, badly implemented BMCA)
PTP network issues (missing / corrupted event messages, increased packet delay variation, network asymmetry, multicast issues)
Automating PTP configuration (BMCA settings, messaging rate intervals, communication mode)
Automated PTP provisioning (detecting new PDP our devices using IS-04 or proprietary protocols, extracting end-to-end PTP topology with LLDP, applying standard PTP profiles)
PTP monitoring and control (monitor every single metric related to PTP like PTP offset, PTP mean path delay and multicast PTP network traffic for all grandmaster, master and slave devices, prevent slave devices from becoming master)
The second part of this video shows how to track uncompressed media flows in an ST 2110 IP-based media facility using a multi-layer approach and to how to pinpoint any potential issues using Network Monitoring System. Topics covered:
All IP flows vs SDI signals
Essentials for true orchestration (dynamically orchestrated resources and media services, monitoring / controlling infrastructure and media flows, automatic devices detection and provisioning)
Detecting issues (wrong DB entries for multicast essences, broadcast controller and SDN controller DBs out of sync, source not active, IGMP join / leave issues, SSM issues, network oversubscription)
Media flow tracking (reading cross point status from SDN controller, comparing this status with actual network topology, detecting "ghost" streams, using sFlow / NetFlow to track individual multicast flows)
Importance of true end-to-end SDN orchestration rather than SDN control (routing protocols which provides feedback)
All IP routing procedure (resolving multicast flow topology in combination with label management, checking source, checking destination route, presenting data for root cause analysis on each of these steps)
You can download the slides from here.
Speaker
Thomas Gunkel
Market Director Broadcast
Skyline Communications