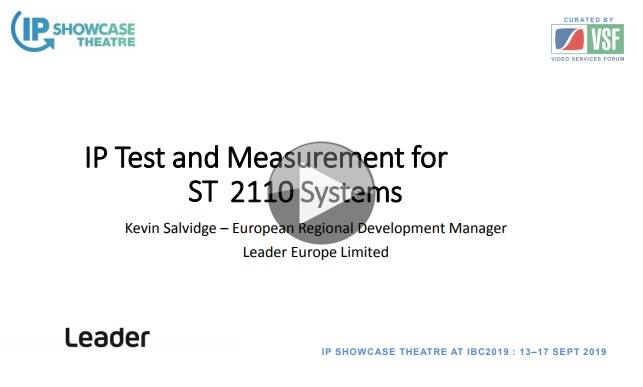 As the transition to IP-based transport for video, audio, and data continues. The early adopters have already demonstrated the operational and commercial benefits of COTS IP infrastructure and SMPTE ST 2110 video-over-IP standard suite becomes mature now. However, configuration and troubleshooting of IP systems requires a completely new skillset. Broadcast engineers need to gain an understanding of the technology and the new techniques required to monitor these signals.
In this video Kevin Salvidge from Leader shows what test and measurement tools you need to ensure you continue to deliver the same quality of service that can be achieved with SDI systems.
Kevin looks at the main differences between traditional and IP systems which stem as much from a move from synchronous to asynchronous infrastructure as the way you measure how well the system is working.
The following topics are covered:
Frame Check Sequence (FCS), Cyclic Redundancy Check (CRC)
Packet jitter measurement (avoiding buffer underrun)
Monitoring ST 2022-7 path delay between the two feeds
PTP synchronization (offset and delay graphs, synchronisation accuracy)
Checking that video, audio and ANC signals are synchronised with PTP and RTP timing measurement
Packet Header Information looking at MAC, IP, UDP, RTP as well as the payload
SFP Information (10/25 Gb, multimode / single mode etc.)
IP Event Log e.g. Grand Master change
Hybrid IP and SDI Video and Audio Test and Measurement
You can see the slides here.
Speaker
Kevin Salvidge
European Regional Development Manager
Leader