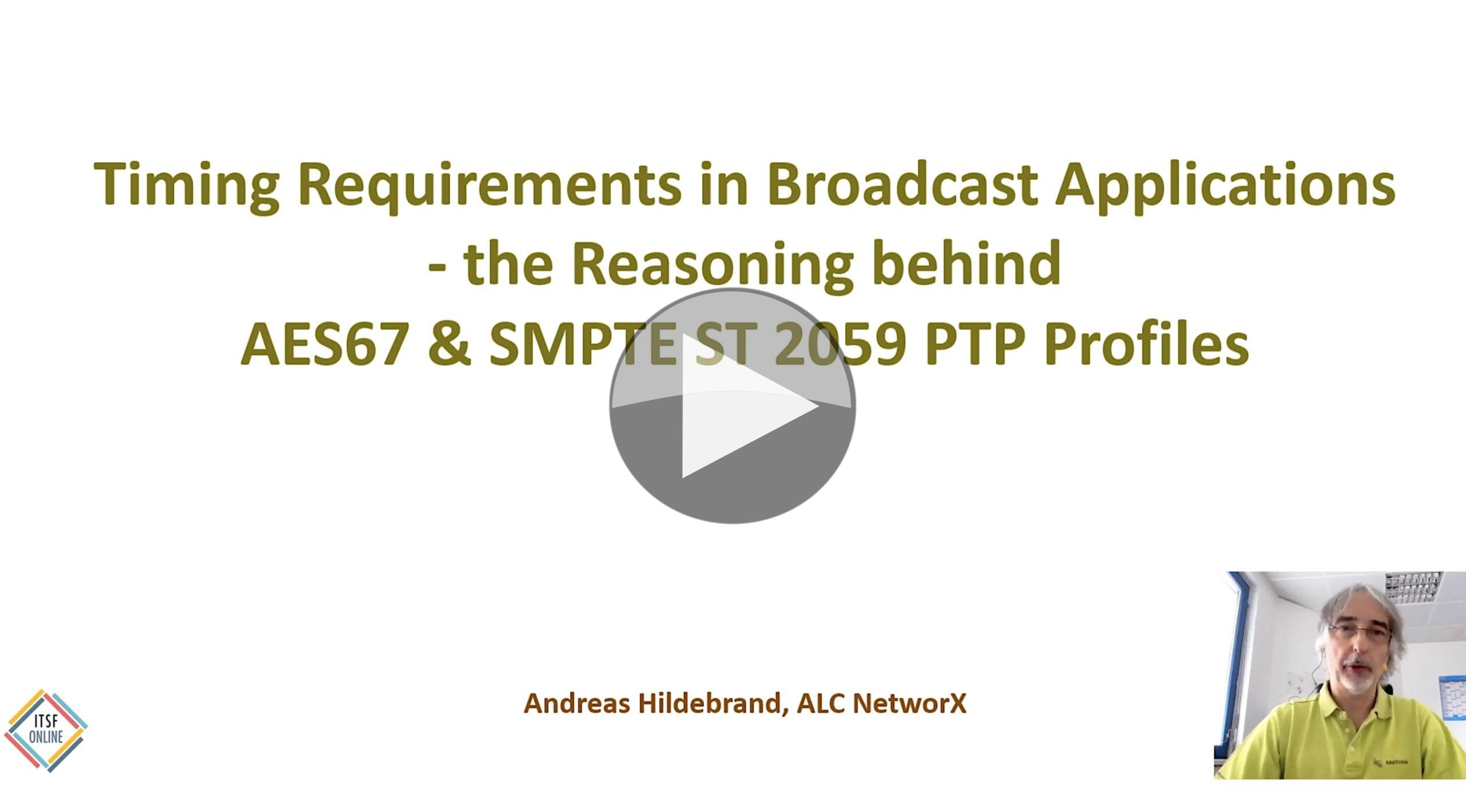 How does timing for AES67 and SMPTE ST 2110-30 work? All is revealed in this short video by Andrea Hildebrand who explains why we need PTP timing and how we relate the absolute time to the signals themselves.
In a network for audio streams, Andreas starts, we want all the streams to run on their native sample rate, use the same clock, but also want to have the possibility of multiple concurrent streams using different sample rates. Also, it's important to have a deterministic end-to-end latency and that, when streams arrive, they should be suitably aligned. We achieve all of this by distributing time around the system. Audio has very high accuracy requirements of down to within 10 microseconds for typical 48KHz broadcast signals, but AES11 requires within 1 microsecond which is why the Precision Time Protocol, PTP is used which is defined by the standard IEEE 1588. For more information on PTP, check out our PTP back library
End devices run their own local clocks, synchronised to the PTP on the network. In charge of it all, there is a grandmaster locked to GPS which can then distribute to other secondary clocks which feed the end devices. The end device can generate a media clock from the PTP and by using PTP, different facilities can be kept in time with each other. All media is then timestamped with the time when they were generated. For advice on architecting PTP, have a listen to this talk from Arista's Gerard Phillips.
RTP is used to carry professional media streams like AES. RTP builds on top of UDP to add the critical timing information we need. Namely, the timestamp but also the sequence number. Andreas looks at the structure of the RTP packet header to see where the timestamp and identifiers go. To follow up on the IT basics underpinning AES67 and SMPTE ST 2110, check out Ed Calverley's presentation on the topic.
'Profiles' are required to link the time of day to media flows – to give the time some meaning in terms of the expected signal. The AES67 Media Profile does this for AES67 as an annexe in the standard. SMPTE use ST 2059 to define how to use AES67 as well as all the other essences it supports and relate them all back to an originating epoch time in 1970.
The talk finishes by looking at the overlap in timing specs for AES67 and ST 2110-30 (AES67 for 2110). For more information on how AES67 and ST 2110 work (and don't work) together, watch Andreas's 'Deeper dive' on the topic.
Watch now!
Speakers
Andreas Hildebrand
RAVENNA Evangelist
ALC NetworX