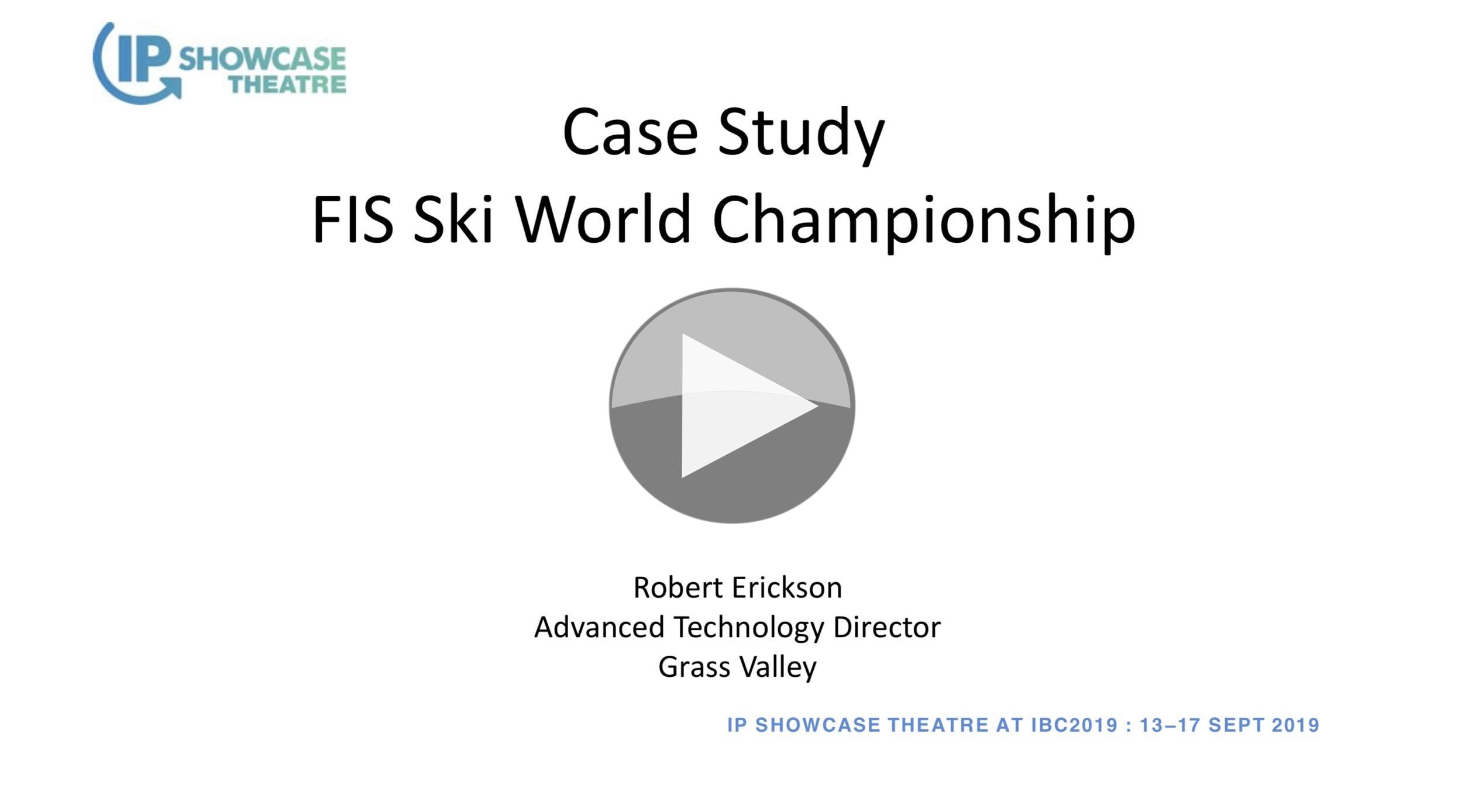 There's a lot to learn when it comes to implementing video over IP, so it's healthy to stand back from the details and see a working system in use to understand how the theory becomes reality. There's been a clear change in the tone of conversation at the IP Showcase over the years as we've shifted from 'trust us, this could work' to 'this is what it looks like!' That's not to say there's not plenty to be done, but this talk about an uncompressed 2110 remote production workflow is great example of how the benefits of IP are being realised by broadcasters.
Robert Erickson is with Grass Valley specialising in sports such as the FIS Alpine World Ski Championships which were in the city of Åre in Sweden some 600km from Stockholm where Sweden's public broadcaster SVT is based. With 80 cameras at the championships to be remotely controlled over an uncompressed network, this was no small project. Robert explains the two locations were linked by a backbone of two 100Gbps circuits.
The principle behind SVT's project was to implement a system which could be redeployed, wouldn't alter the viewers' experience and would reduce staff and equipment on site. Interestingly the director wanted to be on-site meaning that the production was then split between much of the staff being in Stockholm, which of course was where most of the equipment was, and Åre. The cameras were natively IP, so no converters were needed in the field.
Centralisation was the name of the game, based in Stockholm, producing an end-to-end IP chain. Network switching was provided by Arista which aggregated the feeds of the cameras and brought them to Stockholm where the CCUs were located. Robert highlights the benefits of this approach which include the use of COTS switches, scalability and indifference as to the circuits in use. We then have a look inside the DirectIP connection which is a 10gig 'pipe' carrying 2022-6 camera and return feeds along with control and talkback, replicating the functionality of a SMPTE fibre in IP.
To finish up, Robert talks about the return visions, including multivewers, which were sent back to Åre. A Nimbra setup was used to take advantage of a lower-bandwidth circuit using JPEG 2000 to send the vision back. In addition, it carried the data to connect the vision mixer/switcher at Åre with the switch at Stockholm. This was the only point at which noticeable latency was introduced to the tune of around 4 frames.
Watch now!
Download the presentation
Speakers
Robert Erickson
Strategic Account Manager Sports and Venues,
Grass Valley