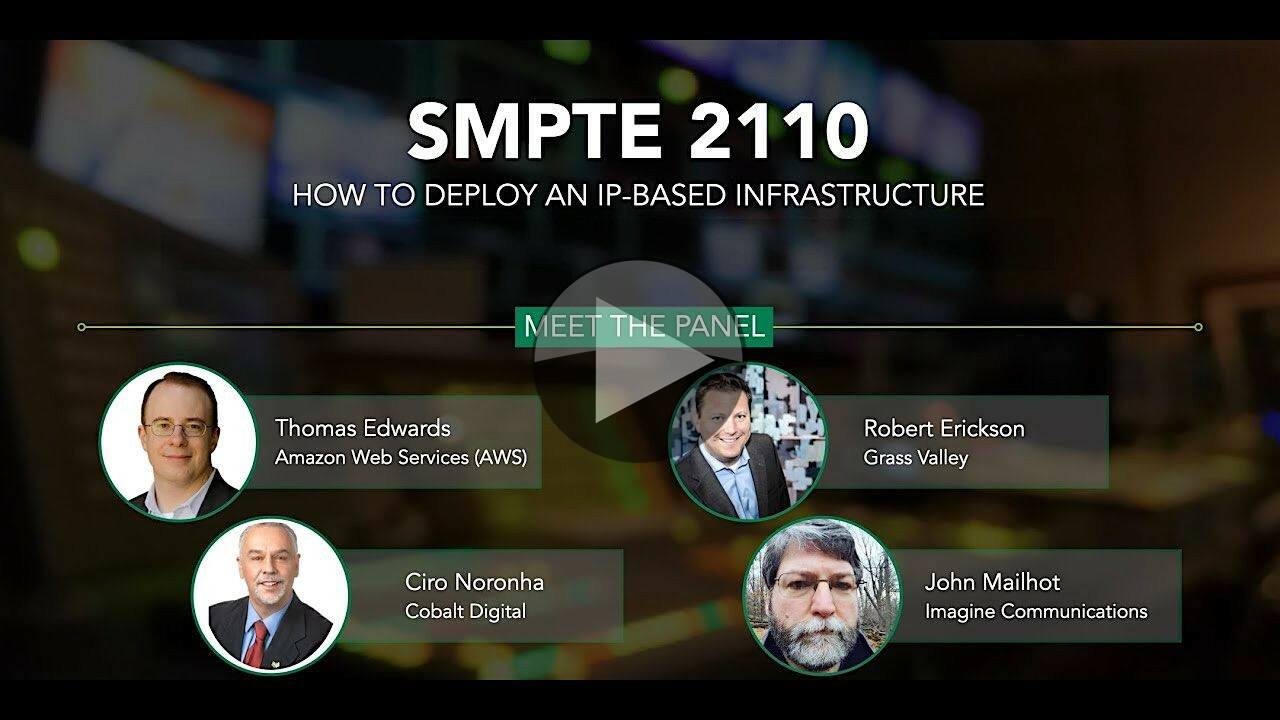 An industry-wide move to any new technology takes time and there is a steady flow of people new to the technology. This video is a launchpad for anyone just coming into IP infrastructures whether because their company is starting or completing an IP project or because people are starting to ask the question "Should we go IP too?".
Keycode Media's Steve Dupaix starts with an overview of how SMPTE's suite of standards called ST 2110 differs from other IP-based video and audio technologies such as NDI, SRT, RIST and Dante. The key takeaways are that NDI provides compressed video with a low delay of around 100ms with a suite of free tools to help you get started. SRT and RIST are similar technologies that are usually used to get AVC or HEVC video from A to B getting around packet loss, something that NDI and ST 2110 don't protect for without FEC. This is because SRT and RIST are aimed at moving data over lossy networks like the internet. Find out more about SRT in this SMPTE video. For more on NDI, this video from SMPTE and VizRT gives the detail.
ST 2110's purpose is to get high quality, usually lossless, video and audio around a local area network originally being envisaged as a way of displacing baseband SDI and was specced to work flawlessly in live production such as a studio. It brings with it some advantages such as separating the essences i.e. video, audio, timing and ancillary data are separate streams. It also brings the promise of higher density for routing operations, lower-cost infrastructure since the routers and switches are standard IT products and increased flexibility due to the much-reduced need to move/add cables.
Robert Erickson from Grass Valley explains that they have worked hard to move all of their product lines to 'native IP' as they believe all workflows will move IP whether on-premise or in the cloud. The next step, he sees is enabling more workflows that move video in and out of the cloud and for that, they need to move to JPEG XS which can be carried in ST 2110-20. Thomas Edwards from AWS adds their perspective agreeing that customers are increasingly using JPEG XS for this purpose but within the cloud, they expect the new CDI which is a specification for moving high-bandwidth traffic like 2110-20 streams of uncompressed video from point to point within the cloud.
John Mailhot from Imagine Communications is also the chair of the VSF activity group for ground-cloud-cloud-ground. This aims to harmonise the ways in which vendors provide movement of media, whatever bandwidth, into and out of the cloud as well as from point to point within. From the Imagine side, he says that ST 2110 is now embedded in all products but the key is to choose the most appropriate transport. In the cloud, CDI is often the most appropriate transport within AWS and he agrees that JPEG XS is the most appropriate for cloud<->ground operations.
The panel takes a moment to look at the way that the pandemic has impacted the use of video over IP. As we heard earlier this year, the New York Times had been waiting before their move to IP and the pandemic forced them to look at the market earlier than planned. When they looked, they found the products which they needed and moved to a full IP workflow. So this has been the theme and if anything has driven, and will continue to drive, innovation. The immediate need provided the motivation to consider new workflows and now that the workflow is IP, it's quicker, cheaper and easier to test new variation. Thomas Edwards points out that many of the current workflows are heavily reliant on AVC or HEVC despite the desire to use JPEG XS for the broadcast content. For people at home, JPEG XS bandwidths aren't practical but RIST with AVC works fine for most applications.
Interoperability between vendors has long been the focus of the industry for ST 2110 and, in John's option, is now pretty reliable for inter-vendor essence exchanges. Recently the focus has been on doing the same with NMOS which both he and Robert report is working well from recent, multi-vendor projects they have been involved in. John's interest is working out ways that the cloud and ground can find out about each other which isn't a use case yet covered in AMWA's NMOS IS-04.
The video ends with a Q&A covering the following:
Where to start in your transition to IP
What to look for in an ST 2110-capable switch
Multi-Level routing support
Using multicast in AWS
Whether IT equipment lifecycles conflict with Broadcast refresh cycles
Watch now!
Speakers
John Mailhot
CTO & Director of Product Management, Infrastructure & Networking,
Imagine Communications
Ciro Noronha
Executive Vice-President of Engineering,
Cobalt Digital
Thomas Edwards
Principal Solutions Architect & Evangelist,
Amazon Web Services
Robert Erickson
Strategic Account Manager Sports and Venues,
Grass Valley
Steve Dupaix
Senior Account Executive,
Key Code Media