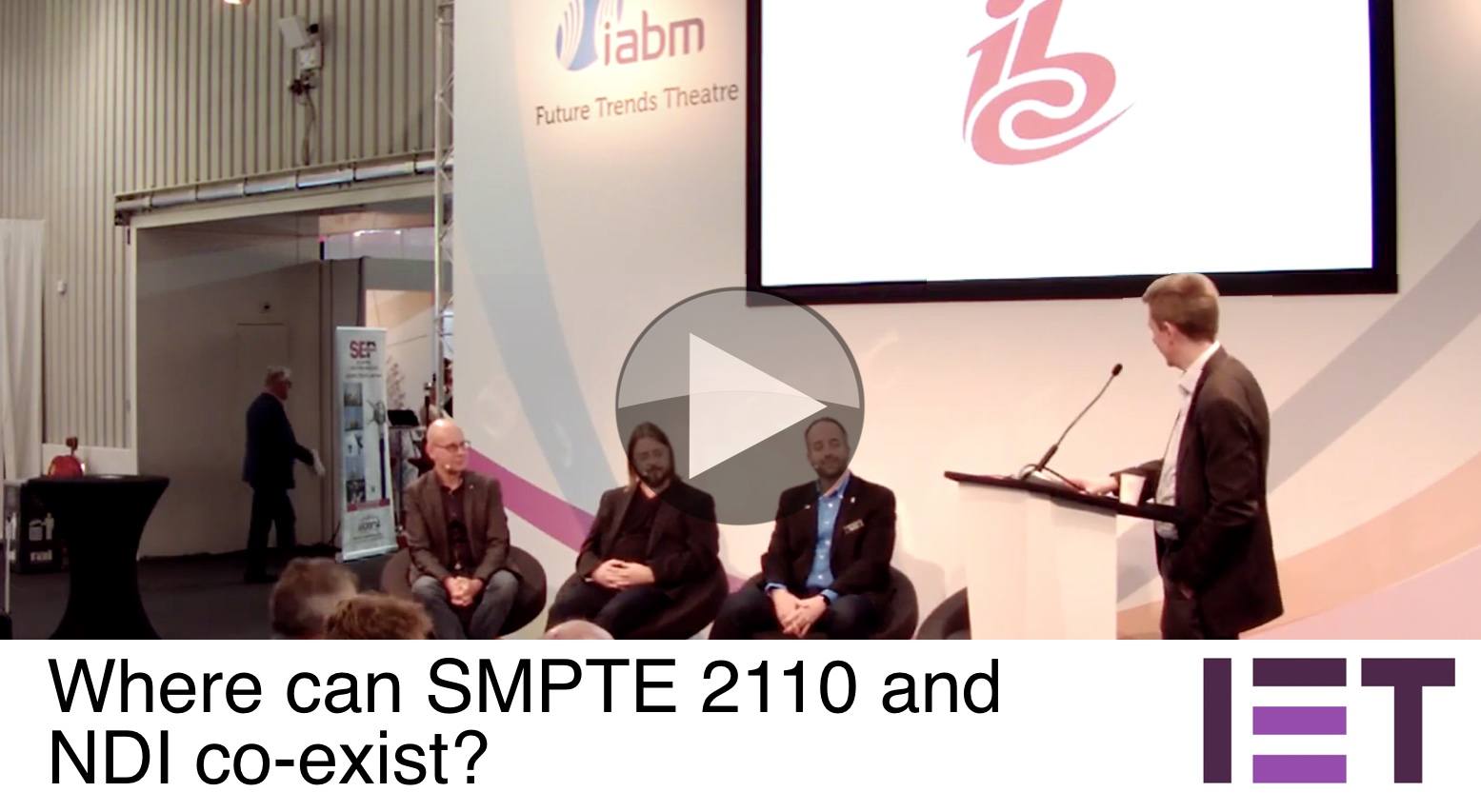 When are two video formats better than one? Broadcasters have long sought 'best of breed' systems matching equipment as close as possible to your ideal workflow. In this talk, we look getting the best of both compressed, low-latency and uncompressed video. NDI, a lightly compressed, ultra-low latency codec, allows full productions in visually lossless video with a field of latency. SMPTE's ST-2110 allows full productions with uncompressed video and almost zero latency.
Bringing together the EBU's Willem Vermost who paints a picture from the perspective of public broadcasters who are planning their moves into the IP realm, Marc Risby from UK distributor and integrator Boxer brings a more general view of the market's interest and Will Waters who spent many years in Newtek, the company that invented NDI we hear the two approaches of compressed and uncompressed complement each other.
This panel took place just after the announcement that Newtek had been bought by VizRT, the graphics vendor, who sees a lot of benefit in being able to work in both types of workflow, for clients large and small and who have made Newtek its own entity under the VizRT umbrella to ensure continued focus.
A key differentiator of NDI is its focus on 1 gigabit networking. Its aim has always to enable 'normal' companies to be able to deploy IP video easily so they can rapidly benefit from the benefits that IP workflows bring over SDI or other baseband video technologies. A keystone in this strategy is to enable everything to happen on normal, 1Gbit switches which are prevalent in most companies today. Other key elements to the codec are: free, software development kit, bi-directionality, resolution-independent, audio sample-rate agnostic, tally support, auto-discovery and more.
In the talk, we discuss the pros and cons of this approach where interoperability is assured as everyone has to use the same receive and transmit code, against having a standard such as SMPTE ST-2110. SMPTE ST-2110 has the benefit of being uncompressed, assuring the broadcaster that they have captured the best possible quality of video, promises better management at scale, tighter integration into complex workflows, lower latency and the ability to treat the many different essences separately. Whilst we discuss many of the benefits of SMPTE ST-2110, you can get a more detailed overview from this presentation from the IP Showcase.
This panel was produced by IET Media, a technical network within the IET which runs events, talks and webinars for networking and education within the broadcast industry. More information
Speakers
Willem Vermost
At the time, Senior IP Media Technology Architect, EBU
Now, Design and Engineering Manager, VRT
Marc Risby
CTO,
Boxer Group
Will Waters
Formerly Vice President Of Worldwide Customer Success,
Now Head of Global Product Management,
VizRT
Moderator: Russell Trafford-Jones
Exec Member, IET Media
Manager, Support & Services, Techex
Editor, The Broadcast Knowledge