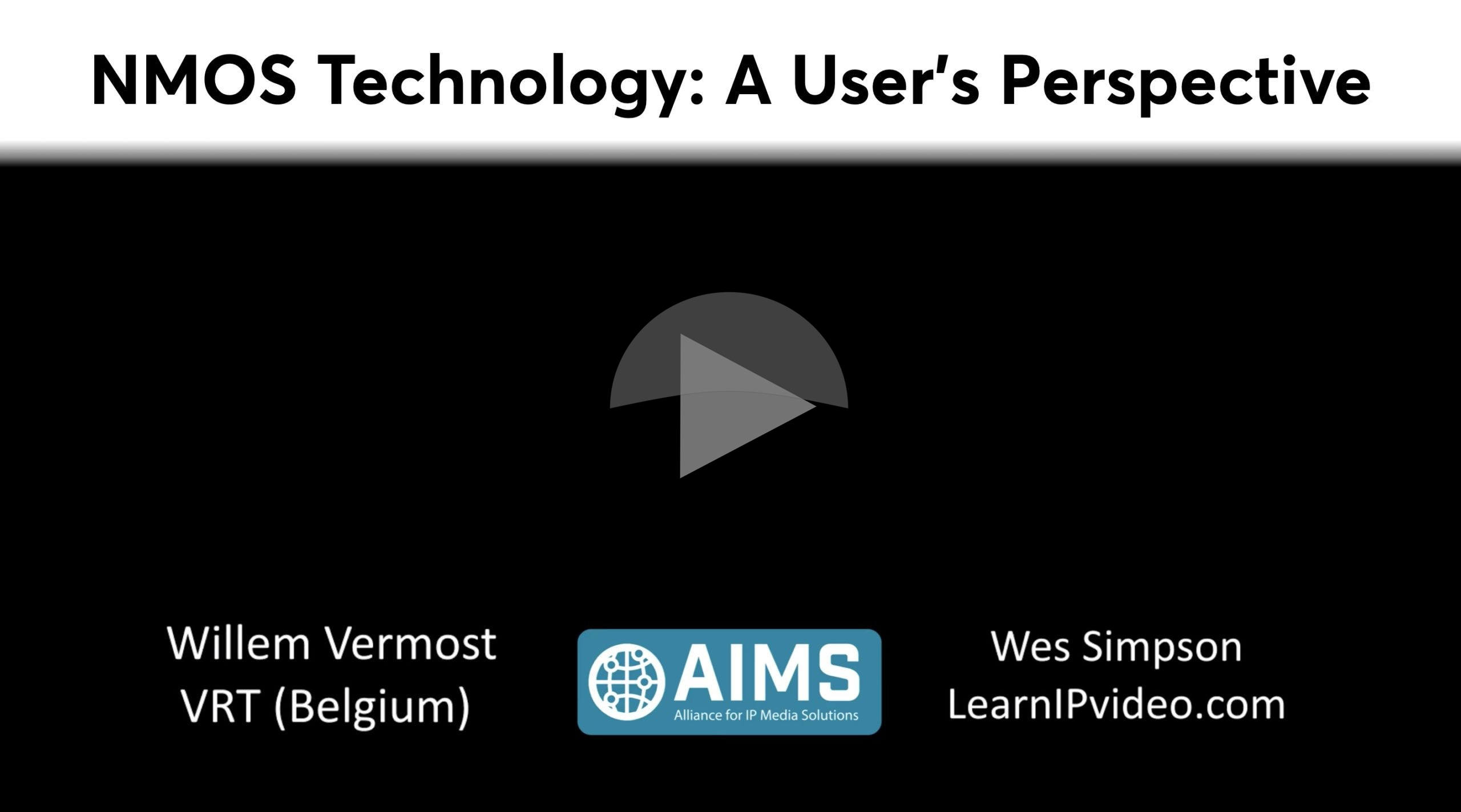 Bringing you discovery, registration, control, audio remapping, security and more, the open NMOS specifications from AMWA make using SMPTE's ST 2110 practical. Most importantly, it makes using 2110 open meaning that different equipment can co-exist in the same ecosystem without being many different drivers being written to translate between each vendor.
Led by Wes Simpson this video talks about implementing NMOS from the perspective of a user, not a vendor with Willem Vermost> from Belgium's public broadcaster, VRT. One drawback of IP-based solutions, they say early on, is that there are so many options on how to deploy. This potential choice paralysis goes hand in hand with trying to adapt to the new possibilities which come with the technologies. For instance, identifies Willem, says engineers need to adapt their thinking just to design differently knowing that, now, multiple signals can now flow in both directions down a cable. It's not like SDI's point to point, unidirectional nature.
Any large plant can get busy with thousands of signals. The question is how to control this massive number of streams; not forgetting that in 2110, an SDI video stream is split up into at least 4 streams. To help put this into perspective, Willem looks back to the original telephone exchange and considers the different workflows there, They work, certainly, but having people present plugging in each individual call doesn't scale well. In our IP world, we want to get beyond the need to 'type in an address' as we want to capture the ease at which cameras are connected
The telephone exchanges worked well but in the early days, there were many exchange manufacturers which, when calling from Berlin to New York all had to work. Willem suggests this is why telecoms acted upon what the broadcast industry is now learning. The last point in this analogy is the need to stop your links between exchanges from becoming over-subscribed. This task is one which NMOS can also be used to deal with, using IS-05.
NMOS is fully available on GitHub and whilst you can take that software and modify it to your needs, Willem says it's important to maintain interoperability between vendor implementations which is why the JT-NM Tested programme exists to ensure that it's easy to buy on the market solutions which say they support NMOS and when they do, that it works. Getting an NMOS test system is easy with open projects from Siny and NVIDIA which are ready for deployment.
Willem ends his talk by saying that ST 2110 is easier now than it was, including a recent experience when the en/decoder worked 'out of the box'. He then answers the question "How do I start out?" Saying you should try something small first, perhaps even an island project. Once you have done that, gained the experience and the concepts, you can take it from there.
Watch now!
Speakers
Willem Vermost
Design & Engineering Manager,
VRT
Wes Simpson
Owner, LearnIPVideo.com