There's a lot more to IP-based production than just getting your video and audio streaming between devices. You need configuration tools, you need timing, there's the management of the devices to consider and, critically, security. the problem is, working in IP is still new and many of the solutions are yet to mature. This means we still don't have all the tools we need to realise the full promise of live production IP systems.
Back in 2018, the EBU embarked on a project to focus the industry on the gaps: The Technology Pyramid. This pyramid shows that although we, as an industry, had largely succeeded in defining essence transport over IP, this was only the 'top of the iceberg', so to speak, in what needed to be done. also known by its full name, "The Technology Pyramid for Media Nodes 2018", it shows that everything is underpinned by security, upon that is configuration and monitoring, with discovery and registration built on that.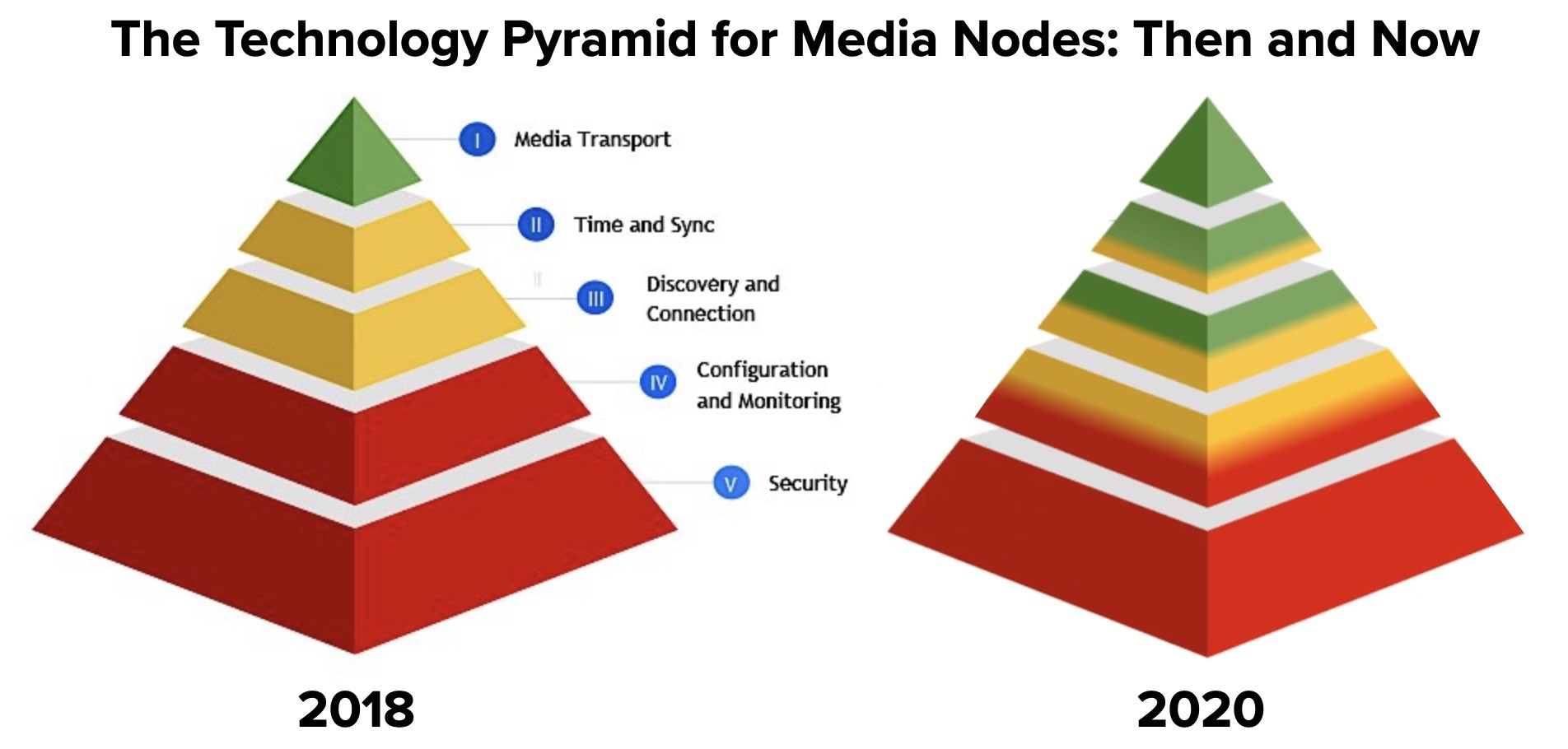 One important aspect of the pyramid is the green – yellow – red colour coding. When initially released, the only green was the transport layer, but this talk looks at the 2020 edition of the pyramid which shows that the time & sync, as well as discovery and connection, have improved.
We're joined by Willem Vermost and Félix Poulin to discuss the problems the industry has faced to date and the progress made in making the pyramid green. Both previously with the EBU and now both with early-adopter broadcasters who are going live with IP systems, they are perfectly placed to explain the evolution on of the market.
Not only has the colouring of the pyramid changed, but the detail of what each layer constitutes has evolved. The industry has reacted with a number of specifications such as JT-NM TR-1001-1 and AMWA BCP-003. Willem and Félix explain the hidden necessities that have come out of the woodwork as the early adopters have fought to make everything work. PTP is a good example, being able to free-wheel without a PTP clock for 5 minutes and then join back without a glitch has been added to the list of requirements. Time stamping and lip-sync have proven tricky, too. Intermediate processing steps place their timestamps over the original timestamp of when the media was captured. If you are trying to sync audio and video which have gone through processing, you need the original timestamps which have now been lost. This problem is being addressed but until it is, it's a big gap.
Overall we can see the power of focussing people's attention in this way. Whilst there is much more detail in the talk itself, just from the extracts in this article, it's clear progress has been made and with plenty more broadcasters starting their IP projects, there is all the more motivation for the vendors to implement the requirements as laid out than there was before.
Watch now!
Speakers
Willem Vermost
Design & Engineering Manager,
VRT
Félix Poulin
Direcor – Media Transport Architecture & Lab
CBC/Radio-Canada