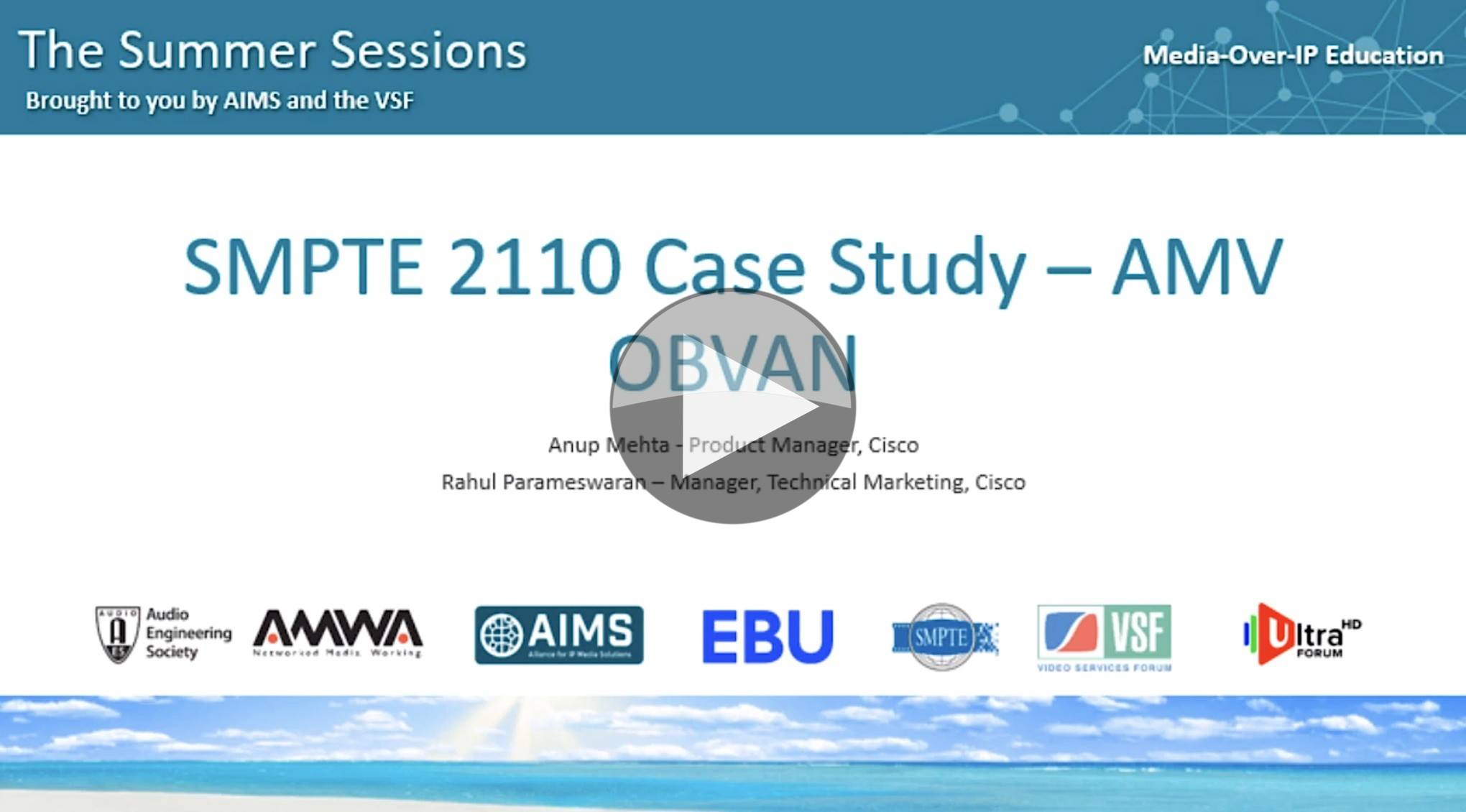 Systems based on SMPTE ST 2110 continue to come online throughout the year and, as they do, it's worth seeing the choices they made to make it happen. We recently featured a project building two OB truck and how they worked around COVID 19 to deliver them. Today we're looking at an OB truck based on Grass Valley and Cisco equipment.
Anup Mehta and Rahul Parameswaran from Cisco join the VSF's Wes Simpson to explain their approach to getting ST 2110 working to deliver a scalable truck for All Mobile Video. This brief was to deliver a truck based on NMOS control, maximal COTS equipment, flexible networking with scalable PTP and security.
Thinking back to yesterday's talk on Network Architecture we recognise the 'hub and spoke' architecture in use which makes a lot of sense in OB trucks. Using monolithic routers is initially tempting for OB trucks, but there is a need for a lot of 1G and 10G ports which tends to use up high-bandwidth ports on core routers quickly. Therefore moving to a monolithic architecture with multiple, directly connected, access switches makes them most sense. As Gerard Philips commented, this is a specialised form of the more general 'spine-leaf' architecture which is typically deployed in larger systems.
One argument against using IGMP/PIM routing in larger installations is that those protocols have no understanding of the wider picture. They don't take a system-wide view like a SDN controller would. If IGMP is a paper roadmap, SDN is satnav with up to date road metrics, full knowledge of width/weight restrictions and live traffic alerts. To address this, Cisco created their own technology Non-Blocking Multicast (NBM) which takes in to account the bandwidth of the streams and works closely with Cisco's DCNM (Data Centre Network Manager). These Cisco technologies allow more insight into the system as a whole, thus make better decisions.
Anup and Rahul continue to explain how the implementation of PTP was scaled by offloading the processing to line cards than relying on the main CPU of the unit before explaining how the DCNM, not only supporting the NBM feature, also supports GV Orbit. This is the configuration and system management unit from GV. From a security perspective, the network, by default, denies access to any connections into the port plus it has the ability to enforce bandwidth limits to stop accidental flooding or similar.
Watch now!
Speakers
Anup Mehta
Product Manager,
Cisco
Rahul Parameswaran
Senior Technical Product Manager,
Cisco