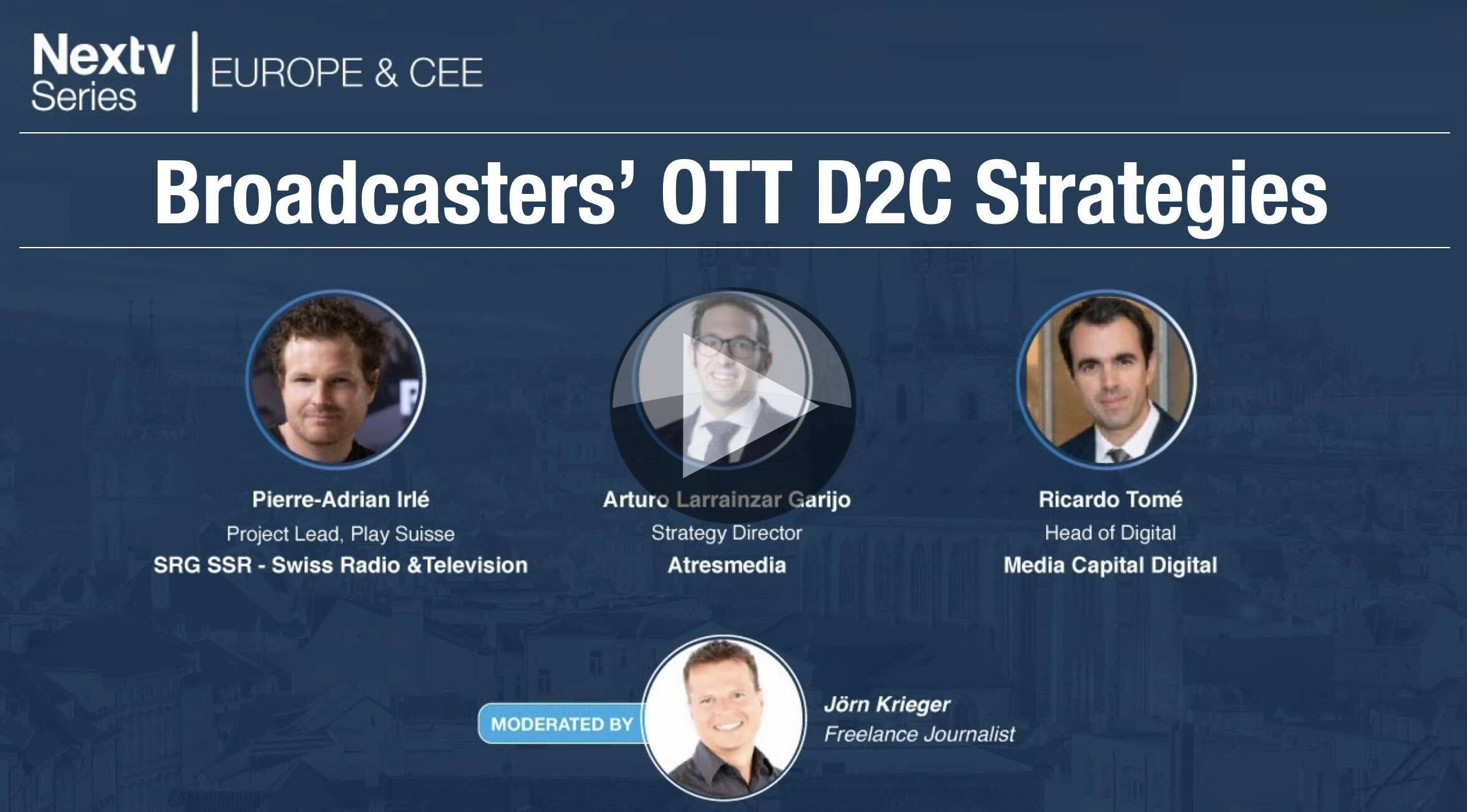 New streaming services are still coming online in Europe and elsewhere some with ads, some subscription based. But this isn't just a story of new players trying to disrupt the market, broadcasters are continuing to enter, renter and innovate in this same space. So what are they up to and how are they holding their own against the international names?
Jörn Krieger moderates this panel from Nextv Series Europe first asking Swiss broadcaster SRG SSR's Pierre-Adrian Irlé about the public broadcaster's new offering, Play Suisse. Pierre explains that Switzerland is surrounded by big markets providing content in three out of Switzerland's four languages. So it's actually local content which is the core asset that SRG SSR has since the Netflixes of the world have yet to invest in any Swiss content. This led the Play Suisse team to build a digital platform from the ground up, separate from their linear workflows and tools so that they adapt their service to being online and deliver the service and quality customers expect based on their experience with the international services.
Ricardo Tomé from Portugal's Media Capital Digital says that Portugal has good cable penetration and most customers are already used to being able to rewatch the last 7 days' content. Their proposition is split between the national Portuguese market and the international market made of Portuguese speakers abroad. Ricardo agrees that it doesn't matter if you are public or private, having your own content is very important. International Portuguese are happy to pay, but nationally telcos are giving away subscriptions to Amazon Prime etc. which reduces their appetite to pay for streaming services.
Jörn turns the conversation to strategies to attract viewers and whether priority is given to the younger demographic. Pierre explains they very much want to reach their existing audience but know that there is a share of the audience that have lost, or who never had, a relationship with a broadcaster. With the launch of Play Suisse, they are getting emails from young licence-fee payers who say they are finally able to get something for their money. For Arturo Garijo from Spanish commercial broadcaster Atresmedia, the question is less about demographics themselves, but more about the appetite for paying for content in the Spanish market. There are a lot of people who are not used to paying meaning their business model had to be about the volume of people watching adverts. However, with streaming, they are now able to attract viewers who are interested in pay to avoid adverts. They have a lot of traditional viewers, so they have a big funnel of potential customers against whom they are developing differently priced ways of accessing their services to maximise take up.
Ricardo points out that having a subscription service that captures people with big productions is all very well, but there is also a lot of work to do to market differently via social media and word of mouth. Another difference in being online, particularly for public broadcasters are rules dictating what you can and can't do. Play Suisse, for example, is not allowed to run advertising online and can't bring things online more than 24 hours before linear. So the business model adapts around these rules, for instance by offering binge watching of a new series in the 24 hours before the linear release which as a more traditional two-a-week airing schedule.
Jörn moves to discussing content and viewer retention as the panel comes to a close. Ricardo says that you need to carefully consider how much you spend on original content. You can't predict the upside of new content, but it needs to be good, long-lived content so it can be reused for broadcast after being online. This means being willing to pay for good writers and directors. Arturo points out that you can't simply rely on exclusive content because your churn will be high and so will the cost. You can retain people if you have a deep catalogue for them to continue to explore after they've seen the content that attracted them in the first place. Pierre agrees that curating the content is a good way to retain customers which they do by finding different ways to curate and unearth older content. A great example of curating older content, and showing that it's not simply a question of putting old episodes online, is that Media Capital Digital has been re-editing novellas/soap operas from 300 episodes down to 80. This gives them the opportunity to freshen up the feel of the show and make the episode lengths and formats more conducive to binge watching.
Watch now!
Speakers
Pierre-Adrian Irlé
Project Lead, Play Suisse,
SRG SSR – Swiss Radio and Television
Arturo Larrainzar Garijo
Strategy Director,
Atresmedia
Ricardo Tomé
Head of Digital,
Media Capital Digital
Moderator: Jörn Krieger
Freelance Journalist