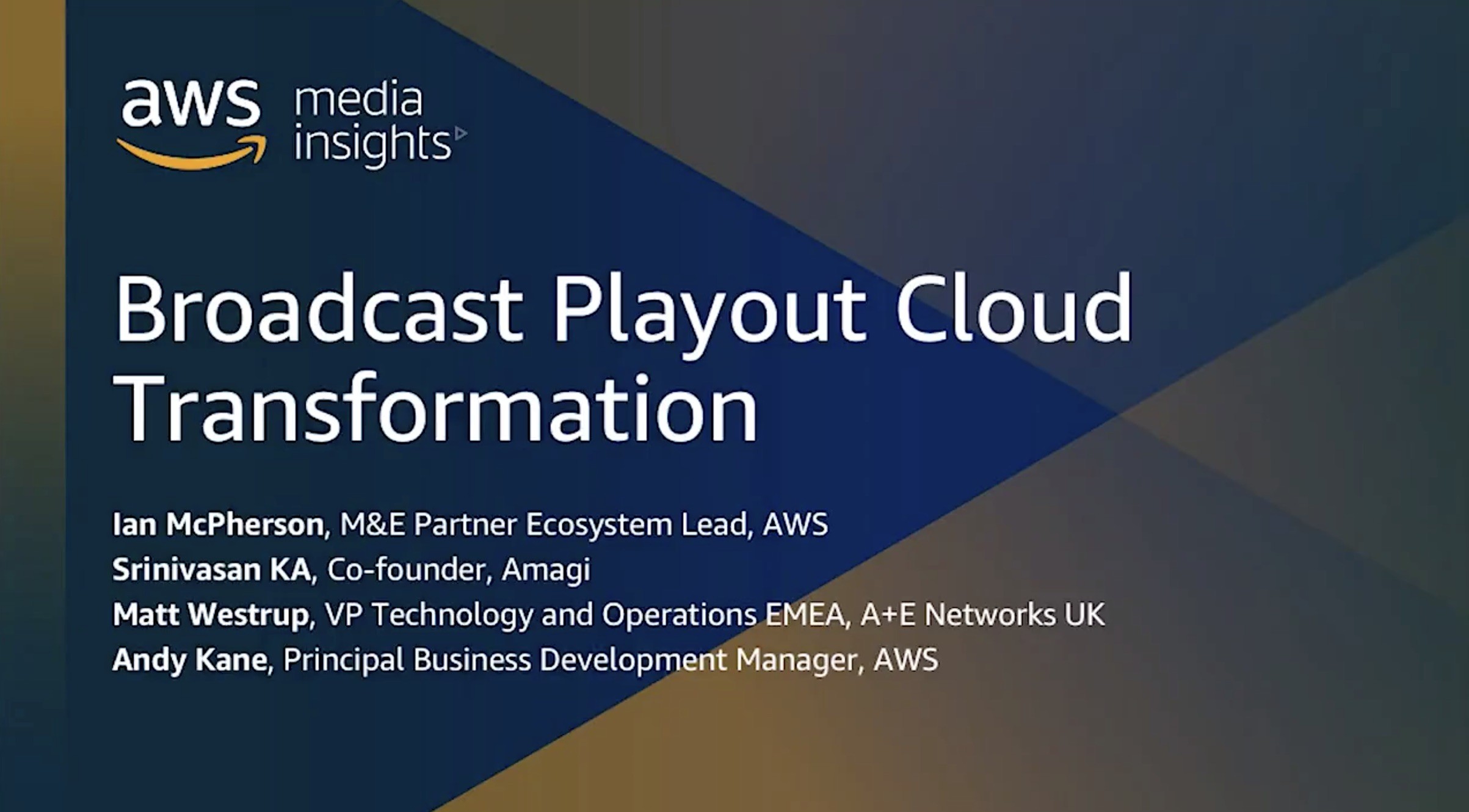 Playout has been gradually moving to the cloud for a number of years now. Famously Discovery moved all of their thematic playout to the cloud in 2018 and many have done the same since. As we saw the other day, Sky Italia are now seeing 'code as infrastructure' whereby automated API calls launch the in-cloud infrastructure they need as part of their linear playout.
In this video, we hear from Matt Westrup from A+E EMEA on how they've moved their playout to the cloud with their partner Amagi. Running 30 channels in Europe, Matt explains that due to some business uncertainty with a partner company, the need for a DR facility was identified. Talking to Srinivasan KA from Amagi, they were able to create this using Amagi's product portfolio based in AWS. Matt explains that after the DR facility was set up, they moved quickly to full mirroring and ultimately they flipped the switch and they announced they were now broadcasting from the cloud.
Srinivasan KA explains that many companies take a similar route when working in the cloud. Sometimes a cost-effective DR facility is all they need, however it's easy to replicate all your workflows in the cloud and have that on standby. This can be done by keeping the content in the cloud evergreen, running automation but keeping the playout functions switched off to save money which can be quickly brought online as needed. Srinivasan KA looks at the high-level diagram of the A+E operation showing how S3 holds the content, goes through a workflow to the CPU-powered playout and then is handed off using direct connect to affiliates and telcos using Amagi's POPs.
Matt comments that this was relatively easy to do from a business perspective "No-one was investing massively in fixed infrastructure" and they've found they have been faster to market with a speed they've "never experienced before." Needless to say, the move to the cloud also came into its own and provided a seamless move work home working during the pandemic. And, looking more longterm, A+E will continue to benefit from not having to manage the physical datacentre/serber room infrastructure.
The video finishe swith an overview of Broadcast in AWS from Andy Kane. He covers the main drivers for broadcasters moving to the cloud such as business agility, a preference with some companies for increasing Opex spending, increased ease in experiementing with new technologies/ways of engaging with customers, using a remote workforce among others. Andy covers an example broadcast flow using MediaConnect for contribution, MediaLive Statmux for distibution, redundancy strategies and other building blocks such as TAG multiviewers.
Watch now!
From the AWS Media Insights Webcast Series
Speakers
Andy Kane
Principal AI/ML Specialist Solutions Architect (Languages),
Amazon Web Services (AWS)
Matt Westrup
VP Technology and Operations,
A+E EMEA
Srinivasan KA
Co-founder,
Amagi Corporation
Ian McPherson
Partner Development Lead – Media & Entertainment,
Amazon Web Services (AWS)