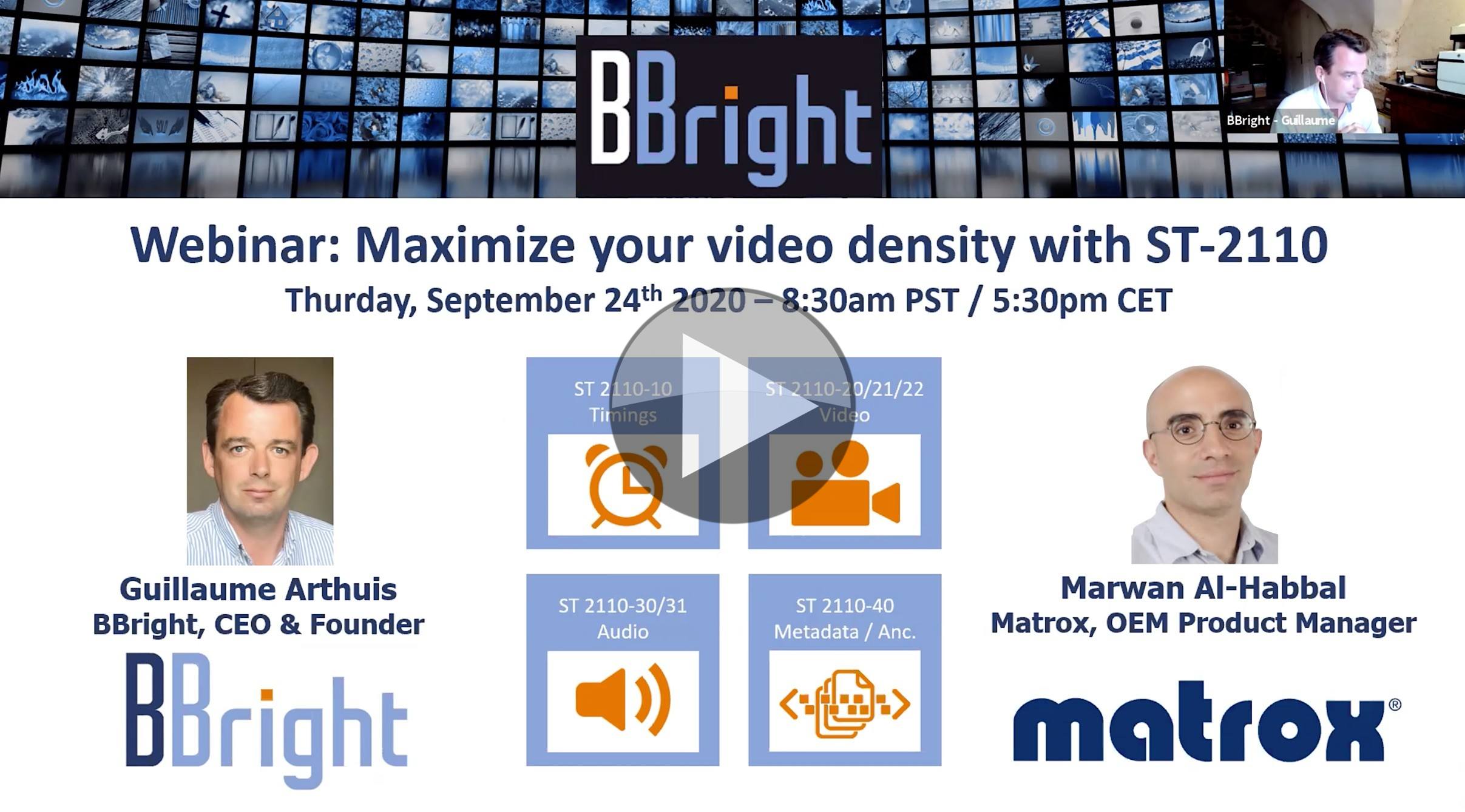 What can ST 2110 do for you? What problems can it solve? These questions and more are tackled in this video from BBright and Matrox.
Guillaume Arthuis from BBright kicks off the video by highlighting that SMPTE ST 2110 sends all media as separate streams. Called essences, all aspects of a signal are delivered separately such as metadata, audio and video. For a device which looks at subtitling, this saves having to receive a 3Gb/s stream just to get a few Kbps of data. Sending of the video has also been improved as no blanking data is sent which can see bandwidth savings of up to 30% depending on the video format. It shouldn't be forgotten that network cables are bi-directional and typically can carry many streams. This means the number of cables in a facility can be greatly reduced.
Marwan al-Habbal from Matrox compares the pros and cons of SDI against ST 2110. SDI has incredible interoperability, has good reliability and 'discovery' is not really a problem since everything is point-to-point connected with uni-directional cabling. These latter two points are, of course, downsides compared to ST 2110. Marwan looks at whether we can be confident in 2110's reliability, discovery and connectivity. Within the standard, 'narrow' and 'wide' senders are specified. Marwan makes the point that using narrow senders everywhere will give better determinism and can avoid momentary 'blips' in the network. Any problems on the network can be mitigated by using ST 2022-7 seamless switching whereby two feeds are sent over the network(s) and a single stream is reassembled from the received packets. Testing is the key to interoperability. JT-NM's testing programme is, by another name, a 'plugfest' whereas many vendors as possible connect to other vendors' equipment in order to test compatibility. This is leading to confidence in terms of inter-vendor workflows being generally accessible.
Another major benefit of ST 2110 is density. Guillaume takes us through calculations showing that you can implement a 512×512 router using just a 1U switch at an approximate cost of $80. He also looks at future scaling approaches. One approach outlined is to use 25G interfaces today to leave room for expansion but the other is to implement JPEG XS running ST 2110-22. This is a relatively new standard which brings in the ability to use compressed video in 2110 for the first time. This would allow 'HD' bitrates for low-latency UHD streams.
Watch now!
Speakers
Guillaume Arthuis
President,
BBright
Marwan Al-Habbal
OEM Product Manager.
Matrox