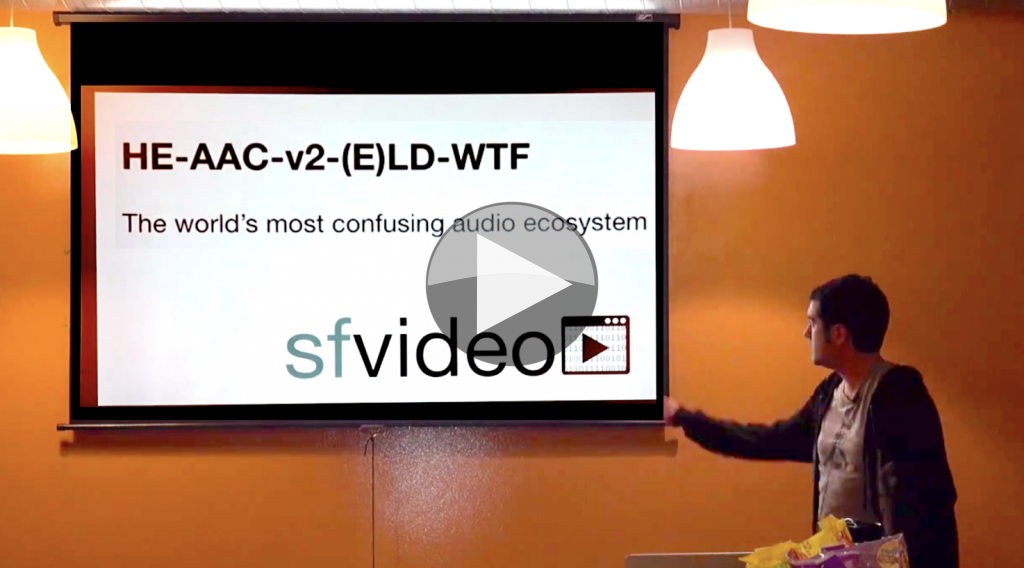 The title says it all! Alex Converse speaks here at the San Fancisco Video Tech meet up while he was working at Google discussing the ins and outs of AAC – and since he implemented an AAC decoder himself, he should know a thing or two about it.
Sure enough, Alex delivers by talking about the different version of AAA that have been around since MPEG 2 AAC through to the high efficiency AACs we have seen more recently.
Walking through the AAC Encoder block diagram we look at each of the different sections from sampling, MDCT (a type of Fourier transform) to psychoacoustic processing, stereo processing and more.
We then start to look at the syntax for the way the streams are structured which brings us in to understanding the AAC channel modes, and the enhanced mechanisms for encoding and processing used by the later versions of AAC including HE-AAC V2.
Alex finished with quick look at low delay codecs and a Q&A.
A great, detailed, overview of AAC. Ideal for developers and those who need to fully understand audio.
Speaker
Alex Converse
Senior Software Engineer,
Twitch