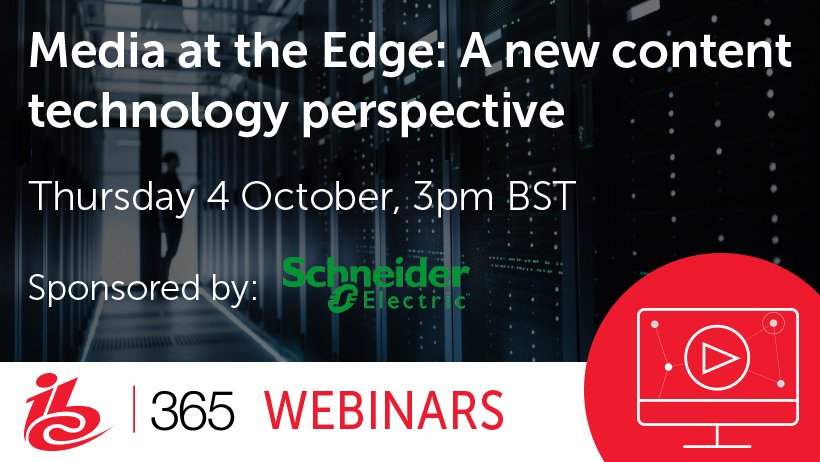 Thursday 4th October, 2018. 15:00 BST
It's time to hear what decentralised infrastructure is and how it can apply to broadcasting.
In this IBC365 webinar:
• What is Edge computing and why it will be key to broadcasting, media and entertainment
• How edge computing is rapidly evolving to provide content anywhere and everywhere through the IoT and soon across 5G networks
• What mobile edge computing means for production, processing and video distribution
• How new consumer experiences, VR, AR, UHD streaming will be driven by the availability of edge infrastructure
• Protecting the physical and digital assets. How to secure the critical IT infrastructure which will house valuable content at the edge of the network
Speakers:

Damon Neale, Chief Technology Officer, BASE Media Cloud
Damon is a leading media, cloud and AI technology consultant, performing the analysis, design and implementation of cloud-based solutions for large media companies, global broadcasters and film studios including extensive experience on previous projects with the BBC, BSkyB and Sony.

Steven Carlini, Senior Director, Data Centre Global Solutions, Schneider Electric
Steven is responsible developing integrated solutions and communicating the value proposition for Schneider Electric's data center segment including enterprise and cloud data centers.

Jefferson Wang, Managing Director, Accenture Strategy, Communications, Media and Technology
For nearly two decades, Jefferson has guided business & technology innovation at the convergence of the Communications, Media and Technology industries.
Moderator:

Ambrose McNevin, Managing Director, Tech Marketing Content LtdAmbrose McNevin is a consultant and content producer for the tech and digital media sectors.