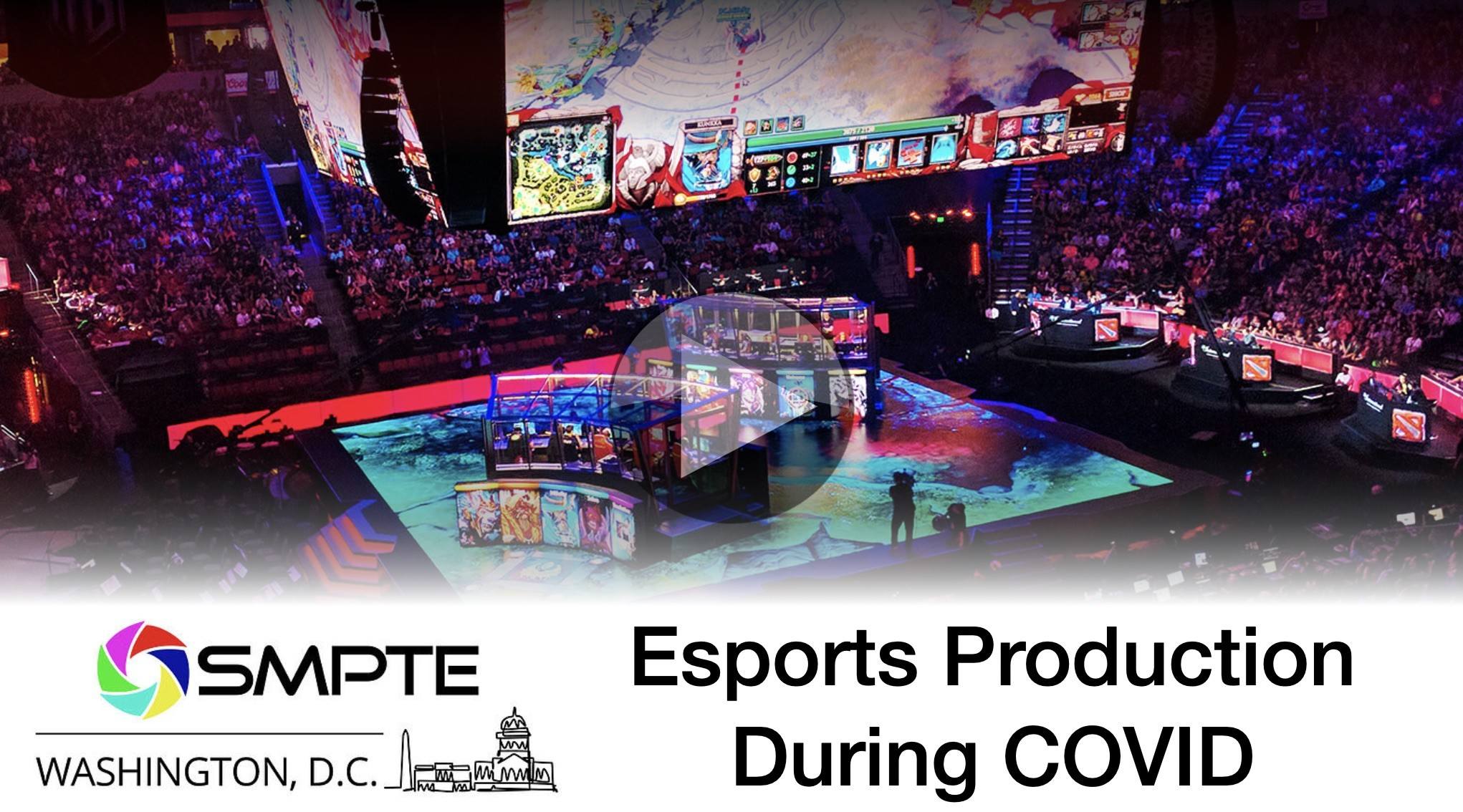 Esports continues to push itself into to harness the best of IT and broadcast industries to bring largescale events to half a billion people annually. Natrually, the way this is done has changed with the pandemic, but the 10% annual growth remains on track. The esports market is still maturing and while it does, the industry is working hard on innovating with the best technology to bring the best quality video to viewers and to drive engagement. Within the broadcast industry, vendors are working hard to understand how best to serve this market segment which is very happy to adopt high-quality, low latency solutions and broadcasters are asking whether the content is right for them.
Takling all of these questions is a panel of experts brought together by SMPTE's Washington DC section including Christopher Keath from Blizzard Entertainment, Mark Alston from EA, Scott Adametz from Riot Games, Richard Goldsmith with Delloite and, speaking in January 2021 while he worked for Twitch, Jonas Bengtson.
First off the bat, Michael introduced the esports market. With 2.9 billion people playing games globally and 10% growth year-on-year, he says that it's still a relatively immature market and then outlines some notable trends. Firstly there is a push to grow into a mainstream audience. To its benefit, esports has a highly loyal and large fanbase, but growth outside of this demographic is still difficult. In this talk and others, we've heard of the different types of accompanying, secondary programmes aimed more at those who are interested enough to have a summary and watch a story being told, but not interested in watching the blow-by-blow 8 hour tournament.
Another trend outlined by Michael is datasharing. There are so many stats available both in terms of the play itself, similar to traditional sports 'percentage possession' stats, but also factual data which can trigger graphics such as names, affiliations, locations etc. Secondary data processing, just like traditional sports, is also a big revenue opportunity, so the market, explains Michael, is still working on bigger and better ways to share data for mutual benefit. More information on Deloitte's opinion of the market is in this article with a different perspective in this global esports market report
You can watch either with this Speaker view or Gallery view
The panel discusses the different angle that esports has taken on publishing with many young producers only knowing the free software 'OBS', underlined by Scott who says esports can still be scrappy in some places, bringing together unsynchronised video sources in a 'democratised' production which has both benefits and downsides. Another difference within esports is that many viewers have played the games, often extensively. They therefore know exactly what they look like so watching the game streamed can feel a very different experience after going through, portentially multiple stages of, encoding. The panel all spend a lot of time tuning encoders for different games to maintain the look as best as possible.
Christopher Keath explains what observers are. Effectively these are the in-game camera operators which talk to the head observer who co-ordinates them and has a simple switcher to make some available to the production. This leads to a discsussion on how best to bring the observer's video, during the pandemic, into the programmes. Riot has kitted out the PCs in observers' homes to bring them up to spect and allow them to stream out whereas EA has moved the observer PCs into their studio, backed by hefty internet links.
Jonas points out that Twitch brings tens of thousands of streams to the internet constantly and outlines that the Twitch angle on streaming is often different to the 'esports' angle of big events, rather they are personality driven. The proliferation of streaming onto Twitch, other similar services and as part of esports itself has driven GPU manufacturers, Jonas continues, to include dedicated streaming functionality on the GPUs to stop encoding detracting from the in-game performance. During the pandemic, Twitch has seen a big increase in social games, where interaction is more key rather than team-based competition games.
You can watch either with the Speaker view or this gallery view
Scott talks about Riot's network global backbone which saw 3.2 petabytes of data flow – just for production traffic – during the League of Legends Worlds event which saw them produce the event in 19 different languages working between Berlin, LA and Shanghai. For him, the pandemic brought a change in the studio where everything was rendered in realtime in the unreal game engine. This allowed them to use augmented reality and have a much more flexible studio which looked better than the standard 'VR studios'. He suggests they are likely to keep using this technology.
Agreeing with this by advocating a hybrid approach, Christopher says that the reflexes of the gamers are amazing and so there really isn't a replacement for having them playing side-by-side on a stage. On top of that, you can then unite the excitement of the crowd with lights, smoke and pyrotechnics so that will still want to stay for some programmes, but cloud production is still a powerful tool. Mark agrees with that and also says that EA are exploring the ways in which this remote working can improve the work-life balance.
The panel concludes by answering questions touching on the relative lack of esports on US linear TV compared to Asia and eslewhere, explaining the franchise/league structures, discussing the vast range of technology-focused jobs in the sector, the unique opportunities for fan engagement, co-streaming and the impact of 5G.
Watch now!
Speakers
Mark Alston
Technical production manager
Electronic Arts (EA)
Christopher Keath
Broadcast Systems Architect
Blizzard Entertainment
Jonas Bengtson
Senior Engineering Manager, Discord
Formerly, Director at Twitch
Scott Adametz
Senior Manager, Esports Engineering,
Riot Games
Richard Goldsmith
Manager,
Deloitte Consulting