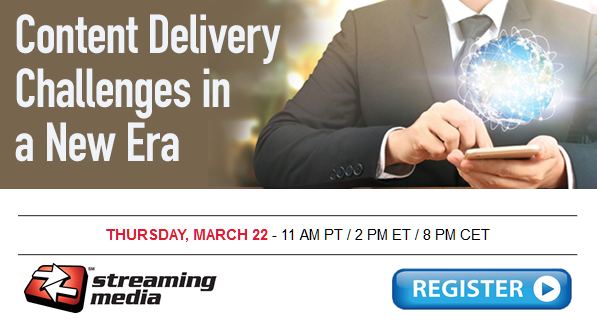 Streaming Media discusses moving away from Flash and the alternatives. Viewers want better viewing experiences than ever, meaning CDNs have to stay one step ahead. This prompts a move to HTML5 delivery, an emphasis on live streaming, and a commitment to lower latency than ever before – with all this on any device.
This webinar will bring you up to date on the cutting edge of content delivery, with a focus on the following topics:
Why enterprise streaming professionals need to develop a strategy for transitioning away from Flash
From Flash-free to plugin-free: live encoding and playback on any device
Interactive live streaming: Live video and audio has turned away from broadcast towards two-way or multi-directional communication
Why an agnostic content delivery strategy is a must for live streaming inside the enterprise
Scalable distribution of ultra-low-latency live streams worldwide
The importance of utilizing solutions that can analyze the quality of the live streaming viewing experience
REGISTER NOW to attend the webinar "Content Delivery Challenges in a New Era.
THURSDAY, MARCH 22 – 16:00 GMT / 11 AM PT / 2 PM ET / 8 PM CET
Speakers:
Eric Schumacher-Rasmussen, VP/Editor, Streaming Media
Jared Hawkins, VP Product, MediaPlatform
Oliver Lietz, CEO, Nanocosmos
Nivedita Nouvel, VP Marketing, Broadpeak
Tom Racca, CEO, Ramp