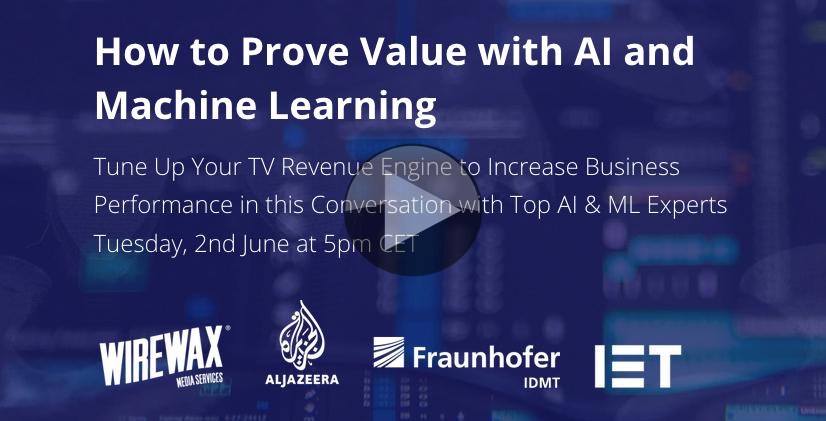 This webinar is now available online.
We've seen AI entering our lives in many ways over the past few years and we know that this will continue. Artificial Intelligence and Machine Learning are techniques that are so widely applicable they will touch all aspects of our lives before too many more years have passed. So it's natural for us to look at the broadcast industry and ask "How will AI help us?" We've already seen machine learning entering into codecs and video processing showing that up/downscaling can be done better by machine learning than with the traditional 'static' algorithms such as bicubic, lanczos and nearest neighbour. This webinar examines the other side of things; how can we use the data available within our supply chains and from our viewers to drive efficiencies and opportunities for better monetisation?
There isn't a strong consensus on the difference between AI and Machine learning. One is that that Artificial Intelligence is a more broad term of smart computing. Others say that AI has a more real-time feedback mechanism compared to Machine Learning (ML). ML is the process of giving a large set of data to a computer and giving it some basic abilities so that it can learn for itself. A great example of this is the AI network monitoring services available that look at all the traffic flowing through your organisation and learn how people use it. It can then look for unusual activity and alert you. To do this without fixed thresholds (which for network use really wouldn't work) is really not feasible for humans, but computers are up to that task.
For conversations such as this, it usually doesn't matter how the computer achieves it, AI, ML or otherwise. The points how can you simplify content production? How can you get better insights into the data you have? How can you speed up manual tasks?
David Short from IET Media moderates this session with Steve Callanan who's company WIREWAX is working to revolutionise video creation, asset management and interactive video services joined by Hanna Lukashevich from Fraunhofer IDMT (Institute for Digital Media Technology) who uses machine learning to understand and create music and sound. Grant Franklin Totten completes the panel with his experience at Al Jazeera who have been working on using AI in broadcast since 2018 as a way to help maintain editorial and creative compliance as well as detecting fake news and bias checking.
Watch now!
Speakers
Moderator: David Short
Vice Chair,
IET Media Technical Network
Steve Callanan
Founder,
WIREWAX
Hanna Lukashevich
Head of Semantic Music Technologies,
Fraunhofer IDMT
Grant Franklin Totten
Head of Media & Emerging Platforms,
Al Jazeera Media Network