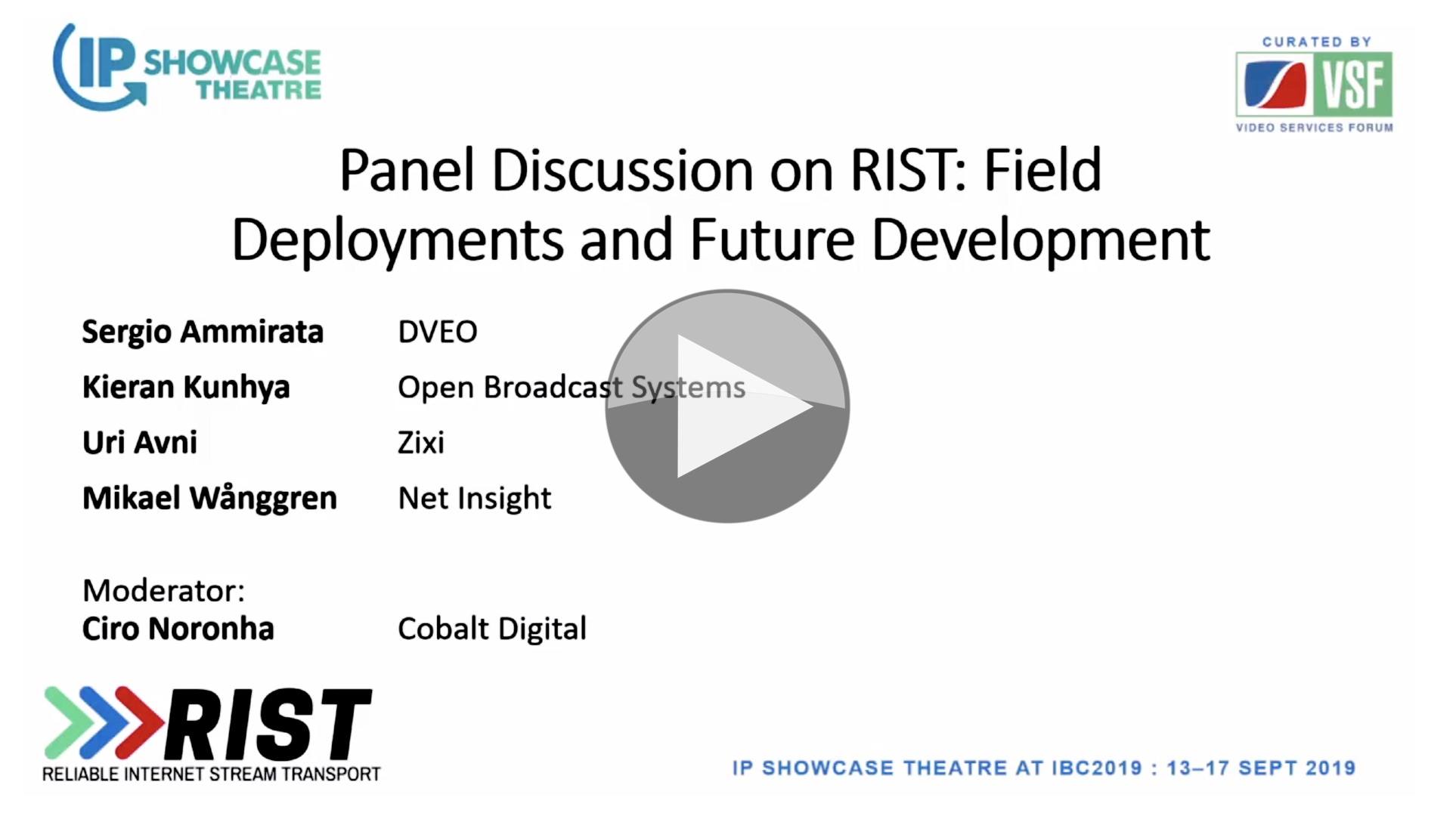 RIST is a streaming protocol which allows unreliable/lossy networks such as the internet to be used for critical streaming applications. Called Reliable Internet Stream Protocol, it uses a light-touch mechanism to request any data that's lost by the network. As losses are often temporary and sporadic, the chances are that the data will get through the second or, perhaps, third time. For a more in-depth explanation of RIST, check out this talk from Merrick Ackermans
The panel here at the IBC 2019 IP Showcase give an brief definition of RIST and then examine how far they've got with the 'Simple Profile' of RIST calling out things that are yet to be done. Still on the to-do list are such things as 'pull' streams, encryption, simplifying the port structure and embedding control.
Fixed Key encryption comes under the microscope next asking whether there's a practical threat in terms of finding the key but also in terms of whether there are any side-channel attacks in a 'non-standard' encryption. The fixed key encryption has been implemented in line with NIST protocols but, as Kieran highlights, getting enough eyes on the detail is difficult with the specification being created outside of an open forum.
The panels covers the recent interop testing which shows overall positive results and then discusses whether RIST is appropriate for uncompressed video. Already, Kieran points out, Amazon Direct Connect is available in 100s of Gb/s links and so it's completely possible to do uncompressed to the cloud. RTP is over 20 years old and is being used for much more than ever imagined at the time. As technology develops, use of RIST will also develop.
What are the other uses for RIST? Videoconferencing is one possibility, creating a generally secure link to equipment and ingest into the cloud are the others offered.
The panel fishes by looking to the future. Asking how, for instance, the encoder could react to reduced quality of the link. How much of the all the technology needed should be standardised and what features could be added. Sergio Ammirata suggests opening up the protocol for the bandwidth estimation to be requested by any interested device.
This session, bringing together DVEO, OBS, Zixi and Net Insight finishes with questions from the audience.
Watch now!
Speakers
Sergio Ammirata
Deployments and Future Development,
DVEO
Kieran Kunhya
Founder,
Open Broadcast Systems
Uri Avni
Founder,
Zixi
Mikael Wånggren
Senior Software Engineer,
Net Insight
Ciro Noronha
Executive Vice President of Engineering,
Cobalt Digital