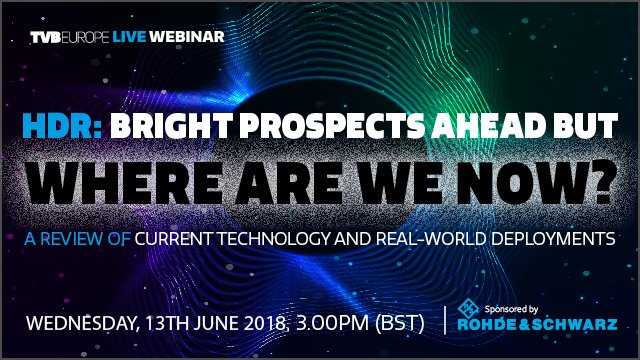 Time: 15:00 BST, Wednesday June 13th 2018

A review of current technology and real-world deployments
The WOW factor: Why HDR?
HDR standards: HLG, PQ or HDR10 variants?
Content availability: HD or UHD?
Consumer displays: Mobile phones or 4K/8K TV?
HDR distribution: Broadcast, OTT or 4G/5G?
Real world deployments
The competition for viewers' eyeballs and their disposable income has never been fiercer. Great picture quality is one weapon that service providers – especially broadcasters – can deploy to attract and retain viewers.
It's true that millions of 4K ready TVs have been sold, but in practice most TVs sold before 2017 don't have any support for HDR at all. Many different variants of HDR have also emerged in an attempt to offer higher quality coupled with some backwards compatibility with those early TVs, but broadcasters have been perhaps understandably reluctant to commit to producing 4K or HDR content with the costs of the ill-fated 3DTV still on their books.
This webinar looks at HDR in general and the different variants that have emerged. The drive for 4K, or even 8K, content and displays is contrasted with consumers' willingness to watch full HD with HDR on the latest mobile phone displays…
Register Now!
Speakers:
David Smith
Technology Manager
Rohde & Schwarz
Andy Quested
Technology Strategy & Architecture
BBC Design + Engineering
Paul Clennell
Chief Technology Officer
dock10