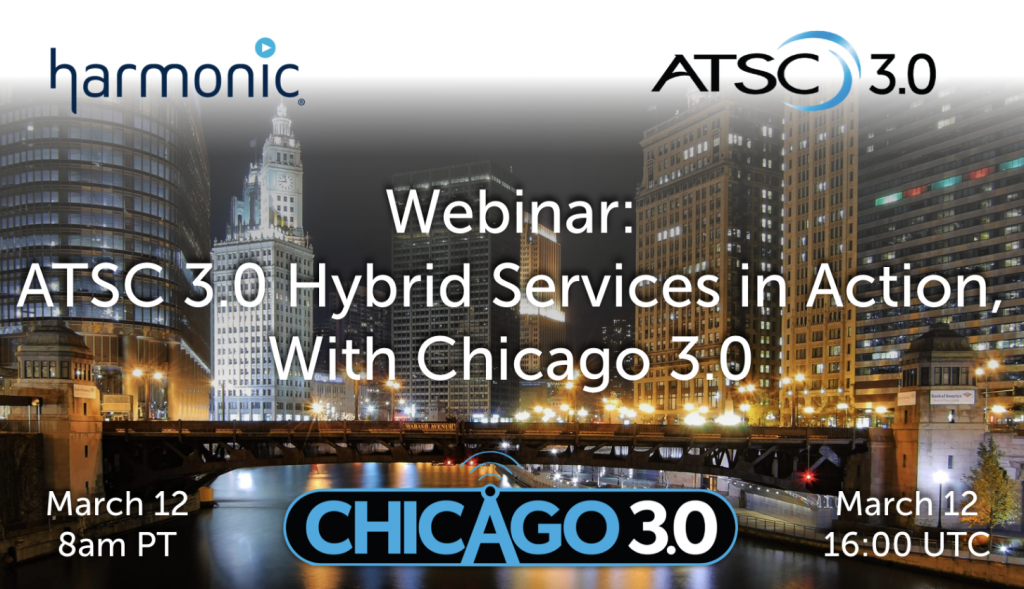 Tuesday March 12th, 2019. 8am PT / 11 ET / 16:00 GMT
ATSC 3.0 is a big change from previous ATSC and DVB transmission standards due to its ability to mix IP with traditional broadcast signals. By merging the best of IP with the best of DTH transmission, ATSC 3.0 enables new business models and helps broadcasters bring their current offerings up to date.
But what about the reality? Weigel Broadcast joined forces with top-tier companies to build out the station, including: Rohde Schwarz, Harmonic Inc., Triveni Digital, Enensys, Alive Telecommunications, and Sony. Each partner contributed essential equipment and resources for the sign-on of the ATSC 3.0 roll-out dubbed 'Chicago 3.0.'
In this webinar, Harmonic's Jean Macher is joined by Kyle Walker, VP technology at Weigel broadcast to take us through why the native IP transport is such a benefit and how they managed the experience across all viewers.
The webinar covers what was deployed, how it worked and the results. Plus they'll also cover the principles of ATSC 3.0 services and the use-cases involved in Chicago 3.0.
Speakers
Jean Macher
Directory of Broadcast Market Development,
Harmonic Inc.
Kyle Walker
VP technology,
Weigel Broadcast Co.