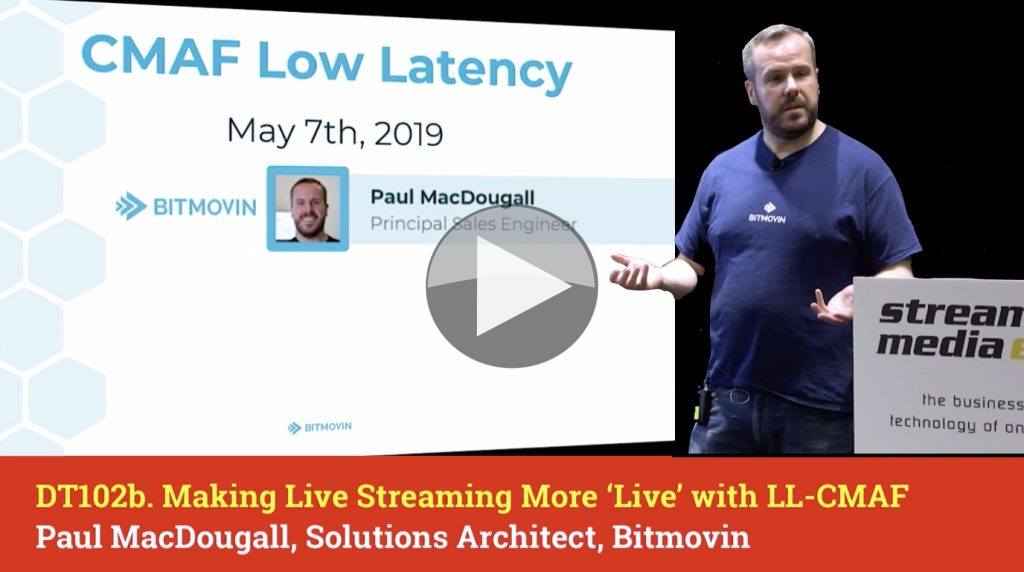 Squeezing streaming latency down to just a few seconds is possible with CMAF. Bitmovin guides us through what's possible now and what's yet to come.
CMAF represents an evolution of the tried and tested technologies HLS and DASH. With massive scalability and built upon the well-worn tenants of HTTP, Netflix and a whole industry was born and is thriving on these still-evolving technologies. But the push to reduce latency further and further has resulted in CMAF which can be used to deliver streams with five to ten times lower latencies.
Paul MacDougall is a Solutions Architect with Bitmovin so is well placed to explain the application of CMAF. Starting with a look at what we mean by low latency, he shows that it's still quite possible to find HLS latencies of up to a minute but more common latencies now are closer to 30 seconds. But 5 seconds is the golden latency which matches many broadcast mechanisms including digital terrestrial, so it's no surprise that this is where low latency CMAF is aimed.
CMAF itself is simply a format which unites HLS and DASH under one standard. It doesn't, in and of itself, mean your stream will be low latency. In fact, CMAF was born out of MPEG's MP4 standard – officially called ISO BMFF . But you can use CMAF in a low-latency mode which is what this talk focusses on.
Paul looks at what makes up the latency of a typical feed discussing encoding times, playback latency and the other key places. With this groundwork laid, it's time to look at the way CMAF is chunked and formatted showing that the smaller chunk sizes allow the encoder and player to be more flexible reducing several types of latency down to only a few seconds.
In order to take full advantage of CMAF, the play needs to understand CMAF and Paul explains these adaptations before moving on to the limitations and challenges of using CMAF today. One important change, for instance, is that chunked streaming players (i.e. HLS) have always timed the download of each chunk to get a feel for whether bandwidth was plentiful (download was quicker than time taken to play the chunk) or bandwidth was constrained (the chunk arrived slower than real-time). Based on this, the player could choose to increase or decrease the bandwidth of the stream it was accessing which, in HLS, means requesting a chunk from a different playlist. Due to the improvements in downloading smaller chunks and using real-time transfer techniques such as HTTP/1.1 Chunked Transfer the chunks are all arriving at the download speed. This makes it very hard to make ABR work for LL-CMAF, though there are approaches being tested and trialed not mentioned in the talk.
Speakers
Paul MacDougall
Solutions Architect,
Bitmovin