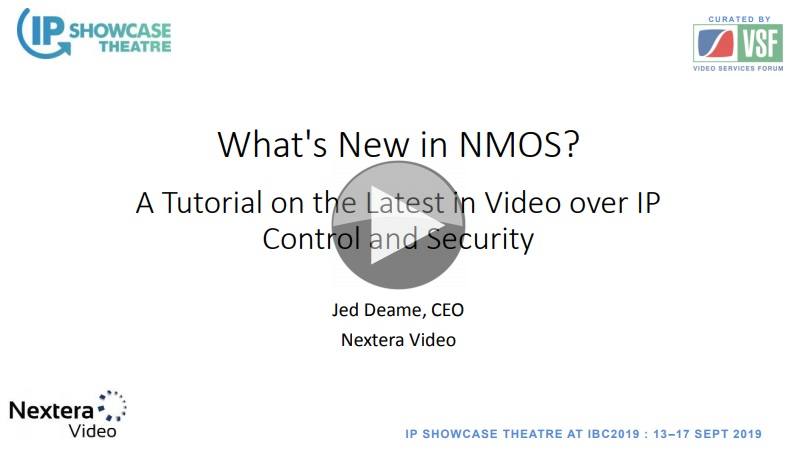 The Networked Media Open Specifications (NMOS) have been developed to provide a control and management layer along side the SMPTE ST 2110 transport layer. The idea behind NMOS was to deliver an open specification to provide the software layers that abstract a lot of complexities of ST 2110 and make it easy to interface with any control system.
The NMOS family of specifications began with projects for Discovery & Registration, Device Connection Management and Network Control, but has grown to include many other important subjects such as Event & Tally, Audio Channel Mapping and Interoperable Security.
In this video, Jed Deame discusses the latest advancements including IS-08, IS-09, BCP-002, BCP-003 and IS-10. These additions allows NMOS to surpass the level of control provided in SDI while also adding a layer of security.
The following Interface Specifications and Best Current Practices are presented:
IS-04 (Registration and Discovery) – new features: support for GPI over Ethernet (IS-07) and authorisation signalling for security layers BCP-003-02
IS-05 (Connection Management) – new features: MQ Telemetry Transport and WebSocket Transport, support for supplementary externally defined parameters
IS-08 (Audio Mapping) – audio routing / shuffling facility
IS-09 (System Resources) – System ID, server priority, security with HTTPS support, advertisement of system resources such as RDS (Registration and Discovery Server)
BCP-002 (Grouping) – uses tag resources in IS-04 in order to achieve a natural groups of senders and receivers (e.g. to tie audio, video and metadata)
BCP-003-01 (Security) – uses Transport Layer Security (TLS) in order to encrypt communications between API servers and their clients
BCP-003-02 (Security) – covers client authorization for the NMOS APIs
IS-10 (Authorisation API) – accompanies the BCP-003-02 specification to restrict what users are authorized to change in an NMOS system (core technologies: PKI, HTTPS, REST, JSON, Oauth 2.0 and JWT)
The presentation finishes with the customer case study – secure KVM all over an IP network.
You can download the slides from here.
You might also be interested in the following videos we have published on The Broadcast Knowledge:
Speaker
Jed Deame
CEO
Nextera Video