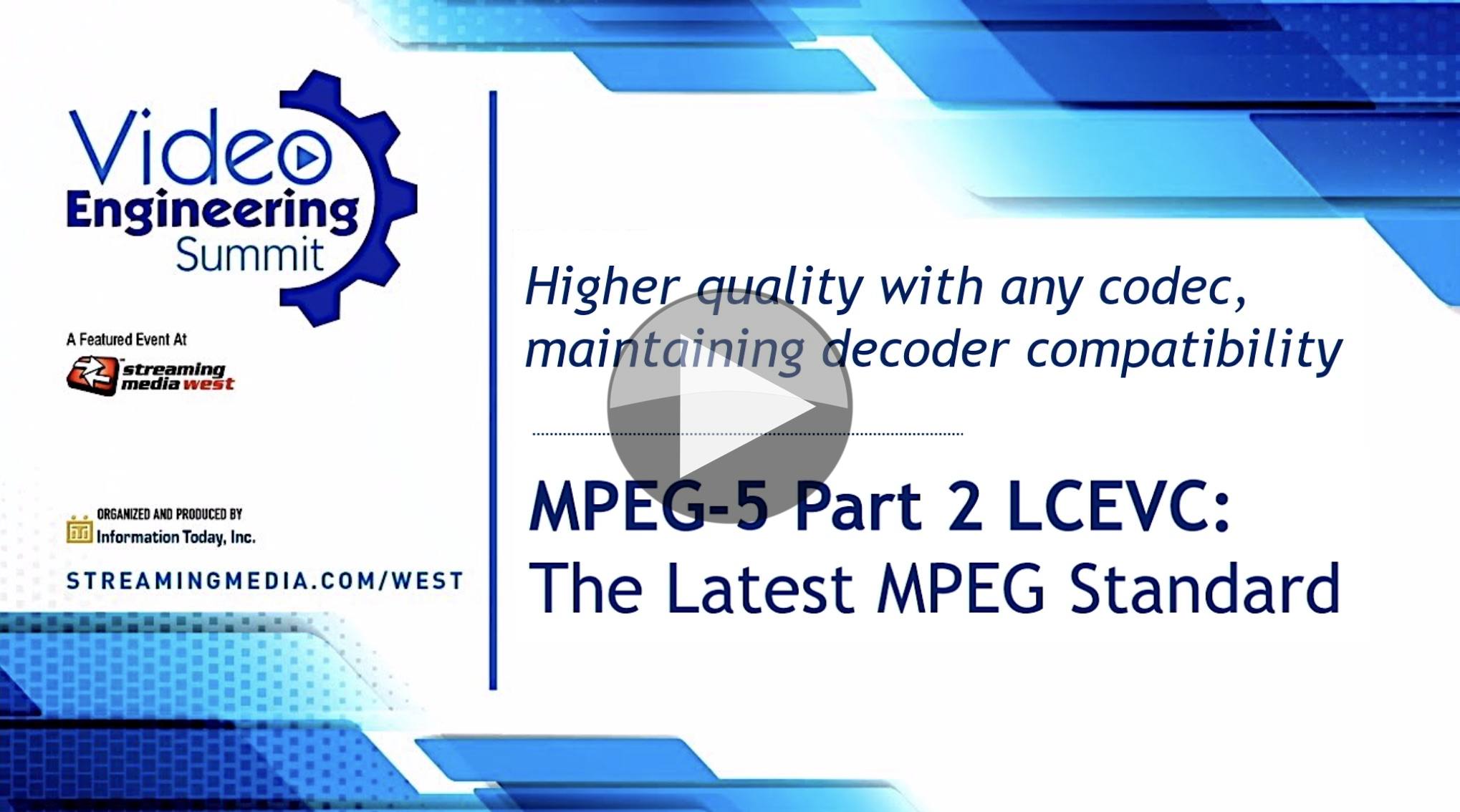 Video is so pervasive in our world that we need to move past thinking of codecs and compression being about reducing bitrate. That will always be a major consideration, but speed of compression and the computation needed can also be deal breakers. Millions of embedded devices need to encode video which don't have the grunt available to the live AV1-encoding clusters in the cloud. Further more, the structure of the final data itself can be important for later processing and decoding. So we can see how use-cases can arise out needs of various industries, far beyond broadcast, which mean that codecs need to do more than make files small.
This year LCEVC from MPEG will be standardised. Called Low Complexity Enhancement Video Coding, this codec provides compression both where computing is constrained and where it is plentiful. Guido Meardi, CEO of V-Nova, talks us through what LCEVC is starting with a chart showing how computation has increased vastly as compression has improved. It's this trend that this codec intends to put an end to by adding, Guido explains, an enhancement layer over some lower-resolution video. By encoding a lower-resolution, computational processing is minimised. When displayed, an enhancement layer allows this low resolution video to be sharpened again to bring it back to the original.
After demonstrating the business benefits, we see the block diagram of the encoder and decoder which helps visualise how this enhancement might be calculated and work. Guido then shows us what the enhancement layer looks like – a fairy flat image with lots of thin edges on it but, importantly, it also captures a lot of almost random detail which can't be guessed by upsamplers. This, of course, is the point. If it were possible to upscale the low-resolution video and guess/infer all the data, then we would always do that. Rather, downscaling and upscaling is a lossy process. Here, that loss is worth it because of the computational gains and because the enhancement layer will put back much of what was once lost.
In order to demonstrate LCEVC's ability, Guido shows graphs comparing LCEVC at UHD for x264 showing improvements of between 20 and 45% and image examples of artefacts which are avoided using LCEVC. We then see that when applied to AVC, HEVC and VVC it speeds up encodes at least two fold. Guido finishes this presentation showing how you can test out the encoder and decoder yourself.
The last segment of this video, Tarek Amara from Twitch sits down to talk with Guido about the codec and the background behind it. Their talk covers V-Nova's approach to open source, licensing, LCEVC's gradual improvements as it went through the proving process as part of MPEG standardisation plus questions from the floor.
Watch now!
Speakers
Guido Meardi
CEO & Co-Founder,
V-Nova
Tarek Amara
Principal Video Specialist,
Twitch