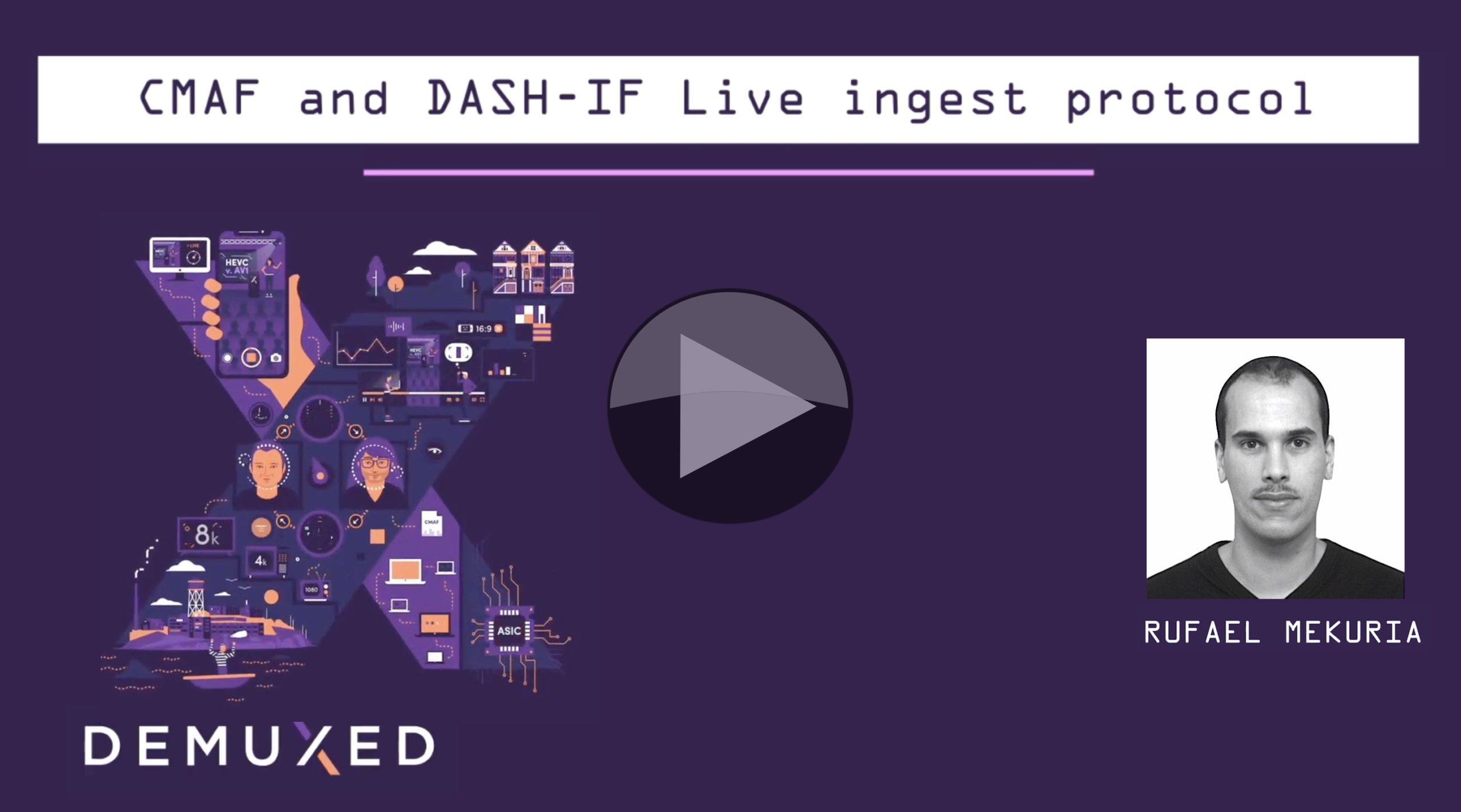 Of course, without live ingest of content into the cloud, there is no live streaming so why would we leave such an important piece of the puzzle to an unsupported protocol like RTMP which has no official support for newer codecs. Whilst there are plenty of legacy workflows that still successfully use RTMP, there are clear benefits to be had from a modern ingest format.
Rufael Mekuria from Unified Streaming, introduces us to DASH-IF's CMAF-based live ingest protocol which promises to solve many of these issues. Based on the ISO BMFF container format which underpins MPEG DASH. Whilst CMAF isn't intrinsically low-latency, it's able to got to much lower latencies than standard HLS and LHLS.
This work to create a standard live-ingest protocol was born out of an analysis, Rufael explains, of which part of the content delivery chain were most ripe for standardisation. It was felt that live ingest was an obvious choice partly because of the decaying RTMP protocol which was being sloppy replaced by individual companies doing their own thing, but also because there everyone contributing, in the same way, is of a general benefit to the industry. It's not typically, at the protocol level, an area where individual vendors differentiate to the detriment of interoperability and we've already seen the, then, success of RMTP being used inter-operably between vendor equipment.
MPEG DASH and HLS can be delivered in a pull method as well as pushed, but not the latter is not specified. There are other aspects of how people have 'rolled their own' which benefit from standardisation too such as timed metadata like ad triggers. Rufael, explaining that the proposed ingest protocol is a version of CMAF plus HTTP POST where no manifest is defined, shows us the way push and pull streaming would work. As this is a standardisation project, Rufael takes us through the timeline of development and publication of the standard which is now available.
As we live in the modern world, ingest security has been considered and it comes with TLS and authentication with more details covered in the talk. Ad insertion such as SCTE 35 is defined using binary mode and Rufael shows slides to demonstrate. Similarly in terms of ABR, we look at how switching sets work. Switching sets are sets of tracks that contain different representations of the same content that a player can seamlessly switch between.
Watch now!
Speaker
Rufael Mekuria
Head of Research & Standardisation,
Unified Streaming