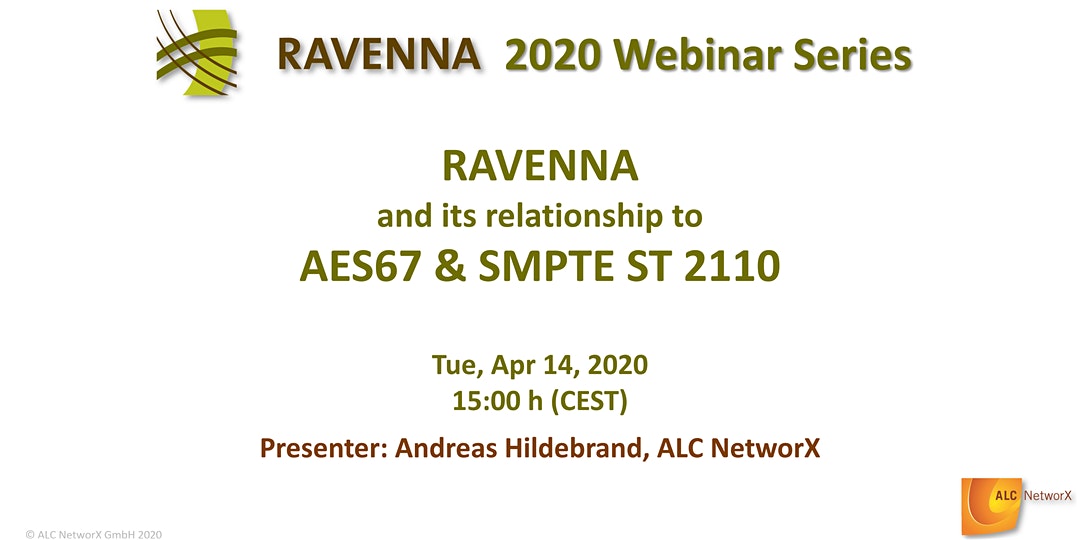 This webinar is now available on-demand
This first in a series of webinars, this will have a broad scope covering the history of audio networking in, the development of RAVENNA the the consequent developments of AES67 and ST2110. Whether you're new to or already familiar with RAVENNA and/or AES67 & ST2110 you'll benefit from this webinar either as revision or as an excellent starting point for understanding the landscape of Audio-over-IP standards and technologies.
This webinar is presented Andreas Hildebrand who has previously appeared on The Broadcast Knowledge giving insight into The Audio Parts of ST 2110, ST 2110-30 and NMOS IS-08 — Audio Transport and Routing amongst others.
This talk looks at how audio IP works and the benefits of using an IP system. Since the invention of RAVENNA, the AES and SMPTE have moved to using audio over IP so the walk will examine how RAVENNA and SMPTE place the audio data on the network and get that to the decoders. Interoperability between systems is important but can only happen if certain parameters are correct, something that Andreas will mention but will also be a subject for future webinars.
Whether you want to revise the basics from an expert or learn them for the first time, now's the time to register.
Speaker
Andreas Hildebrand
Senior Product Manager,
ALC NetworX GmbH