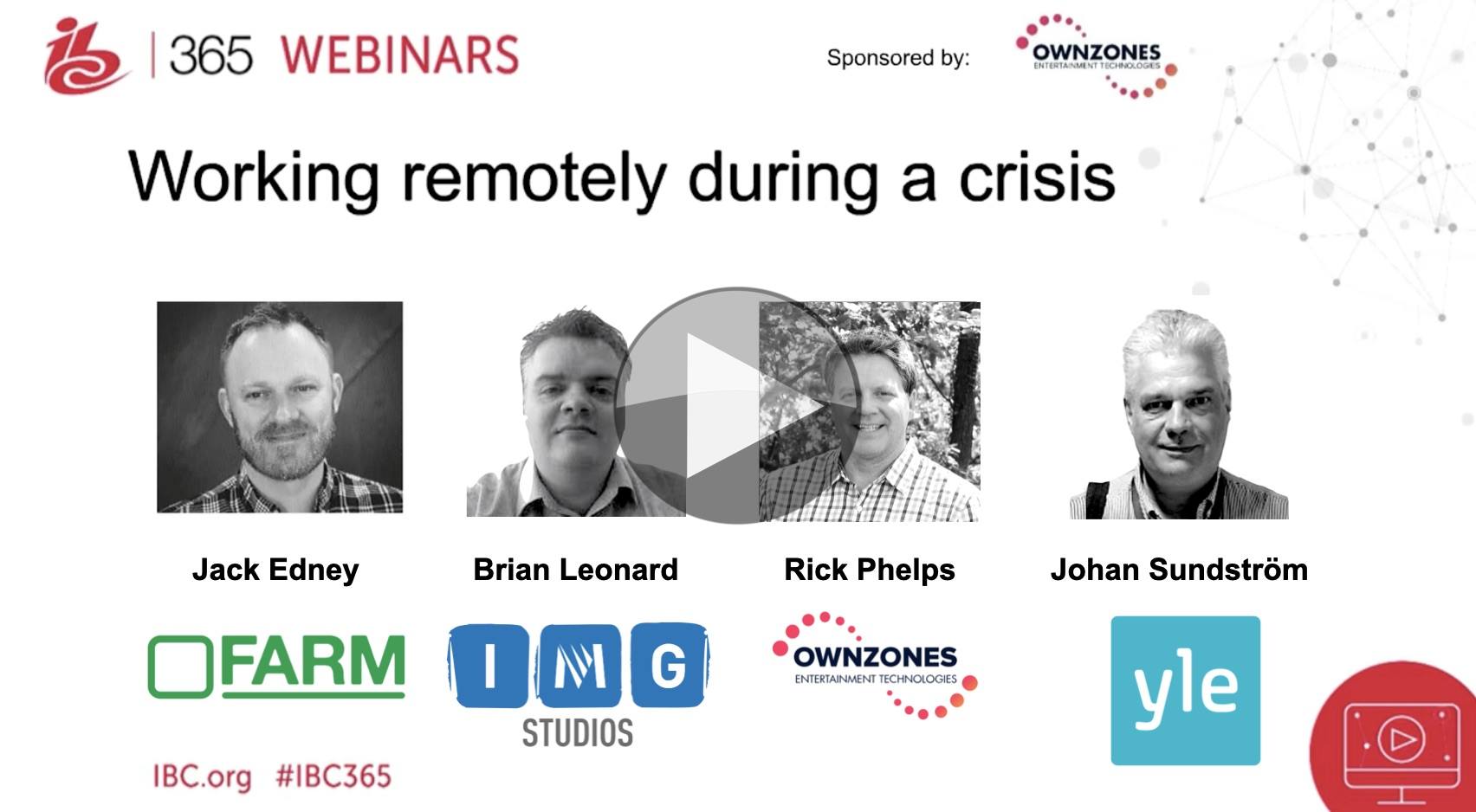 We've perhaps all seen the memes that the 'digital transformation' of a company is not because of 'leadership vision', adapting to the competition, but rather 'Covid-19'. Whilst this is both trite yet often true, there is value in understanding what broadcast companies have done to deal with the pandemic virus and COVID-19.
Robert Ambrose introduces and talks to our guests to find out how their companies have changed to accommodate remote working. First to speak is Jack Edney of The Farm Group, a post production company. They looked closely at the communication needed within the organisation, managing priorities of tasks and maintaining safety and resources. Jack shows how the stark difference between pre- and during- lockdown workflows seeing how much they are now remote. Jack explains how engaged his technical teams have been in making this work very quickly.
Brian Leonard from IMG has done much the same as IMG have moved towards remote working as they have changed from 300 people on site to around 3 people on site and everything else remote. Brian talks about how they'd expanded into a local building in order to make life easier in the earlier days. He then considers the pros and cons of being reliant on a significant freelance staff – that being the option of using their pre-existing equipment at home. Finally we look at how their computer-based SimplyLive production software allows them the immediate ability to remotely produce video.
OWNZONES is up next with Rick Phelps who gives a real example of a customer's workflow which was on-premise showing the before and after diagrams for when this moved remotely. These workflows were extended into the cloud by, say, using proxies and editing using an EDL, encoding and amending metadata all in the cloud. Rick suggests that this is both a short-term trend but suggests much will remain like this in the longer-term.
Finally, Johan Sundström from Yle in Finland takes to the stand to give a point of view from a public broadcaster. He explains how
they have created guest booths near their main entrance connected to the new channels so facilitate low-contact interviews. Plexiglass is being installed in control rooms and people are doing their own makeup. He also highlights some apps which allow for remote contribution of audio. They are also using software-based mixers like the Tricaster plus Skype TX to keep producers connected and involved in their programmes. The session concludes with a Q&A.
Watch now!
Speakers
Jack Edney
Operations Director,
The Farm Group
Johan Sundström
Head of Technology Vision,
Yle Finland
Rick Phelps
Chief Commercial Officer,
OWNZONES
Brian Leonard
Head of Engineering: Post and Workflows
IMG
Robert Ambrose
Managing Consultant,
High Green Media