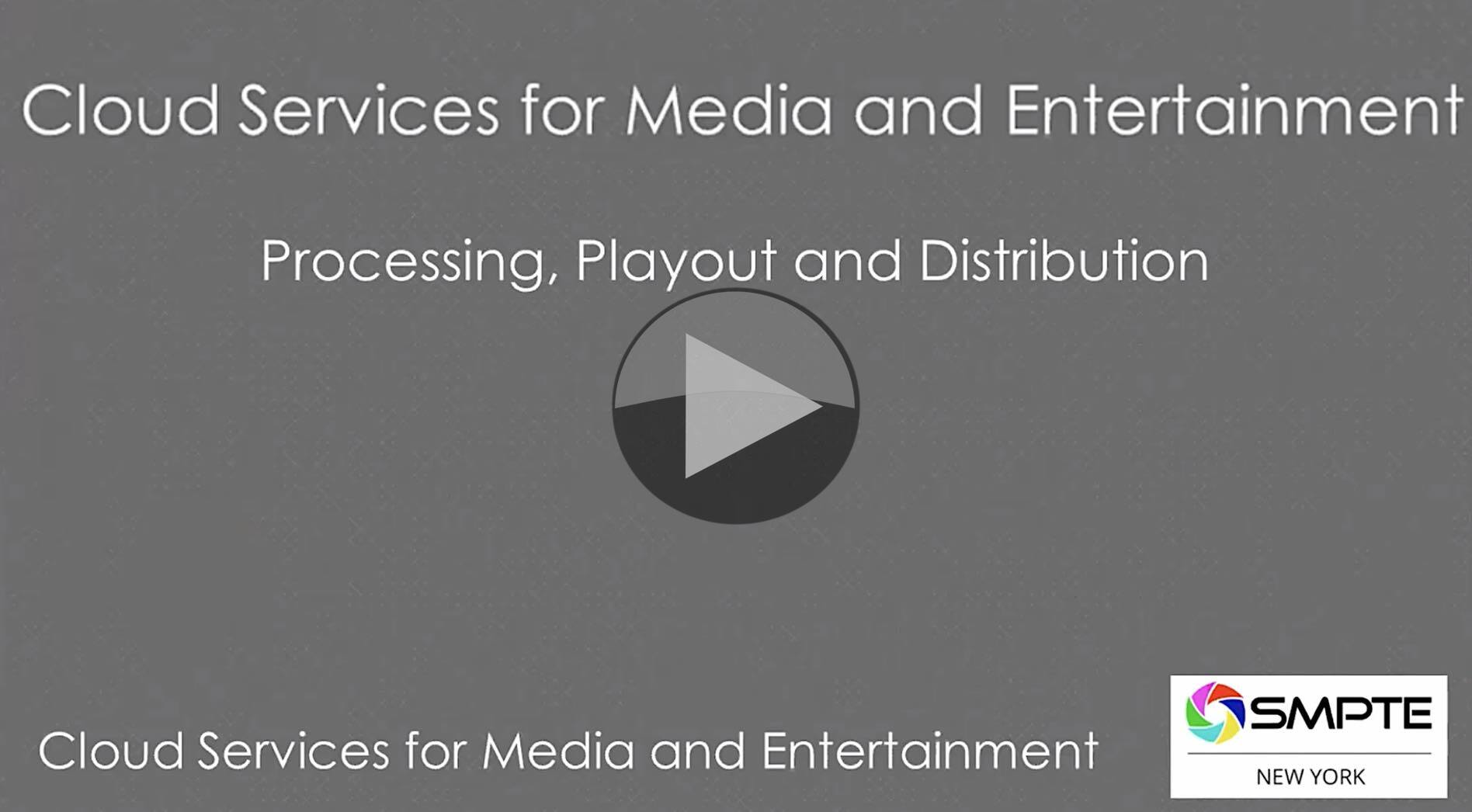 What are the options for moving your playout, processing and distribution into the cloud? What will the workflows look like and what are the options for implementing them? This video covers the basics, describes many of the functions available like subtitle generation and QC then leads you through to harnessing machine learning,
SMPTE's New York section has brought together Evan Statton and Liam Morrison from AWS, Alex Emmermann from Telestream, Chris Ziemer & Joe Ashba from Imagine Communications and Rick Phelps from Brklyn Media to share their knowledge on the topic. Rick kicks off proceedings with a look at the principles of moving to the cloud. He speaks about the need to prepare your media before the move by de-duplicating files, getting the structure and naming correct and checking your metadata is accurate. Whilst deduplicating data reduces your storage costs, another great way to do this is to store in IMF format. IMF, the Interoperable Media Format, is related to MXF and stores essences separately. By using pointers to the right media, new versions of files can re-use media from other files. This further helps reduce storage costs.
Rick finishes by running through workflow examples covering INgest, Remote Editing using PCoIP, Playout and VoD before running through the pros and cons of Public, Private and Hybrid cloud.
Next on the rosta are Chris & Joe outlining their approach to playout in the cloud. They summarise the context and zoom in to look at linear channels and their Versio product. An important aspect of bringing products to the cloud, explains Joe, is to ensure you optimise the product to take advantage of the cloud. Where a software solution on-prem will use servers running the storage, databases, proxy generation and the like, in the cloud you don't want to simply set up EC2 instances to run these same services. Rather, you should move your database into AWS's database service, use AWS storage and use a cloud-provided proxy service. This is when the value is maximised.
Alex leads with his learnings about calculating the benefits of cloud deployment focussing on the costs surrounding your server. You have to calculate the costs of the router port it's connected to and the rest of the network infrastructure. Power and aircon is easy to calculate but don't forget, Alex says, about the costs of renting the space in a data centre and the problems you hit when you have to lease another cage because you have become full. Suddenly and extra server has led to a two-year lease on datacentre space. He concludes by outlining Telestream's approach to delivering transcode. QC, playback and stream monitoring in their Telestream Cloud offering.
Evan Statton talks about the reasons that AWS created CDI and they merged the encoding stages for DTH transmission and OTT into one step. These steps came from customers' wishes to simplify cloud worksflows or match their on-prem experiences. JPEG-XS, for isntance, is there to ensure that ultra low-latency video can flow in and out of AWS with CDI allowing almost zero delay, uncompressed video to flow within the cloud. Evan then looks through a number of workflows: Playout, stadium connectivity, station entitlement and ATSC 3.0.
Liam's presenation on machine learning in the cloud is the last of this section meeting. Liam focuses he comments and demos on machine learning for video processing. He explains how ML fits into the Articifical Intelligence banner and looks to where the research sector is heading. Machine learning is well suited to the cloud because of the need to have big GPU-heavy servers to manage large datasets and high levels of compute. the G4 series of EC2 servers is singled out as the machine learning instances of choice.
Liam shows demos of super resolution and frame interpolation the later being used to generate slow motion clips, increasing the framerate of videos, improving the smoothness of stop-motion animations and more. Bringing this together, he finishes by showing some 4K 60fps videos created from ancient black and white film clips.
The extensive Q&A looks at a wide range of topics:
The need for operational change management since however close you get the cloud workflows to match what your staff are used to, there will be issues adjusting to the differences.
How to budget due to the 'transactional' nature of AWS cloud microservices
Problems migrating TV infrastructure to the cloud
How big the variables are between different workflow designs
When designing cloud workflows, what are the main causes of latency? When fighting latency what are the trade-offs?
How long ML models for upconverting or transcoding take finish training?
Watch now!
Speakers
Liam Morrison
Principal Architect, Machine Learning,
Amazon Web Services (AWS)
Alex Emmermann
Cloud Business Development,
Telestream
Joe Ashba
Senior Solutions Architect,
Imagine Communications
Chris Ziemer
VP Strategic Accounts & Partnerships,
Imagine Communications
Rick Phelps
Founder,
Brklyn Media
Evan Statton
Principal Architect,
Amazon Web Services (AWS)
Moderator: Ed DeLauter